Summer 2023 Denver Province Snapshots
In Remembrance: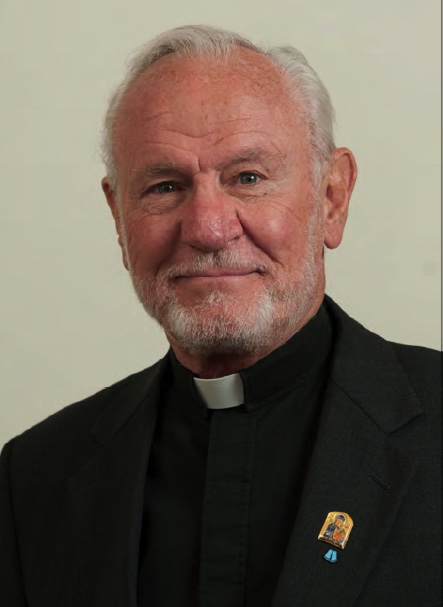 Rev. Frank Kriski, C.Ss.R.: Fr. Frank Kriski, a devout and traditional religious, died at the age of 86 on April 5 at St. Clement Redemptorist Mission Community in Liguori. A humble man who kept his own counsel and always did his best to be of service, Fr. Frank continued to celebrate the Tridentine Mass throughout his nearly six decades of priestly ministry. Fr. Frank was born on August 30, 1936 in Elba, a farming community northwest of Grand Island, NE. After high school, he entered St. Joseph Preparatory College in Kirkwood, MO. A practical and hardworking student, he professed temporary vows on August 2, 1958 and perpetual vows on September 2, 1961. He was ordained to the priesthood on July 2, 1963 at Immaculate Conception Seminary in Oconomowoc. Fr. Frank served in parish ministry at St. Alphonsus Parish in Chicago, St. Joseph Parish in Lebanon, IN and Our Lady of Perpetual Help Redemptorist Parish in Kansas City. He enlisted as a Military Chaplain in the US Army and served from 1972- 1975, the last three years of the Vietnam War. When he returned to civilian life, he served a year as a Hospital Chaplain at the Veteran's Hospital in St. Louis. Fr. Frank resumed parish ministry in 1983 at St. Joseph Parish in Denver, where he was a Hospital Chaplain at nearby Denver General Hospital. He returned to Chicago to serve at St. Michael Parish for two years, and then transferred to the Vice Province of New Orleans in 1992. He joined the Redemptorist community at Holy Redeemer Parish in Odessa, TX until the parish was returned to the Diocese of San Angelo in 1996. Fr. Frank returned to the Denver Province in 1996 and was assigned as a Hospital Chaplain based at Holy Redeemer in Oakland, CA. Three years later, he returned to Our Lady of Perpetual Help Redemptorist Parish in Kansas City. He was appointed pastor of nearby Our Lady of Peace Parish, a Latin Mass community, in 1999. Parishioners described him as a gentle and humble pastor, always listening and soliciting ideas to accommodate the needs of the Polish, German and Mexican families in the parish community. They noted the pride he took in the grotto he created, and how tenderly he cared for the flowers he had planted. He remained pastor until 2009, a year after his Golden Jubilee as a priest. Upon retirement, he remained in Kansas City and gladly volunteered to drive his confreres to appointments and to special celebrations. Health issues necessitated his move to St. Clement Redemptorist Mission Community in August of 2022.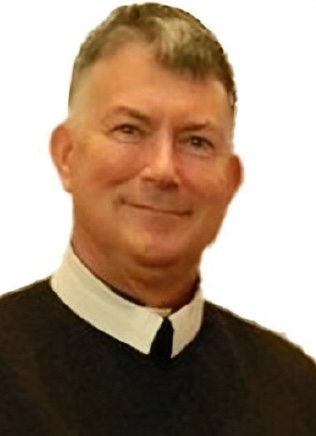 Fr. Steven Wilson, C.Ss.R.: An exceptional pastor who inspired and mentored many Redemptorist students, Fr. Steve died while in hospice care in Kirkland, WA on May 17. As a highly skilled CPA, he had tremendous impact on the entire Congregation through his service in the financial offices of the Denver Province as well as the General Government for a substantial portion of his 22 years of Redemptorist ministry. Steven Neel Wilson was born on June 30, 1953 in Seattle. After graduating from Seattle University with an accounting degree in 1975, he opened his own CPA firm, Steve N. Wilson & Co. In his mid-30s he converted to the Catholic faith, and soon was serving as a Eucharistic Minister at St. Alphonsus Parish in Seattle. Although he had built a very successful company, he felt a persistent call to the priesthood. He considered several religious orders, but the Icon of Our Mother of Perpetual Help at his home parish led him to the Redemptorists. He entered the formation program in 1994, at the age of 41. While he studied at Catholic Theological Union in Chicago, he ministered to the Hispanics and African Americans at Blessed Sacrament Parish and the homeless in the heart of the inner city of Chicago. He found that meeting their spiritual needs was the most challenging –and most fulfilling – experience of his life. He professed temporary vows on August 2, 1997 and perpetual vows on October 15, 2000. He was ordained to the priesthood on July 27, 2001.
Fr. Steve returned to Blessed Sacrament Parish until 2005, when he was assigned as pastor of Our Mother of Sorrows Parish in Biloxi, MS. Nothing could have prepared him for his arrival in Biloxi only two days after Hurricane Katrina ravaged the Gulf Coast. He immediately responded to parishioners, and was a pillar of strength amid the chaos. He gathered parishioners for outdoor Masses on the steps of the damaged church buildings, and worked nonstop to identify all available services. Our Mother of Sorrows Parish quickly became an information hub for the East Biloxi area.
Fr. Steve and his confreres built a tightknit community as they infused the Redemptorist charism in the Diocese of Biloxi. During the nine years he served at the helm there, Fr. Steve oversaw the renovation of the churches and coordinated the merger of St. John and St. Louis into Blessed Francis Xavier Seelos Parish. He was a friend and mentor to the youth, as well as the Redemptorist students he welcomed for summer ministry. Fr. Steve became so well known in all circles that even former Bishop Roger Morin of Biloxi referred to him as the "King of East Biloxi," and Biloxi Mayor A.J. Holloway declared June 29, 2014 "Father Steve Wilson Day."
During this time, Fr. Steve also began serving as an internal auditor for the General Government. He traveled the world, and made regular visits to the Father Ray Foundation in Thailand. The ministry had such a profound impact on him that he established Redemptorist Apostolic Works to provide financial support to the ministry, as well as other worthy organizations serving the less fortunate in Thailand, Laos and Africa. Fr. Steve was appointed Co-Director of the Pre-Novitiate Formation House in the Bronx, NY in 2014. He set high standards for the students, and expected them to fully immerse themselves in ministry and develop leadership skills. Only a year later he was assigned Treasurer/Secretary of the Denver Province. He successfully managed the Denver Province Finance Office until 2018, when he was appointed Vice Econome of the Redemptorist General Curia in Rome.
When he was diagnosed with cancer, Fr. Steve returned to Seattle for treatment. His sister, Janet, and her family welcomed him into their home in nearby Sammamish, WA, and helped arrange the best care possible. While in treatment, Fr. Steve spent time with his Sacred Heart community and was serving as administrator of the parish. Although he hoped to spend his last moments at home with his loved ones, he had to be transferred to Evergreen Health Center a few days before his death so that he could receive the necessary level of care. He died peacefully surrounded by his loving family and trusted friend, Fr. Chuong Cao.
Top Story:

---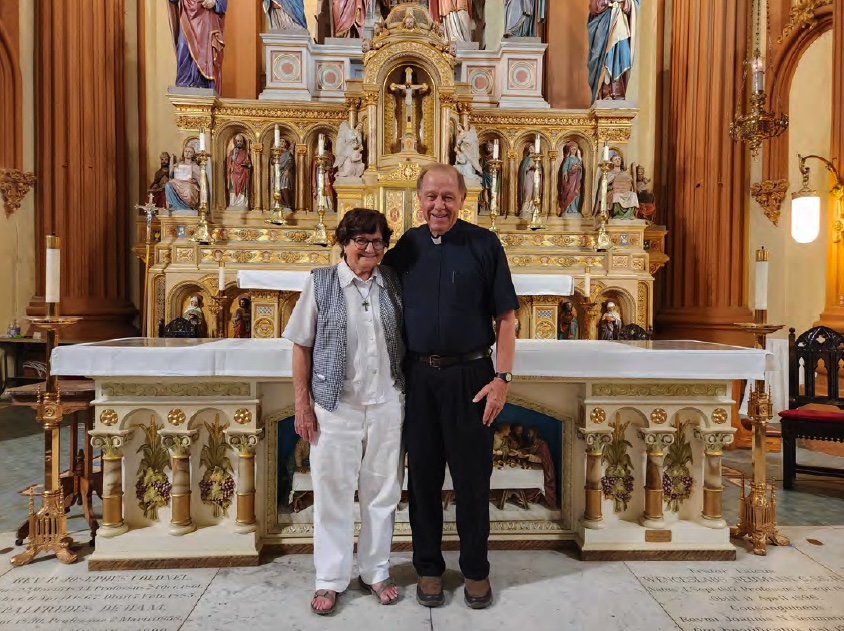 Authors Renew Acquaintances in New Orleans
When I was editor of Liguorian, the best job description I received was "to look down the road and see around the corners" to understand what people are interested in reading. To help in the creative process of putting an issue together, I typically scanned twenty to thirty diocesan newspapers every week. I saw in the Clarion Herald of New Orleans that Sr. Helen Prejean, CSJ was speaking to residents of assisted living facilities in the early afternoon about the morality of the death penalty.
I told the editorial staff that we should treat this topic since it is so much in line with our Alphonsian tradition of moral theology. I called Sr. Helen and asked for an interview. Like so many people in New Orleans, she said, "Sure. Come on down." I took the St. Charles Streetcar to Loyola University, where St. Helen was speaking to a journalism class. When her lecture finished, she said she couldn't meet because she was having supper in the French Quarter with Susan Sarandon and Tim Robbins to discuss adapting her recently published book, Dead Man Walking, to a screenplay. We agreed to meet at Hope House the next morning, where for four uninterrupted hours Sr. Helen shared the story so poignantly told in her book. She wrote Dead Man Walking in the first person, present tense – the most compelling way to tell a story.
It is so appropriate that Sr. Helen returned to St. Alphonsus Parish last week, since this is where it all began. Sr. Helen came to Hope House to teach literacy skills to African American women. Hope House was also the home of the Coalition to End the Death Penalty. She was asked to write to Pat Sonnier, who was convicted of a double murder, sentenced to death, and awaiting execution on Death Row at Angola Prison. He wrote back to Sr. Helen, and her role as a spiritual advisor to a person on Death Row began to take shape.
Released in 1995, Dead Man Walking was a critical and commercial success. The film was nominated for Best Picture and Best Director. Susan Sarandon, who played Sr. Helen, won the Academy Award for Best Actress. Liguorian  published a two-part article: first, on the morality of the death penalty; and second, a profile of Sr. Helen.
In our recent conversation, Sr. Helen capsulized her work in light of the Catholic Church's teachings. For 1500 years the Church sanctioned the death penalty as a means of preventing crime and protecting society. Everyone has the right to live free of harm, in a safe environment. We have come to the point where those who commit capital crimes are removed from society and never released from prison.
In the Gospel of Life published in 1995, St. John Paul II asserts that the state has the right to take a life when there is an absolute necessity because of the dignity of human life. In 2018, Pope Francis amended the Catechism of the Catholic Church to say that the state cannot be given the right to take a life. On a personal note, I have never been the victim of a capital crime. From my perspective, it is easy to understand that it is not right to take a life when other measures are available to prevent crime and protect society. For those who have been a victim of a capital crime, I believe it takes great grace to seek justice but not revenge. —Allan Weinert, C.Ss.R.
---
And More!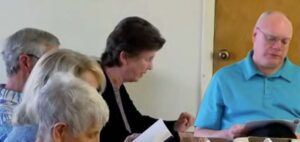 Tucson Partners in Mission Commitment Ceremony: Seventeen members of the Our Lady of the Desert Church (OLDC) Circle of Redemptorist Associates in Tucson committed to continue living as Redemptorist Associates for the new quadrennium on March 16. This was not a light decision for many of us, because the pandemic and its after-effects temporarily ended or permanently changed our personal ministries. We took some time to reconsider our contributions to the Redemptorist mission to the most abandoned, using the discernment process that our formators, Fr. Paul Coury and Lee Morrison, provided for our original enrollment. Each of us wrote and signed a commitment letter describing our personal ministries for the coming four years. Fr. Greg May, Anne Walsh, Fr. Brian Johnson (our professed leader), Fr. Tom Fransiscus, Fr. Steve Rehrauer, director of the Redemptorist Renewal Center (RRC), and Fr. Jim Shea, pastoral associate, attended the celebration and dinner.
Upcoming Pilgrimage & Course: The Redemptorist North American Secretariat for Partnership in Mission, in collaboration with the Centre for Redemptorist Spirituality, will offer a Pilgrimage and Course in Redemptorist Spirituality on October 2-12, 2023. The pilgrimage and course will be based in Ciorani, Italy, at one of the first Redemptorist houses. Participants will visit some of the sites associated with the founding and early history of the Redemptorist family. This Pilgrimage and Course is open to all Partners in Mission and professed Redemptorists. For more information, please contact Anne Walsh at the Partnership in Mission Office at amfwalsh@gmail.com or call 709.725.3939.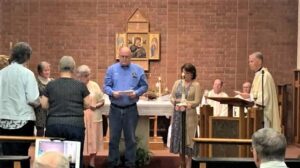 Redemptoristines Host Closing Mass at Monastery: After more than six decades of continuous contemplative prayer in their enclosed monastery in Liguori, the Redemptoristine Nuns are preparing to join the Redemptoristine community in Ireland. Sr. Ann Marie and Sr. Louisa welcomed Redemptorist confreres, Lay Associates, family and friends to a final Closing Mass at the monastery on April 23. Fr. Byron Miller presided at Mass, with concelebrants Fr. Joe Curalli, Fr. John Gouger, Fr. Rick Potts, Fr. Rich Luberti and Deacon Jesse Gatmaitan. Br. Gerry Patin assisted with the Readings. Over the past six decades, the Redemptoristines have welcomed women from Scotland, South Africa, Malaysia, Argentina, Thailand, and the Philippines. They started a foundation in Legazpi, Philippines on October 16, 1980. An autonomous monastery was canonically erected in Cebu, Philippines on March 8, 2006. Sisters from Liguori founded a South African Foundation on July 2, 1991. When it was closed in 2010, Sr. Alphonsina Mary (Skho) joined the community in Liguori.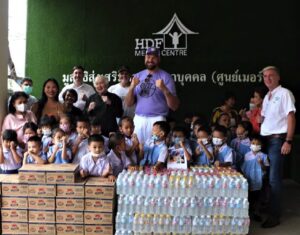 World Boxing Champion Visits Mercy Centre: The Gypsy King Tyson Furey, World Heavyweight Boxing Champion of the entire world, stopped by to say 'hello,' as great boxers do. The folks who alerted the Champ and his team about us were (as you would imagine) the owner/managers of the two Irish Pubs in town: Scruffy Murphy's and the other pub down the street, the Blarney Stone. No, the Champ did not stop for 'a pint & a pie' at the pubs. Really. But their public relations folks brought him to our Mercy Centre to visit our kids. He visited our kindergarten, smiled for pictures, visited the nearby slums. Said it all reminded him of his younger days when he, too, was poor and destitute. That folks like us at Mercy Centre 'helped him along the way.' He is nearly seven feet tall and total muscle; the largest and most powerful man I have ever met; yet so gentle and graceful. The smallest of the kids loved him. None were afraid of his size and strength. No crying, all laughed and giggled as little kids are supposed to do. — by Joe Maier, C.Ss.R.
Snapshots adapted from Denver Link; special thanks to Kristine Stremel.

---
UPCOMING DATES
February 2: Presentation of the Lord
February 12: Our Lady of Lourdes
February 22: Ash Wednesday
March 15: St. Clement Hofbauer Feast
March 25: Annunciation
April 2: Palm Sunday
April 7: Good Friday
April 9: Easter