Spring 2023 Denver Province Snapshots
---
Messengers of Hope

St. Gerard in Baton Rouge hosted its second annual Messengers of Hope Gala in partnership with world-renowned Chef John Folse on April 2. Held on the beautiful grounds of White Oak Estate & Gardens, over 200 guests and dignitaries were treated to a wonderful evening of fellowship, live music, gastronomic delights and inspirational addresses. A special thanks to Fr. Tat Hoang, C.Ss.R., pastor of Redemptorist St.Gerard Catholic School, Chef John Folse, the Friends of Redemptorist St. Gerard and all who helped make the event possible. Redemptorist St. Gerard Catholic School is springing back to life on the foundation of a strong alumni community and a tradition of educational excellence, the school is making a quiet comeback that's important for the future of Catholic education.
---
And More!

Our Lady of Suyapa Celebration:  On February 3, The Hispanic community in Baton Rouge celebrated the national Marian feast of Honduras, Our Lady of Suyapa. The church was full, with over 500 people. Mass began with Garífuni dancers, an indigenous community of Honduras. The Virgin followed with more dancers. Most of the congregation came from Honduras, but we had very good participation from other nations. Bishop Michael Duca presided at Mass, with Fr. Carlos Rubio from Honduras, Fr. Emilio Gomez and Fr. Mike McAndrew serving as concelebrants. Fr. Carlos gave the homily.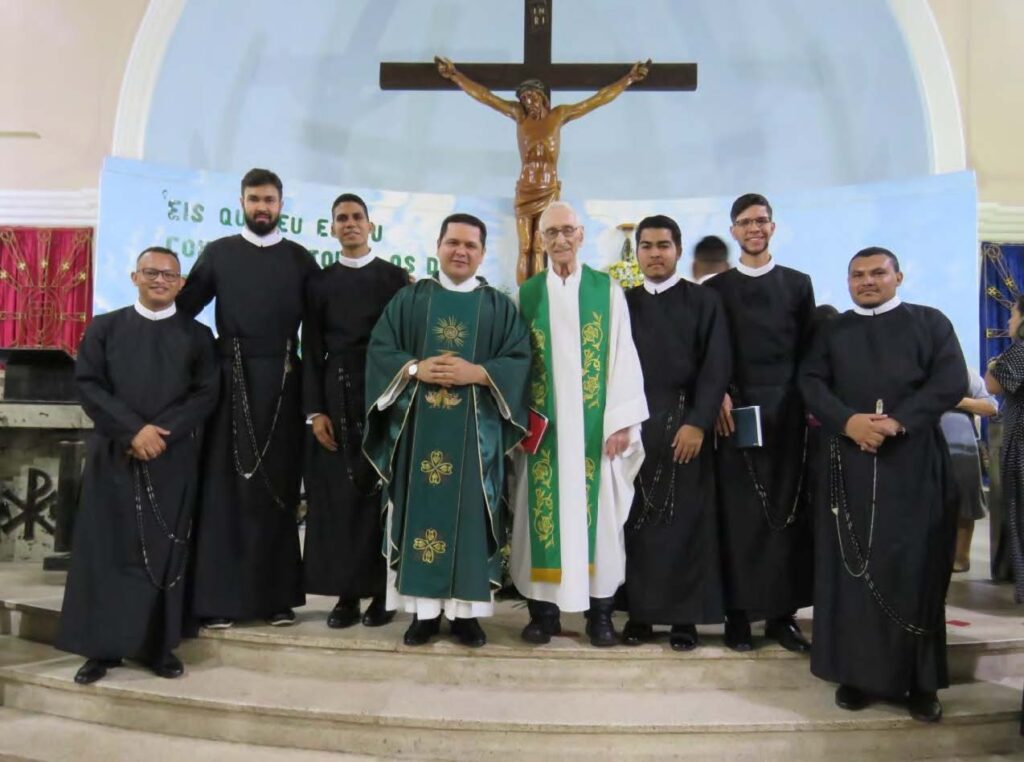 First Profession in Manaus: Six young men— Adriano da Silva and Jamilson Domingos de Castro (Coari, Amazonas), Clemer Pereira da Silva (Cruzeiro do Sul, State of Acre), Eduardo Lima Fernandes (Porto Walter, State of Acre), Marino Quadra do Carmo (Manacapuru, Amazonas), Renan Alberto Lima de Oliveira (Manaus, Amazonas)— professed their first religious vows on January 22. The Eucharistic celebration was held in the Sanctuary of Our Lady of Aparecida in Manaus, Brazil.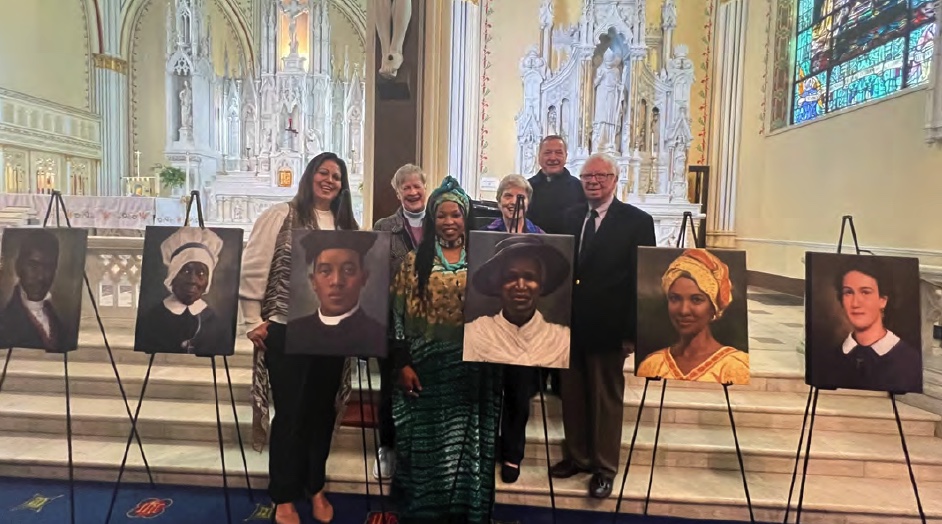 Celebrating Black Heritage Month: Our Lady of Perpetual Help Redemptorist Church and Cristo Rey High School inKansas City hosted Valimar Jansen on February 2 in honor of Black Heritage Month. This follows the celebrations of Hispanic Heritage Month last October, and Catholic Schools Week last week. A well-known African American evangelist/singer, Ms. Jansen had the student body and faculty step'n, clap'n and sway'n to the gospel hymns she used to accent the stories of six African American Catholics on the way to sainthood: Servants of God Julia Greeley, Thea Bowman, Mother Mary Lange and Venerables Pierre Tousaint, Henriet Delille and Augustus Tolton.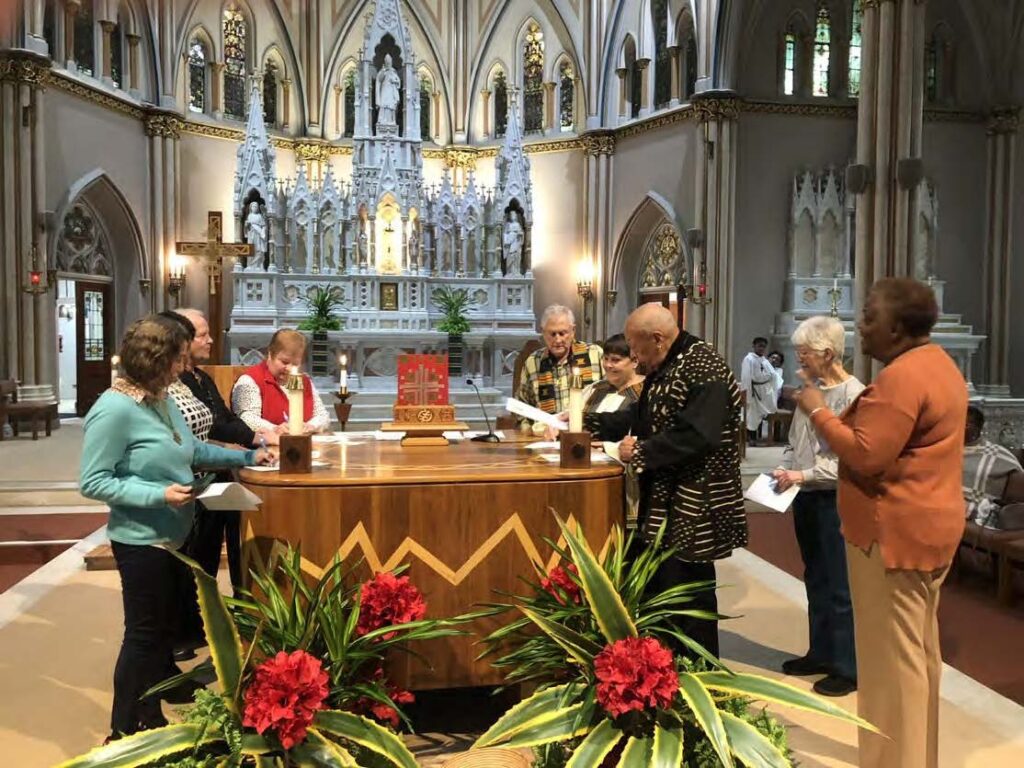 New Partners in Mission: The Redemptorist community at St. Alphonsus "Rock" Church in St. Louis welcomed five new Partners in Mission (PIM) on Sunday, January 22. Fr. Rodney Olive presided at Mass and Fr. Pete Schavitz was the homilist as parishioners Mike and Connie Page and Elizabeth Boykin, Lou Fick and Carol and Dick Drury of Mary Our Mother Church made commitments as PIM for the new quadrennium. Also, on February 19 in Chicago the Chicago chapter of Partners in Mission conducted its own commitment ceremony at St. Michael's, welcoming new members and celebrating the recommitment of old members. Among those present were Fr. Greg May and Redemptorist Associates Maria Santana, Bobby Borges, Toni Dunning, Joe Tully and Greg Palis.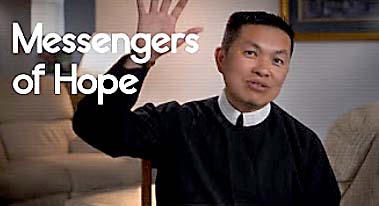 Rejoicing in Hope: Our own Fr. Tat Hoang is featured on CatholicLifeTV – Baton Rouge's "Rejoicing in Hope" series on YouTube. More than 70 videos – some featuring Fr. Kevin Zubel and produced during his time there – are available for viewing. Watch the videos here.
Snapshots adapted from Denver Link ; special thanks to Kristine Stremel.
---
UPCOMING DATES
May 18: Ascension
May 31: Visitation
June 27: Our Mother of Perpetual Help Feast Day
July 15: Our Lady of Mr. Carmel