Fall 2022 Denver Province Snapshots
---
Ordinations, Professions & Jubilarians:
Celebrating Ordinations: 70 YEARS OF PROFESSION: Rev. James Keena; CELEBRATING 60 YEARS OF PROFESSION: Rev. Charles Beierwaltes; Rev. Andrew Meiners, Rev. William Peterson; CELEBRATING 25 YEARS OF PROFESSION: Rev. Chuong Cao, Rev. Charles Wehrley, Rev. Steven Wilson.
In Remembrance: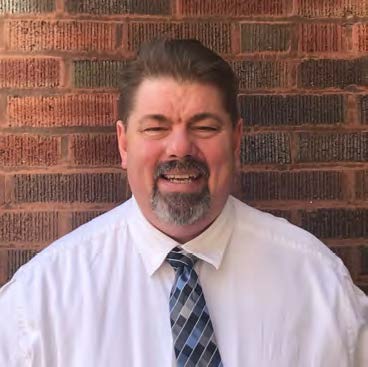 Van Bensett: Van Bensett completed the mission he was chosen to do on earth on July 14 of this year. He had just finished engaging a group of youth in a "Cube of Love" session at Bowen High School in Chicago. While preparing to leave the building, he suffered a fatal heart attack. According to St. Alphonsus Liguori, "The means for maintaining perfect love is to accomplish frequent acts of love. Fire is kindled by the wood we cast into it and love is enkindled by acts of love." In one word, Van was a man who loved. He loved his family; he loved his community; and he loved his mission and life-work with Life Directions. Van partnered with Fr. John Phelps, co-founder, president and CEO of Life Directions, in 1997. Van held the titles Program Director and Program Manager, and added value to the vision "Peers Inspiring Peers." As a multi-tasker, he assumed responsibility in a variety of areas. Committed to Life Directions values—balance in relationships, partnerships in diversity, and a mission-driven attitude—Van was a true missionary disciple serving the poorest of the poor and the most vulnerable. He implemented the Peer Motivation/Mentor Program, the Afterschool Matters Program, and the Peaceable Gardens Project in Chicago Public Schools. Effective in the Life Directions Neighborhood Enrichment Program, Van was a community organizer who inspired young adults to turn from violence to peace-building. Leading Community Circle gatherings and Partners for Peacemakers events, he promoted the value of "the other." Van's passionate spirituality sparked as he co-directed Focus Life Retreats, inspiring others to realize that "they are not only a gift, but a gift for others and chosen to be sent." Van was innovatively creative and a prolific writer. He contributed several articles to this very publication. Van often shared this legacy of love by way of the "Cube of Love." He modeled the "art of loving" with this special cube. Each side of the cube is a face of unconditional love. Roll the cube for a way to live out the rest of the day, and then share your "acts of love" with someone else. Little by little, we will become the Artists of Love that Jesus modelled: Love everyone; Be the first to love; Love Jesus in others; share the hurts or joy of others; love your enemy; love one another. The Cube of Love was Van's gift to us, his lasting legacy. Van entered preparation to become a Redemptorist Associate at the Redemptorist Retreat Center in Oconomowoc in October of 2017. He became a Redemptorist Associate in January of 2020. Van was dedicated to the Redemptorist Circle of Associates in Chicago, and often practiced "The Way of Love: the Crib, the Cross, and the Eucharist." We feel blessed to have witnessed a life that demanded notice … a life that exemplified brilliance … a life that inspired emulation … a life that burned to light the path for others. Van's life and legacy of love will always be remembered. Our prayers and love are extended to Van's family: his wife, Saira, and their children, Olivia, Maya, Lewis and Van; and his parents, Peggy and Lewis Bensett. —Submitted by Annette Howard, Life Directions Director of Training, Redemptorist Associate and Van's Partner in Mission, colleague and friend
---
Ukraine Update

Superior General Michael Brehl, C.Ss.R., issued a letter in July expressing sincere gratitude for the financial and moral support that the worldwide Redemptorist family has offered to the confreres and people in Ukraine. As of July 25, the Office of the Econome General has received € 740,851.00 ($756094.01), and € 95,000 ($96,954.63) have been sent directly to confreres in Ukraine. All contributions have been designated specifically to assist Ukraine and the victims who have been displaced. "This money has been used for food, medicine, the purchase of a vehicle, and repairs to two of our houses so that they can offer shelter to approximately 100 refugees, Fr. Brehl wrote. "Every euro we have received is dedicated to assisting Ukraine, and these funds are available as needed and requested by the confreres." These funds are only a small portion of the contribution of the Redemptorist Family to assist in this humanitarian crisis, he noted. "Through NGO's, direct contributions to aid agencies, and shipments of food, medicines, generators, clothing, and vehicles, the Redemptorist family has contributed several million euros. Thank you for your compassion and solidarity, which remind us that we are one missionary body. On behalf of the General Government, I thank you especially the contributions you have sent to our central fund," he said. "Our confreres in Ukraine are very grateful for the financial and physical support. However, they have asked me to express their gratitude especially for your communion and solidarity with them in prayer. Please continue to pray with and for our sisters and brothers in Ukraine, as well as the many refugees who have left the country, and the families divided by distance and borders."
---
And More!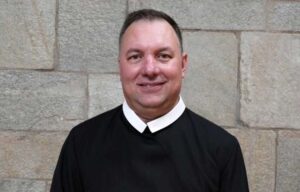 Fr. Rogerio Gomes Elected New Superior General of CSsR Congregation:  Fr Rogério Gomes, C.Ss.R., was elected as the new Superior General of the Congregation of the Most Holy Redeemer on September 27, the birthday of St. Alphonsus. He is from the Province of São Paulo, Brazil. Fr. Rogério Gomes was born on October 07, 1974 in Alterosa, Minas Gerais (MG), Brazil. He comes from a small family. In 1994 entered the St. Alphonsus Seminary of the Redemptorists in Aparecida-SP, Province of São Paulo. He made his first profession in the Congregation on January 27, 2002, and was ordained a priest on June 10, 2006. In 2009, he obtained a PhD in Moral Theology. In 2013, he was appointed professor at the Alphonsian Academy. In 2014 he was elected Provincial Superior of the Province of São Paulo and soon after as the President of the Union of the Redemptorists of Brazil (URB). In the years 2014-2016, he was also the Vice-President of the Higher Institute of Theology (ISPES/ITESP). In 2016, at the XXV General Chapter in Pattaya, Thailand, he was elected General Consultor from the Conference of the Redemptorists of Latin America and the Caribbean. During the XXVI General Chapter in Rome, on 27 September 2022, the anniversary of the birth of St. Alphonsus de Liguori, he was elected as the 18th Superior General of the Congregation of the Most Holy Redeemer. Fr. Rogério Gomes is currently a guest professor at the Accademia Alfonsiana, Rome. Member of the Brazilian Society of Bioethics (SBB), the Brazilian Society of Moral Theology (SBTM) and the Surveillance Studies Network (SSN). Member of the PHAES group (Human Person, Anthropology, Ethics and Sexuality) of the Pontific Catholic University of São Paulo. He speaks Portuguese, Italian, Spanish and English, and reads French.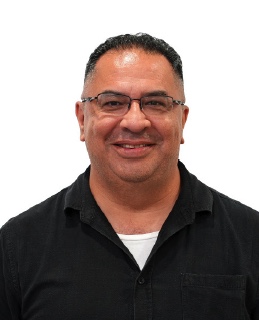 Denver's own Br. Larry Luján elected to serve on the General Council: Br. Laurence (Larry) John Luján Angel has been elected to serve on the Redemptorists' new General Council from the Conference of North America. Br. Laurence (Larry) John Luján Angel was born in 1964. He joined the Denver Province in 1999 and professed perpetual vows as a Brother in 2002. His first ministerial assignment was at St. Joseph Parish in Denver, his hometown. He joined the Hispanic Missionary Project in the Diocese of Dodge City, Kansas in 2004 and was assigned at St. Anthony Parish in Liberal until 2008. He served as Co-Director of Vocations in 2008 – 2015 and was stationed in Whitestone and the Bronx, NY, as well as in Denver. He was elected to the Extraordinary Provincial Council of the Denver Province in 2015 and appointed Co-Director of Formation at the Pre-Novitiate level of formation. He served in that capacity until 2017 when he was appointed Provincial (Second) Consultor of the Denver Province. He has served as a member of various General Government Secretariats and Commissions, and was elected a vocal to the XXV Chapter in Pattaya, Thailand. He speaks English and Spanish.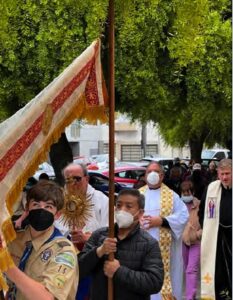 Redemptorist Tradition in San Francisco: Four Redemptorist missionaries carried on a long-standing tradition and preached the 115th Novena to Good St. Anne at St. Anne of the Sunset Church in San Francisco. The confreres – Fr. Patrick Keyes, Fr. Maurice Nutt, Fr. Eugene Batungbacal and Fr. Ted Lawson – preached on "Our Care for Our Common Home" on July 16-26. The American Redemptorists conducted the first California mission in Los Angeles in 1885.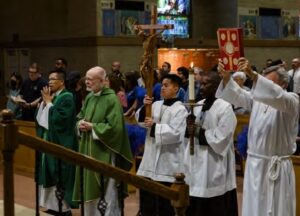 Honoring First Responders: More than 250 people, including Baton Rouge Mayor-President Sharon Weston Broome, Chief of Police Murphy J. Paul, Jr. and many First Responders from Baton Rouge and the surrounding area, participated in the annual Blue Mass at St. Gerard Parish on July 17. "We celebrated the Blue Mass to honor and support the First Responders and their families, and pray for more peace and harmony in the city," said Fr. Tat Hoang, pastor. He said that First Responders—the police force, fire service and EMS—have been specifically chosen to serve the community.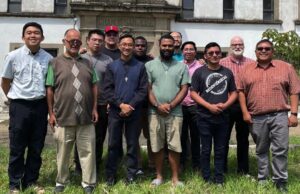 A New Era in the North American Conference: Thursday, July 14, 2022 marked the beginning of a new era in the Redemptorists' North American Conference. Nine young men from the Units of Canada, the United States and Mexico have begun their novitiate together in the former St. Alphonsus Seminary in Tlalpizahuac, Mexico, just outside of Mexico City. This is the first joint novitiate since Mexico joined the Conference in 2019, and the first time all Units will be doing a stage of formation together.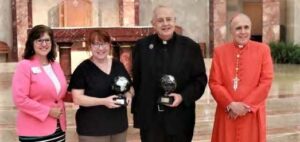 Holy Ghost School wins Catholic Impact Award: Holy Ghost Catholic School in Houston recently received the 2022 Catholic Impact Award for its outreach and service to others at a special Mass with Cardinal Daniel DiNardo marking the start of the school year for teachers, principals and pastors.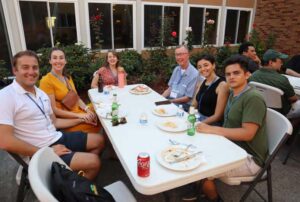 Redemptorists host Soirée for Young Professionals: The Redemptorists in Seattle hosted their first post-pandemic Soirée for Young Adults at Sacred Heart Parish on August 4. The young professionals who come to Seattle from all over the world to work at Amazon, Microsoft, Google, Facebook Cisco, and in the medical field really are the lifeblood of the parish. They also come from a wide spectrum of native countries: various parts of India, Brazil, Indonesia, Mexico, Peru and Africa. One of the reasons they sought out Sacred Heart Parish is our location in the heart of the city. Young professionals often arrive in Seattle and live in apartments within walking distance of Sacred Heart. They are often searching for a community of young Catholic professionals to find new friends and build a sense of community. Our Soirée was a positive experience for the confreres as well as the young professionals, who want to maintain the momentum. They are discussing helping as a group in our Food Bank and beginning faith-sharing groups.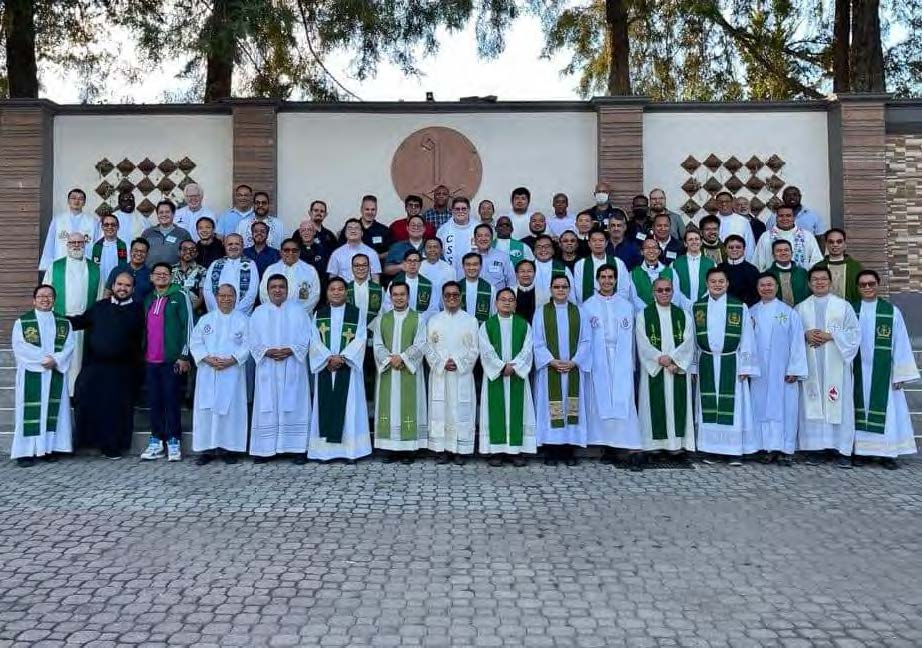 Under 55 Confreres Gather: Seventy Redemptorist confreres from the United States, the Caribbean and Mexico traveled to Cuautitlan Izcalli in Mexico for a historic gathering of confreres 55 and younger from August 29 to September 2. The confreres represented the provinces of Baltimore, Denver and Mexico, as well as the Extra-Patriam Vice Province. The gathering, or encuentro, took place at the Casa Lago retreat house. The gathering was an opportunity for the confreres to get to know one another and to discuss their hopes and dreams for both the Redemptorist apostolic life and the North American Conference.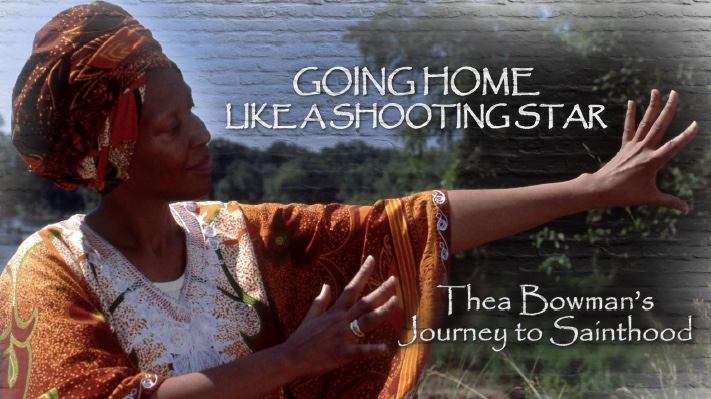 Sr. Thea Bowman: A new documentary on Sr. Thea Bowman shines a light on her life and work as an advocate for racial justice and intercultural understanding. The one-hour film, a part of the Interfaith Broadcasting Commission's fall documentary season, will begin airing on ABC stations nationwide on Sunday afternoons in October, beginning on October 2. Going Home Like a Shooting Star: Thea Bowman's Journey to Sainthood offers a comprehensive look at Sr. Thea, the first African American member of the Franciscan Sisters of Perpetual Adoration and one of six Black Catholics known as a "Servant of God." Written and produced by Franciscan Sr. Judith Ann Zielinski, the film also makes a case for her sainthood and for contemporary spirituality. Redemptorist Fr. Maurice Nutt, associate producer and biographer of Sr. Thea, called her an "apostle for racial reconciliation." Noting that she died in 1990, he said the film will introduce her to a new generation.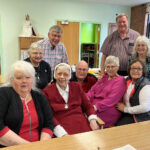 Redemptoristines Celebrate Beatification: The Redemptoristine Nuns in Liguori hosted a joyful celebration with lay associates on the sixth anniversary of the beatification of their foundress, Blessed Maria Celeste Crostarosa. Fr. Bob Halter celebrated Mass at the gathering, their first since 2020 and the onset of the global pandemic. A beautiful display honoring Blessed Maria Celeste Crostarosa was place before her shrine.
Snapshots adapted from Denver Link; special thanks to Kristine Stremel.
---
UPCOMING DATES
November 1: All Saints Day
November 2: All Souls Day
November 11: Memorial of CSSR Spanish Martyrs
November 21: Presentation of the Blessed Virgin Mary
December 8: Immaculate Conception
December 11: Our Lady of Guadalupe
December 25: Christmas
January 1: Solemnity of Mary
January 5: St. John Neumann Feast Day
January 6: Epiphany
January 11: Bl. Seelos Birthday