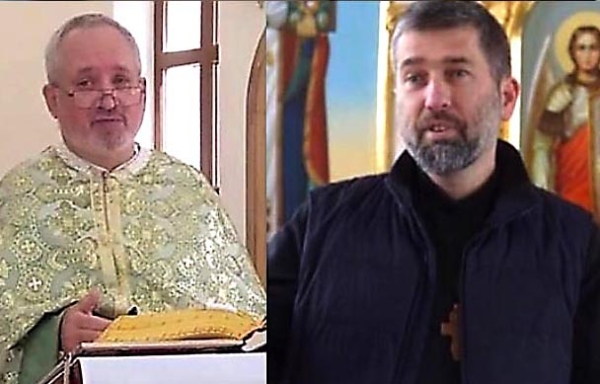 Pray for Our Redemptorist Brothers in Ukraine
Two Redemptorists, Ivan Levytsky CSsR and Bohdan Heleta CSsR, parish priest and vicar of the Church of the Nativity of the Blessed Virgin Mary, were arrested in November by the Russian occupation administration in Berdyansk, west of Mariupol.
The Exarchate's statement reads in part:
In these difficult times for our people, in which we are witnessing numerous painful victims of war, we welcome with great regret and sorrow the news of the unjustified and illegal abduction and imprisonment of two priests of the Donetsk Exarchate of the UGCC in the city of Berdiansk.
These priests are in the place of their priestly ministry on a completely legal basis, carrying out their activities in the local parish for more than three years, proclaiming the Word of God, which is peace for every person.
The appearance of deliberately fabricated false accusations of possession of weapons and explosives in the Russian propaganda space indicates the intention to use further terror against the imprisoned fathers.
We demand the swift release from custody and imprisonment of our priests – Ivan Levytsky and Bohdan Heleta – and the guarantee of their unhindered legal service to the spiritual needs of the UGCC faithful living in Berdyansk.
Until now, their location remains unknown. We have no contact with them, which indicates that they have been completely cut off from the outside world.
At the beginning of the full-scale war on February 24 of this year, and from the moment the city came under the control of the Russian forces, the priests decided to stay in the city in order to continue serving people. They provided them with spiritual and humanitarian support and helped refugees and people in need, whose numbers have been rising. The priests work has been exclusively of a pastoral and social service nature for Greek and Roman Catholics in the city of Berdiansk. They were assigned to do so by their superiors and church authorities, and until the moment of their detention, there had been no dissatisfaction with their presence.
We appeal to the authorities and all people of goodwill to join the cause of freeing the priests, and we pray for this intention. Merciful God, hear our prayers!
—excerpted from Redemptorists Scala News