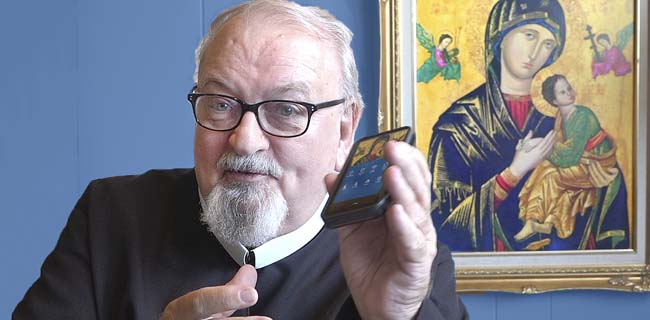 Download MaryPrayForUs to Get Ready for Advent
The Mary Pray for Us phone retreat was created to help us pray constantly and to feel Our Mother of Perpetual Help's presence as a constant companion throughout our busy day. This year, use this powerful online retreat to prepare for the birth of our Savior while moving closer to Jesus through Mary
Now is a good time to make a plan for living Advent 2021 more fully. This year you can counter the hustle and bustle of the secular Christmas season with the aid of the Redemptorists' two-in-one online retreat app. The Denver Province's mobile app, Mary Pray for Us, has been featured as a "must-have Catholic phone app" on Radio Maria US. Our user-friendly app is designed to harness the power and immediacy of mobile phone technology to deepen prayer and devotion to Jesus and Our Mother of Perpetual Help. The app has reach over 20,000 online users since its launch in 2016.
Mary Pray for Us was one of a select few Catholic apps featured on Radio Maria's Carmelite Spirituality Conversations with Mark Danis and Frances Harry. Jennifer Kane, a secular Carmelite and founder of Catholic Apptitude – the foremost online source for reviews and recommendations on Catholic mobile apps – called the Redemptorists' app "incredibly edifying" and praised it as "tremendous for helping people to pray" and "to move beyond rote prayer."
Catholic Apptitude also featured Mary Pray for Us in its blog post:
Part of the process of deepening one's prayer life (and spirituality in general) includes a bit of self-understanding which the Redemptorists weave into this app's gentle reflections and exercises. That's just one aspect of this religious order's special instruction in helping us to grow closer to Jesus through Mary, who is our constant spiritual companion. Indeed, the place of the Blessed Virgin Mary in our prayer life is intimately tied to our relationship with Jesus. The instructions should help you to re-think/re-imagine prayer.
The Redemptorists added a second online retreat, the St. Alphonsus Prayer Retreat, to the app in 2018. This retreat is inspired by our founder St. Alphonsus' teaching on the nature of prayer. St. Alphonsus taught that prayer should always be a constant and agreeable conversation with God. God is always near, therefore, everyone who wishes to serve God can go to Him with perfect, unwavering confidence.
These powerful retreats together offer a wonderful means to prepare this year for the coming of Jesus' birth. They are available for free on both Android and Apple devices, the MaryPrayforUs app may be downloaded at:
Apple (for all iPhones) • GooglePlay (for all Android phones)