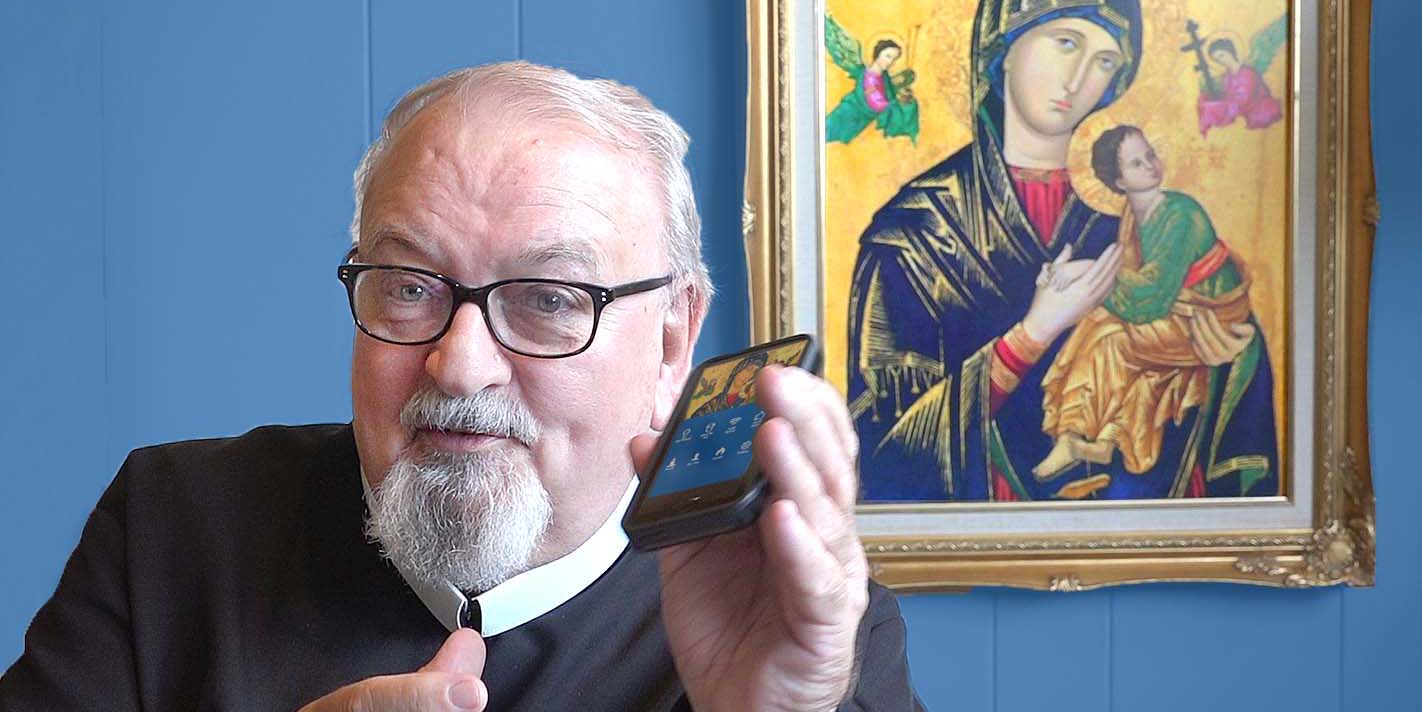 Prayer during the Quarantine
COVID-19 presents us with many challenges. We must make inner peace with suddenly imposed constraints, deal with anxiety and uncertainty, and also work to renew and maintain our relationships with loved—often while in much tighter quarters, or in some cases, without being able to see them face-to-face. Just like our founder St. Alphonsus Liguori who developed innovative methods of prayer suited to the constricted lives of country people in 18th-century Italy, we're updating our own methods of prayer to suit the needs of people today. The restrictions brought on by COVID-19 now offer a perfect opportunity to conduct your own inner retreat.
To make our rich Redemptorist prayer life widely available—and particularly relevant given the present partial quarantine—we have created a free prayer app that offers you two complete mobile retreats in one phone app. This is the definitive prayer tool for those looking to deepen their daily prayer practices at this time when the churches remain closed.
St. Alphonsus Liguori, founder of the Redemptorist congregation, was nicknamed "The Teacher of Prayer." He developed his teaching on morality, holiness, and Christian living from his understanding of prayer. It can be summed up simply in his famous dictum: "The person who prays is saved, the person who does not pray is lost." In other words, the ultimate success or failure of life centers on prayer. St. Alphonsus also wrote in The Practice of the Love of Jesus Christ: "I begin to have a penetrating glimpse of the unfathomable mystery of life when I am moved by gratitude to love the Giver of the life that I see and experience around me. It is for this purpose that God has given all his gifts to human beings."
His method of interior prayer, is not so much a thought provoking exercise, as it is one that stirs the heart. The first consequence of it is the disposal of the heart to listen to God. "God speaks to us but his inspirations rest in withdrawal with God. Say to him: Lord, show me where and how to find you that I may speak to you alone, as well as hear you speak. The word of God is 'a still small voice' (I Kings 19:12) heard by the heart that is silent and relaxed."
St. Alphonsus places before us, as central to his method of contemplation or interior prayer, the activating of the heart before God.
With this dual app we hope to offer you a tool to practice that love of God daily.
_____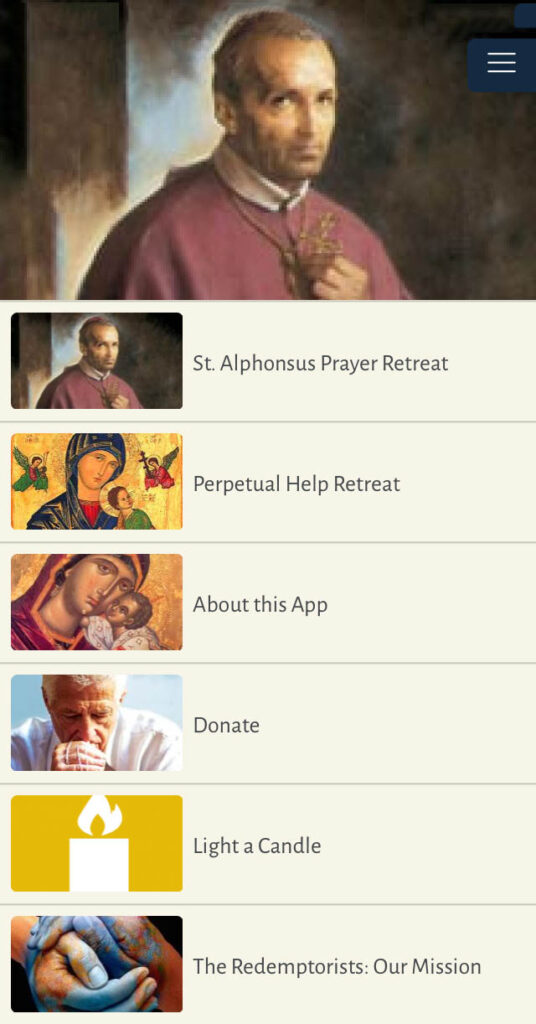 St. Alphonsus Method of Interior Prayer
St. Alphonsus was a keen advocate of interior or mental prayer for everyone. He appealed to priests to teach their congregation the simple steps of his prayer method. During popular parish missions he preached and made a point of teaching the art of prayer and of silent visits to the Blessed Sacrament as part of the exercises of the Mission. During this Retreat you will have the opportunity to practice some of the most important prayer methods St. Alphonsus designed. St. Alphonsus' method of interior prayer can be reduced to an easily remembered acronym CAR: Considerations, Affections, Resolutions. Once you have downloaded the app, click the "St. Alphonsus Prayer Retreat" to see the full retreat.
_____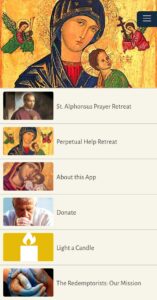 Our Mother of Perpetual Help:
The second "Perpetual Help Retreat" on this app is for devotees wishing to make Our Mother of Perpetual Help their constant and daily companion. It is an easy-to-use, 7-day Retreat that is also a spiritual formation program based on the Redemptorists' signature approach to affective prayer from the heart, explored in the first retreat. It will increase your sense of spiritual peace and mindfulness of Mary as an every-day spiritual companionship.
Inspirations for the app include St. Alphonsus' writings on the practice of prayer; numerous Redemptorists' missions to Our Mother of Perpetual Help; the preaching of Bro. Dan Korn, C.Ss.R.; and the writings of Fr. Dennis Billy, C.Ss.R.  Bro. Korn noted that the app shows users "how Mary is our friend, how Mary is our companion on the journey to Christ, and how Mary teaches us to pray."
The app is available for both Androids and Apple devices. It is an important addition to the prayer lives of those wishing to deepen their devotion to Mary.