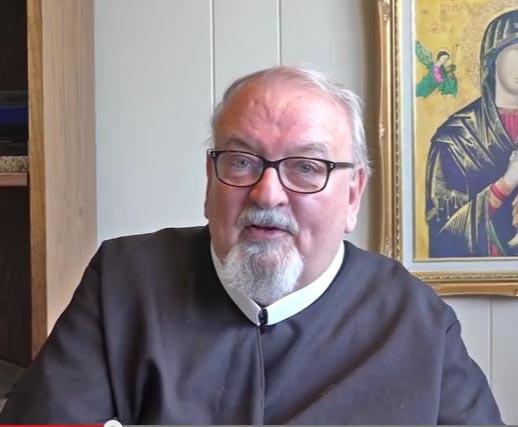 Pray Each Morning with Brother Dan
We are truly not alone, and at this time it is most important that we join together in prayer and community.
Dear Friends in Jesus,
All of us are painfully aware that public Masses remain banned in most places due to the Coronavirus. Pope Francis told us a few weeks ago on Sunday through a livestream that "United to Christ we are never alone, but instead form one body, of which he is the head. It is a union that is nourished with prayer and also with spiritual communion in the Eucharist, a practice that is recommended when it isn't possible to receive the sacrament."
We are truly not alone, and at this time it is most important that we join together in prayer and community. We therefore offer you a prayer for Spiritual Communion from our founder St. Alphonsus. We hope you will join with us in reciting this prayer throughout your day:
"My Jesus, I believe you are really present in the Blessed Sacrament. I love you more than anything in the world, and I hunger to receive you. But since I cannot receive Communion at this moment, feed my soul at least spiritually. I unite myself to you now as I do when I actually receive you. Never let me drift away from you.  Amen."
This is a time of great anxiety both for our own health, and also for the health and well-being of our family and loved ones. At this time, it is more important than ever to also turn to the intercession of Our Mother of Perpetual Help. We ask Mary to shield us and, as well, all her children from the Coronavirus. Please join your family to the Redemptorist family as we offer this prayer to Our Mother:
Mother of Perpetual Help, you have been blessed and favored by God. You became not only the Mother of the Redeemer, but Mother of the redeemed as well.
We come to you today as your loving children.
Watch over us and take care of us. As you held the child Jesus in your loving arms, so take us in your arms.
Be a mother ready at every moment to help us.
For God who is mighty has done great things for you, and God's mercy is from age to age on those who love God.
Intercede for us, dear Mother, in obtaining pardon for our sins, love for Jesus, final perseverance, and the grace always to call upon you, Mother of Perpetual Help.
In Jesus through Mary,
Bro. Dan Korn, C.Ss.R.
Redemptorist Missionary of the Denver Province
P.S. When you get up each morning, please join me in reciting this prayer to Our Mother of Perpetual.