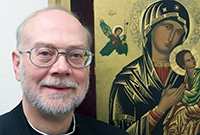 Welcome to the Fall Edition of Hope! We are fast approaching All Souls Day. Every Sunday we say that we look forward to the resurrection of the dead and the life of the world to come. When we pray for those who have died, those words become real.  As Redemptorists, we join our prayers to yours for all who have departed, so that we will all one day celebrate together the fulfillment of our hope, and see the glory of God in the life of the world to come.
As a community our many ministries give us much to reflect on this fall. We are particularly hopeful in sharing with you news of Fathers McAndrew's and Zubel's participation in the "Catholics on the Border" program in El Paso. Read also about our ongoing work with migrants in the Mississippi Delta. Get an update on our Houston community one year after Hurricane Harvey.  And finally, let's all celebrate together 75 years of Redemptorist presence in the Amazon made possible through your continued generosity. I pray that this online Fall edition of Hope Magazine will inspire and stimulates your faith.
Yours in our loving Redeemer,
Very Reverend Stephen T. Rehrauer, C.Ss.R.
Provincial Superior, Redemptorists of the Denver Province
In This Issue:
Faith on the Border: A Reflection on a Visit to the US-Mexico Border
The Beatitudes are Jesus' straightforward description of the basic dynamics of the spiritual and human world in which we find ourselves. Get Fr. Sedlak's free booklet and watch the video.
75 Years of the Redemptorists on the Amazon
Learn about Grand Rapids' St. Alphonsus Vacation Bible School set in ancient Babylon.
Hispanic Ministry in the Mississippi Delta
Catfish and zucchini have a common denominator in Southern cuisine: the souls of Latino workers.
Fall 2018 Denver Province Snapshots
Ordinations, professions, and all the latest news from the Denver Province.