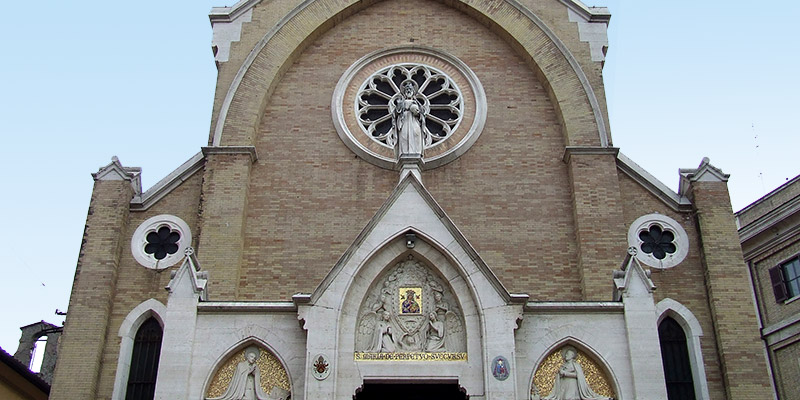 Home of the Icon
The Church of Sant'Alfonso is the home of the original icon of Our Mother of Perpetual Help. It is one of the rare examples of neo-gothic architecture in Rome and was built in 1855 and consecrated in 1859 by Cardinal Costantino Patrizi. It is located on the Esquiline Hill on the Via Merulana between the two basilicas of St. Mary Major and St. John Lateran.
What is an Icon?
The name icon, or eikon in Greek, may be applied to any image, but in practice is confined to the flat paintings which take the place of statues in Eastern churches. Icons play a more conspicuous part in worship than do statues in the West. They are repeatedly incensed, kissed, carried in procession, and otherwise reverenced. The original icon of Our Mother of Perpetual Help belongs to a family of icons known as Hodegetria, which means 'guide' or 'leader of the way' and to a type known as the Virgin of the Passion. Icons are known as doors or "windows to the divine." They help us to look beyond the physical world and focus on the spiritual realm. Artists who create icons are called iconographers. An iconographer "writes" the icon from his or her faith and seeks to present something of this mysterious world to others. While other icons may be valuable in themselves, the original icon of Our Mother of Perpetual Help is all the more valuable for the devotion inspired by its contemplation.

Pope Pius IX Establishes Redemptorists' Special Relationship to the Icon
Since 1866, the Redemptorists have spread devotion to Mary under the icon and title of Mother of Perpetual Help. According to tradition, the ancient Byzantine icon of Our Mother (or Our Lady) of Perpetual Help was stolen from a church in Crete where many miracles had occurred. The image remained in the private possession of a Roman merchant and his family until 1499 when it was publicly displayed in the Church of St. Matthew in Rome between the Basilicas of St. Mary Major and St. John Lateran.
When St. Matthew's was destroyed in 1789, the icon was rescued and hung in an obscure monastery chapel until the Redemptorists learned that the site of their new headquarters in Rome had once been the site of St. Matthew's, the one-time home of a miraculous icon of Our Lady. A Redemptorist priest who, as a young man, had frequented the monastery chapel that displayed the icon informed his brothers where to find the image.
The Redemptorists asked Pope Pius IX for permission to move the icon to their new church, San Alfonso, which was built on the location of the icon's earlier home. The pope granted his permission, and told the Redemptorists to "make her known throughout the world."