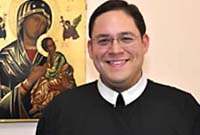 Welcome to the Winter Edition of Hope!
As the new Provincial of the Denver Province, I wish to thank my fellow confreres who have shown confidence in me by asking me to lead the Province for the next four years. I ask God for the gift of wisdom, and for the vibrant and creative energy necessary for all that we now undertake. On behalf of the new leadership team, I express my deepest gratitude to Fr. Stephen Rehrauer and the outgoing council for their faithfulness and unflagging commitment to the Redemptorist mission. I also wish to thank you, our supporters and faithful subscribers to Hope magazine. I ask that you keep me and all the members of the newly elected leadership team in your prayers. In the coming years we will work to strengthen our many ministries, and to create new opportunities to preach God's plentiful Redemption—particularly to the poor and most abandoned who are hungry for God's healing message.
The change in leadership is also an opportunity to reflect on our continuing work. This issue of Hope is full of examples of important ministries that continue to thrive due to the hard work of our confreres as well as your prayers and support. As always, we thank you for supporting the Redemptorists' ministries. We continue to hold you in our prayers. I hope that this online edition of Hope Magazine will further inspire and stimulate your faith.
Please continue to pray together with us!
Yours in our loving Redeemer,
Reverend Kevin Zubel, C.Ss.R.
Provincial Superior, Redemptorists of the Denver Province
In This Issue:
New Leadership
The Redemptorists of the Denver Province have elected a new leadership team that will govern and manage the missionary activities of the Denver Province for the next four years.
The Beloved Community
Redemptorist Fr. Maurice Nutt has been inducted into the 2022 Class of the Dr. Martin Luther King Jr. Board of Preachers at Morehouse College in Atlanta
Pope Meets with Redemptorists
The Holy Father Francis received the participants of the Redemptorists' 26th General Chapter in an audience at the Clementine Hall of the Vatican Apostolic Palace.
Partners in Mission: A Reflection & New Workshop on Discernment
Fr. Greg May offers a Reflection on Michah while also encouraging you to learn more about Redemptorist Spirituality through an upcoming Partners in Mission workshop. 
Doctor of Prayer
Start your new year off right by rededicating yourself to daily prayer with the Redemptorists. Our founder, St. Alphonsus Liguori, was a keen advocate of interior prayer. Learn more about it here.
Winter 2023 Denver Province Snapshots
All the latest news from the Denver Province.