Welcome to the Winter Edition of Hope!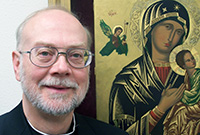 In this issue we feature Living Redemptorist Spirituality. This prayer book expresses the core elements of Redemptorist spirituality, as well as our desire to create a resource that all could share as we walk together in mission. It also offers an introduction to Redemptorist saints including our founder, St. Alphonsus. We hope you will download it and join us in prayer and mission. We also have the latest updates from around the Province and information on our free online prayer app.
As always, we thank you for supporting the Redemptorists' ministries. We continue to hold you in our prayers. I hope that this online edition of Hope Magazine will further inspire and stimulate your faith. 
Yours in our loving Redeemer,
Very Reverend Stephen T. Rehrauer, C.Ss.R.
Provincial Superior, Redemptorists of the Denver Province

In This Issue: