Spring 2021 Denver Province Snapshots
---
Ordinations, Professions & Jubilarians: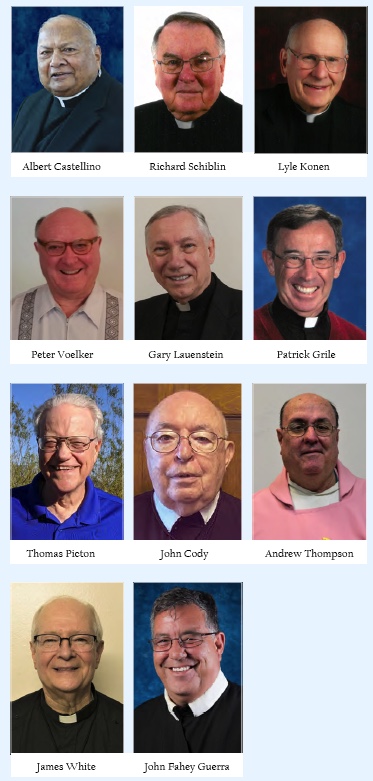 Ordination, Professions & Jubilarians: Celebrate with us our Ordination Jubilarians: CELEBRATING 60 YEARS OF ORDINATION—Rev. Albert Castellino, Rev. Richard Schiblin, Rev. Lyle Konen, Rev. Peter Voelker; CELEBRATING 50 YEARS OF ORDINATION—Rev. Gary Lauenstein, Rev. Patrick Grile, Rev. Thomas Picton; CELEBRATING 40 YEARS OF ORDINATION—Rev. John Cody, Rev. Andrew Thompson, Rev. James White; CELEBRATING 25 YEARS OF ORDINATION—Rev. John Fahey Guerra.
In Remembrance: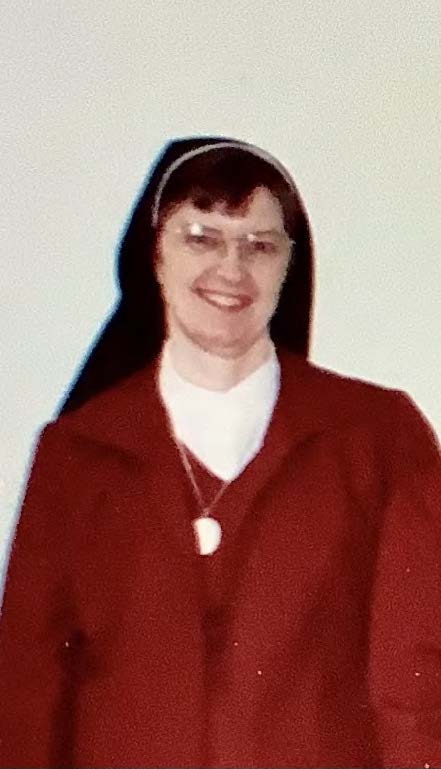 Sister Elaine, O.Ss.R.:  Sr. Elaine M. Kraft, a Redemptoristine Nun known for her kindness and compassion, died on May 15 at St. Andrew's at Francis Place in Eureka, MO, where she received excellent care for many years. Sister Elaine had a perpetual joy and peace, and the Sisters appreciated her quick wit and humor. When St. Clement's was built, she met many other confreres who had served at Holy Redeemer, and graciously helped Fr. Gerry Resch with his correspondence when he was no longer able to write. Throughout her 38 years as a Redemptoristine, she served as bursar of the community and helped with a variety of secretarial responsibilities. She was noted for her compassion for those who called in prayer requests, and was very mindful of the needs of the poor and the difficulties of daily life.
Vocations: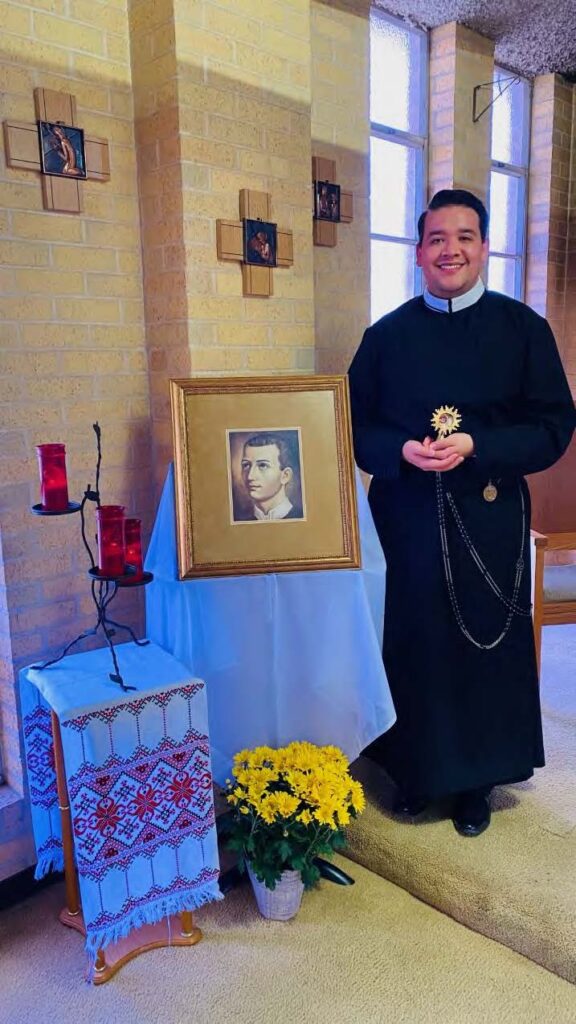 Br. José Antonio Montoya: Nine months into his Redemptorist vocation, Br. José Antonio Montoya is learning to trust some sage advice: his vocation as a Redemptorist Brother will shape his ministry. "It's really amazing," he said. "Any concerns I may have really do disappear the moment I am ministering." Born in Celaya, Guanajuato, Mexico in 1992, Br. Antonio felt called to the priesthood at an early age. He explored a few religious life options and joined the seminary in Mexico, but soon realized that God was calling him to serve as a Brother. He had already met with Redemptorist vocation directors, so he took a leap of faith and joined the formation program in the Bronx in 2017. In addition to summer work with Redemptorists in Mississippi and New Orleans, he was very involved in parish ministry during Novitiate last year. He served as a lector at the Spanish Mass and taught religious education to second graders, helping to prepare them for First Communion. He had barely gotten started when COVID-19 swept through the country and the parish was placed on lockdown. Br. Antonio is currently working on a degree in pastoral ministry. He believes that studying philosophy and theology will help in his ministry, but it also has deepened his prayer life and broadened his understanding and appreciation of his Catholic faith. Br. Antonio is looking forward to serving in Baton Rouge this summer. Once again he will be venturing into unknown territory, but he knows that he'll be with his Redemptorist confreres, and he trusts that his vocation will shape his ministry.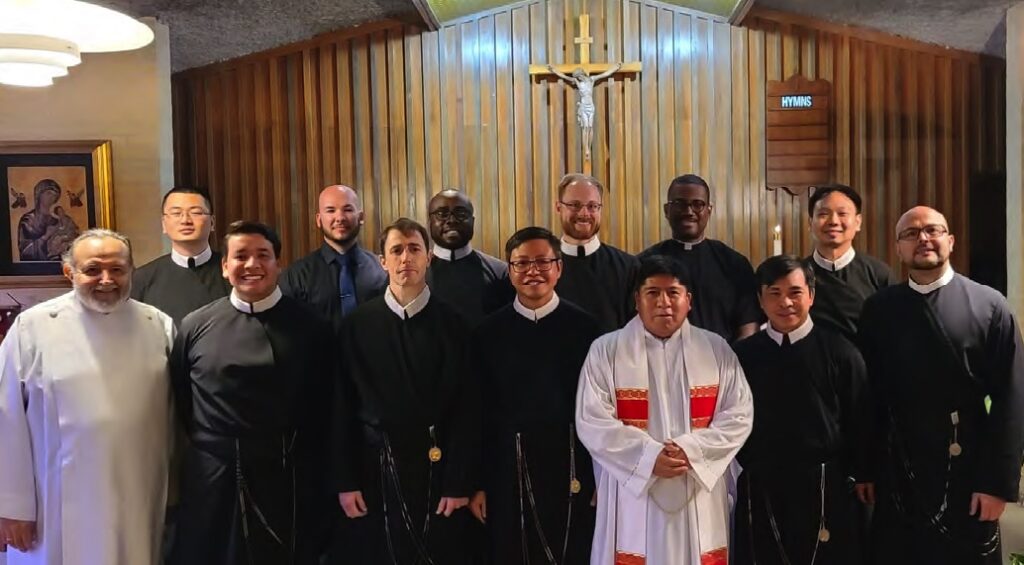 Students Renew Vows: Redemptorist theology students renewing their vows in San Antonio on April 30: Royce Thomas and Brian Vaccaro (Baltimore); and Thien Hoang, Antonio Montoya, and Steven Urban (Denver). Thien Hoang is preparing for second novitiate before his final profession. Br. Antonio will do summer ministry in Baton Rouge, and Steven will do summer ministry in Whittier.
PreNovitiate Summer Ministry Assignments: Special thanks to Fr. Joe Thong Ngo, co-director of formation at the PreNovitiate Formation House in the Bronx, for letting us know where students will be working in ministry this summer. We look forward to sharing news about their ministry experiences in future issues: Andy Jones (Baltimore), St. James the Greater Parish Concord, NC; McQuain Clovis (Baltimore), St. John Neumann Shrine, Philadelphia; Won Lee (Denver), Seelos Shrine, New Orleans; John Nguyen (Denver), St. Alphonsus "Rock" Parish, St. Louis; Nhan Do (Baltimore), St. Alphonsus Parish, Grand Rapids; Zachary Ryan (Baltimore), Sacred Heart of Jesus Parish, Baltimore.
First Profession: Congratulations to our own novice Scott Partin and Noel Bustillos, a Canadian novice, who made their first profession of vows on the Feast of Our Mother of Perpetual Help at St. Michael Church in Chicago. Fr. Lamar Partin, Scott's brother, participated in the liturgy. Scott and Noel will spend a few weeks at home with their families before moving to San Antonio to begin their theological studies in August.
---
Ministry to Migrant Teens 

The Redemptorists are ministering to an estimated 2,000 teenage boys who crossed the Mexican border unaccompanied by adults and have been relocated to the Freeman Coliseum in San Antonio. The Department of Health and Human Services is overseeing the humanitarian relief effort, with assistance from Catholic Charities. The teens, aged 13-17, are expected to remain at the Freeman Coliseum through the end of May. Efforts to connect them with relatives living in this country are underway. "Sadly, many young people are arriving here, only to find themselves being separated from their siblings with no idea where they, or their sisters and brothers, are being sent," explained Fr. Mike Houston of the Baltimore Province, who is serving at St. Gerard Parish. He and other confreres from the parish and theology house have been visiting the teens, aged 13-17, who are expected to remain in San Antonio through the end of May. According to Fr. Mike, about 20 percent of the teens have tested positive for COVID-19 and are housed in a separate facility. Fr. Mike expects the recent surge of migrants to affect the demographics of the nation; cities and parishes may see an explosion of Hispanics, many of whom are marginalized. "This will create a huge need for Spanish-speaking priests and religious. I hope and pray that will be discussed at length during the upcoming General Chapter. This great need will present our Congregation with a wonderful opportunity for ministry in the true spirit of our Redemptorist charism. It could also be a truly historical moment for our Congregation," he said.
---
And More!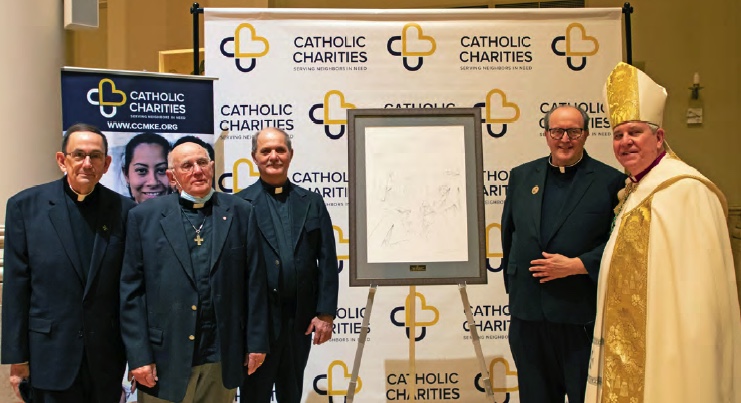 Confreres Receive "Treasures of the Church" Award: The Redemptorists of the Redemptorist Retreat Center in Oconomowoc were proud to accept the "Treasures of the Church Award" from Archbishop Jerome Listecki, Archbishop of Milwaukee, on behalf of all Redemptorists who have ministered in the Archdiocese of Milwaukee. This award was established to recognize individuals, organizations and religious orders who exemplify the true treasures of the Church in their steadfast commitment and response to the poor. Treasures of the Church is an annual event that benefits the programs and services of Catholic Charities of the Archdiocese of Milwaukee.  The Redemptorists have been in the Archdiocese of Milwaukee since the 1800s, primarily at their former monastery/school of theology which was located on Lac La Belle in Oconomowoc, and since 1961 at the Redemptorist Retreat Center on Crooked Lake in Oconomowoc.
Congratulations, Rams! Special thanks to Fr. John Gouger for sharing a few photos of the Holy Ghost Grade School Rams soccer team – and their cheerleaders – as they tied their undefeated St Francis neighbors! Congratulations to the Rams!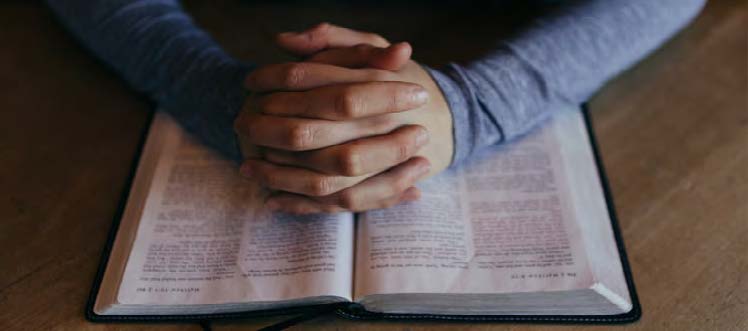 Managing Scrupulosity: A new online ministerial outreach has emerged from the long-standing Redemptorist ministry to the scrupulous. Building on the success and the pastoral response of Liguori Publication's Scrupulous Anonymous and a new website – www.managingscrupulosity.com. To date approximately 60 men and women, most of whom are in their 20s and 30s, have joined spiritual direction groups. New groups are in formation to handle the expressed need. In addition to group spiritual direction, about 20 people have entered into a spiritual direction relationship with one of our spiritual directors. Initially, five spiritual directors have joined efforts to support this new ministry: Eugene Batungbacal, Chung Tran, Paul Coury, Tom Santa and Dr. Monica Verploegen.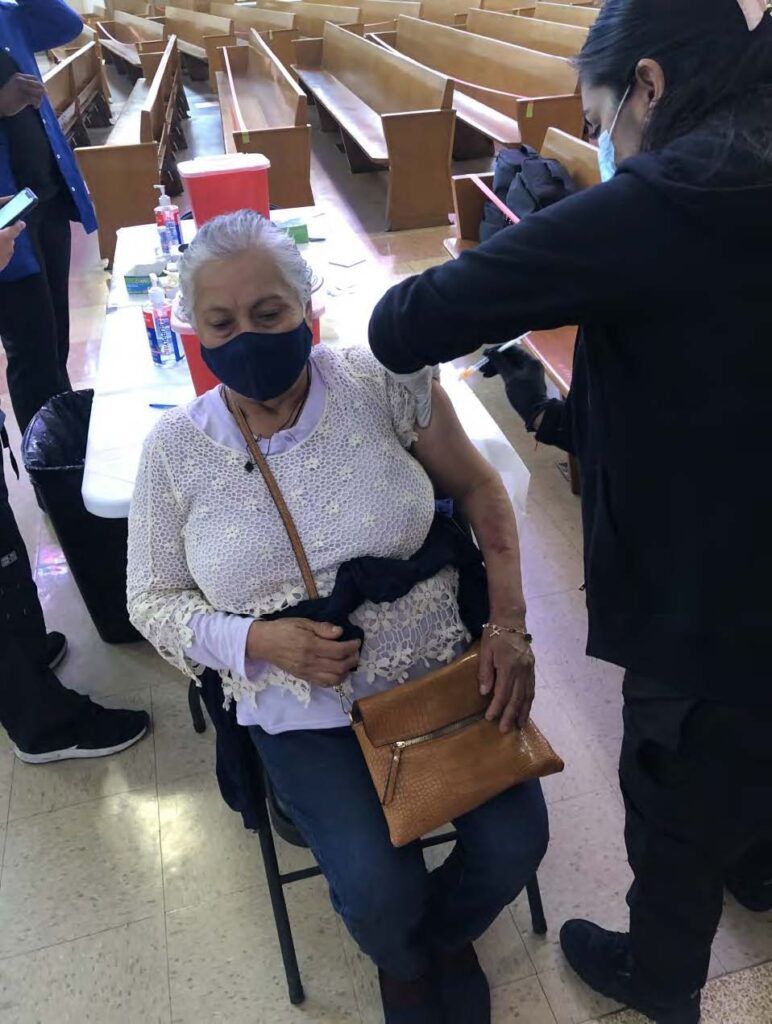 Stopping the Spread: The number of infections, hospitalizations and deaths from COVID-19 is three times higher in the Latino community of Los Angeles than it is in the Anglo community. Few Latino families at St. Mary's Assumption Parish in Whittier have not been touched by the virus, either through sickness or death. This is due to several factors, poverty being the number one cause, but also because Latino households tend to be more multi-generational, and many in the households perform work that has been deemed essential so these workers have not been able to avoid public areas. There is still much fear in the Latino community – fear of the virus and also fear of the vaccine. The parish hosted a vaccination clinic on April 19 and were able to vaccinate 187 members of the community. COVID-19 testing also is available at the parish three days a week. —Fr. Patrick Keyes, C.Ss.R.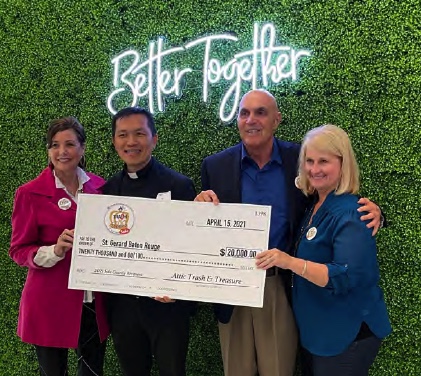 Better Together: Fr. Tat Hoang, C.Ss.R., is grateful to the Attic Trash and Treasure organization, which recently donated $20,000 to Redemptorist St. Gerard Elementary School in Baton Rouge. The organization collected unused household items and auctioned them. "Thanks to Tommy Murphy for tirelessly reaching out to our benefactors and friends to gather all the 'treasures' during the last few months," Fr. Tat said. "May God bless him and all the generous people who secretly and joyfully work to improve the school for the students. They are 'the church in action.'"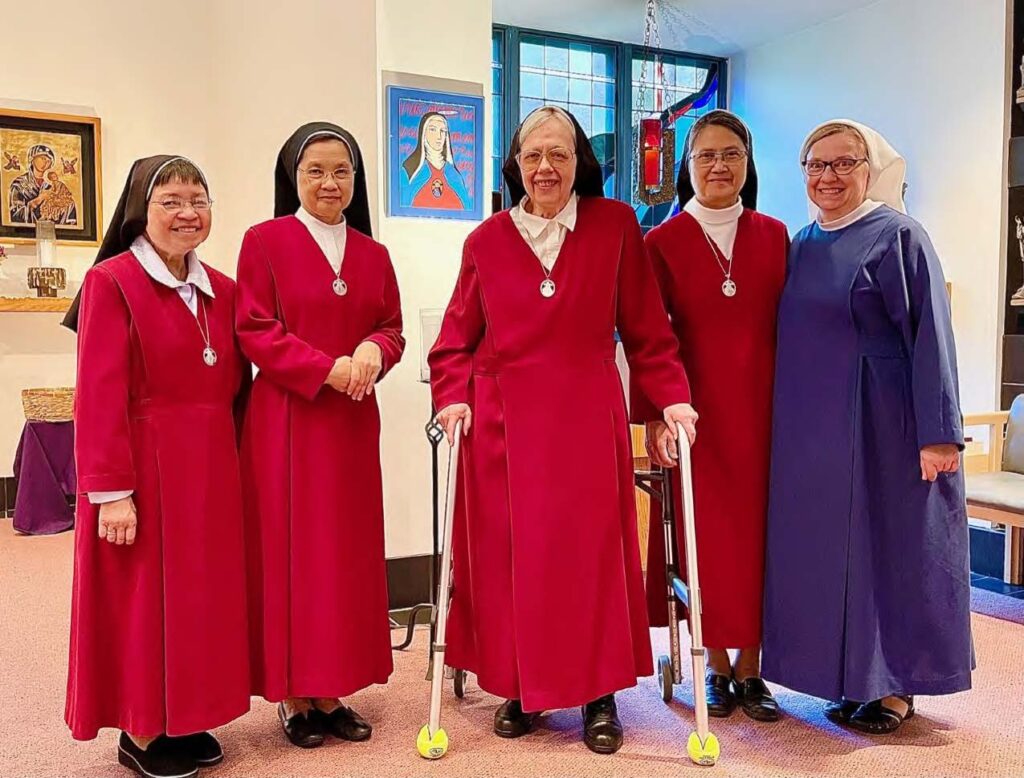 Celebrating 61Years: Redemptoristines Sr. Mary Helena, Sr. Supawadee, Sr. Ann Marie, Sr. Mary Louisa and Deirdra Leone-Kearny, a postulant, celebrated the 61st anniversary of the Redemptoristine foundation in Liguori back in April of this year. The Redemptorists welcomed the Sisters and confreres from St. Louis to St. Clement's for a special Mass and luncheon for the occasion.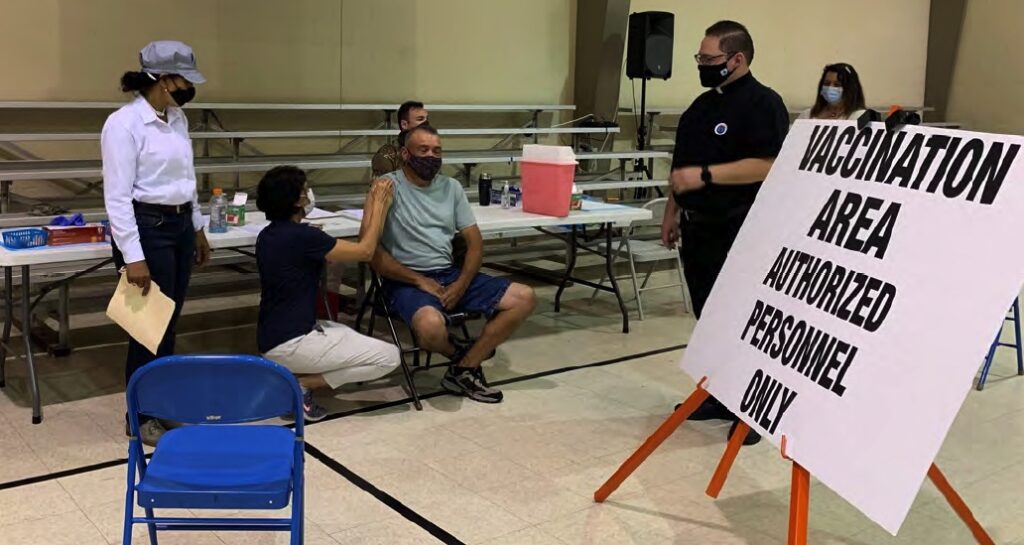 Vaccine Event Targeted to Hispanic Community: The Diocese of Baton Rouge Hispanic Apostolate, which is served by the Redemptorists, worked with the Louisiana Department of Health to host and publicize a COVID-19 vaccination event directed toward the local Spanish-speaking community. Noting that Hispanics were underrepresented among those receiving the vaccine, the State of Louisiana reached out to the Apostolate to plan the event and a follow-up scheduled for May 22. Volunteers from the Apostolate, including Fr. Kevin Zubel, assisted with translations and completing paperwork. Another impact of the event was to address vaccine hesitancy, and Fr. Kevin noted that many folks who passed through early in the morning returned later with spouses and other family members. Some of those receiving the vaccine became emotional, often taking selfies to send to family in their countries of origin, revealing the tremendous stress this pandemic has placed on those with the least access to resources to navigate its two-fold threat to health and financial well-being.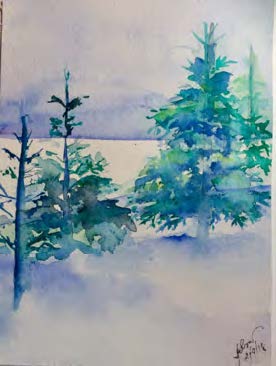 Expressing Beauty: Sr. Mary Louisa, O.Ss.R. is an artist-inresidence at the Redemptoristine monastery in Liguori. She has painted many beautiful pieces that have been enhanced with Scriptural quotes on the Sisters' Facebook, and recently completed a 10-week icon writing course. Featured here is one of Sr. Mary Louisa's many watercolors.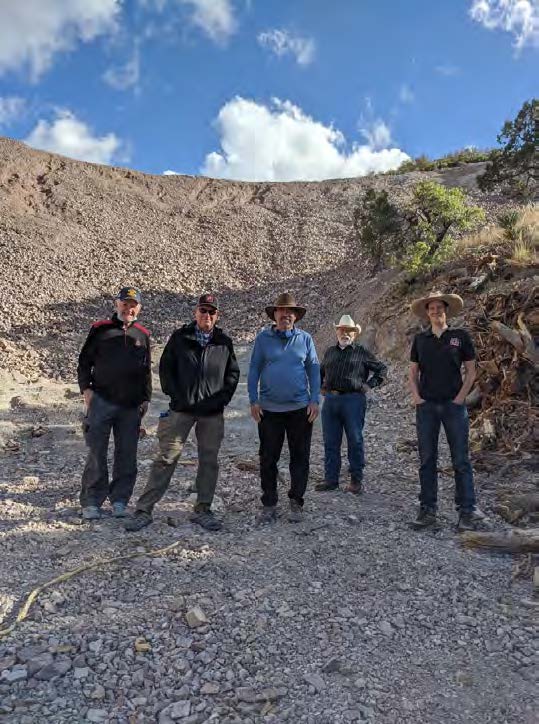 Ministry in the Desert: Despite the lack of spectacular desert blossoms this year, the Redemptorist Renewal Center in Tucson continues to provide "magical" programs this spring. Fr. Pat Grile, director of the Hesychia School of Spiritual Direction (HSSD), recently concluded the 2021 class. The class was conducted in a hybrid manner: some participated in person ("roomies") while others ("zoomies") joined in from six different time zones. Visit our Spring 2021 edition of Hope Magazine to learn more about the Hesychia School.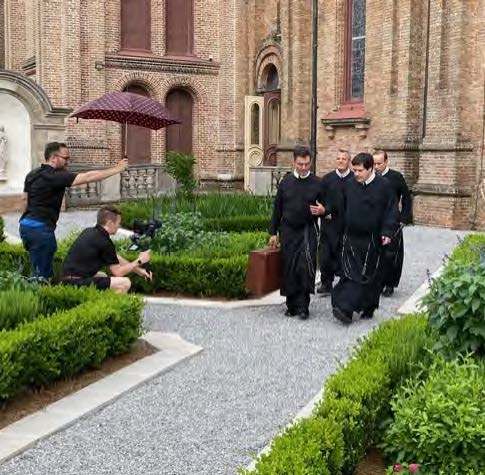 EWTN Films at Seelos Shrine: In May, EWTN spent three 12-hour days at the Seelos Shrine in New Orleans filming a program to be aired on the Feast of Blessed Seelos, October 5. These were intense days; the hours of film that need to be cut down to 27 minutes presents quite a challenge in editing to fit within the parameters of the feature "They Could Be Saints" with Michael Neil. ETWN interviewed Archbishop Gregory Aymond of New Orleans, Fr. Gil Enderle and Fr. Rich Boever from the Shrine, and staff members Dawn and Marilyn. From their observations of Seelos and his life, reenactment scenes were photographed that will accompany the words shared. Fr. Aaron Meszaros – the only community member who looks young enough – played the part of one of seminarians under the direction of Fr. Seelos.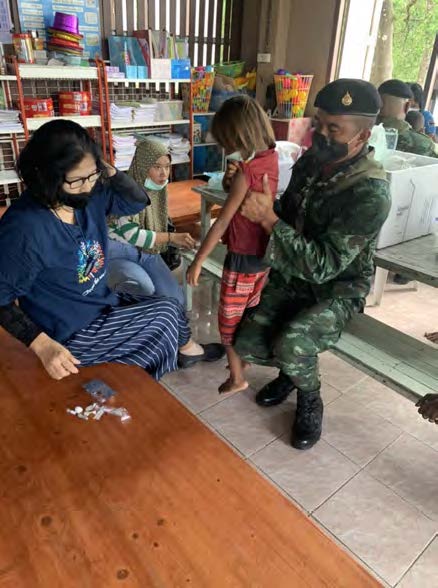 Staying Safe in Thailand: Fr. Joe Maier shared news of a massive vaccination effort that recently took place in Thailand. The Ministry of Public Health recently vaccinated 1,000 folks per day in the foyer and parking lot of Holy Redeemer Church in Bangkok. In Fr. Joe's slum neighborhood of Klong Toey, thousands of people also received COVID-19 vaccinations. Fr. Joe noted that the kids and staff members at Mercy Center are all fine and healthy.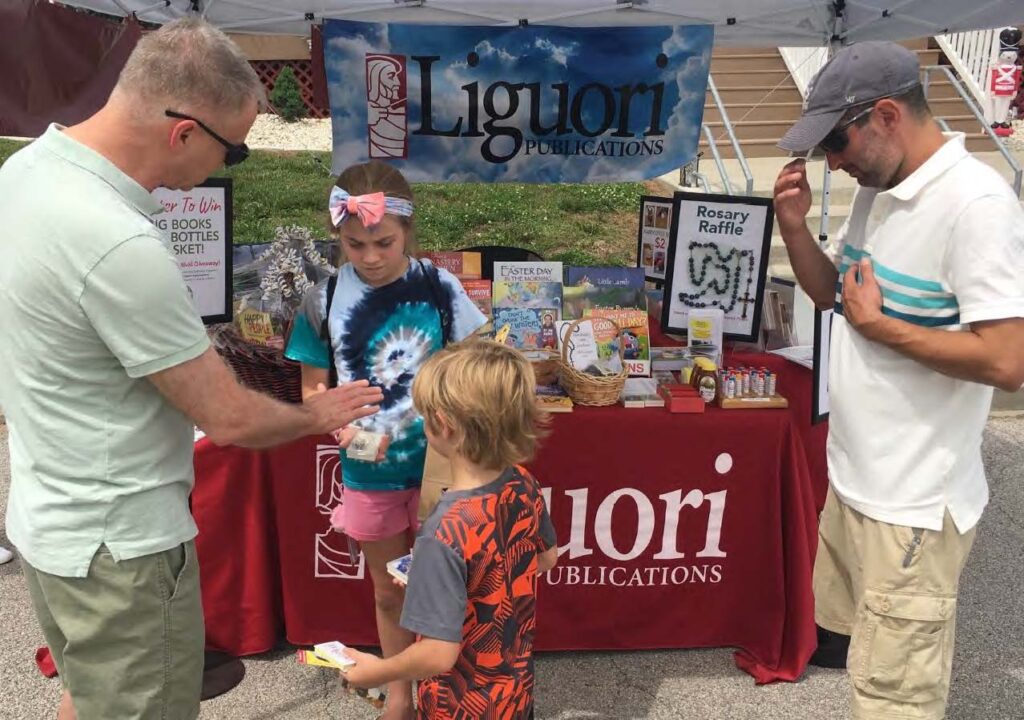 Liguori Gets Festive: Liguori Publications hosted a "Pray Globally, Shop Locally" themed booth at the Strawberry Festival in the nearby historic town of Kimmswick in early June. In addition to books and other inspirational offerings, the booth featured "Brother Beekeeper" products from Br. Gerry Patin and rosaries made by Deacon Rick Fischer. The event was well attended, keeping staffers Elizabeth Gebhart, John Winkelman and Jill Witte busy. Fr. Byron Miller blessed rosaries and even heard a confession!
Snapshots adapted from Denver Link; special thanks to Kristine Stremel.

---
UPCOMING DATES
July 18: Feast of the ost Holy Redeemer
August 15: Assumption
August 22: Queenship
September 8: Birth of Mary
September 15: Our Lady of Sorrow
September 27: St. Alphonsus Liguori Birthday