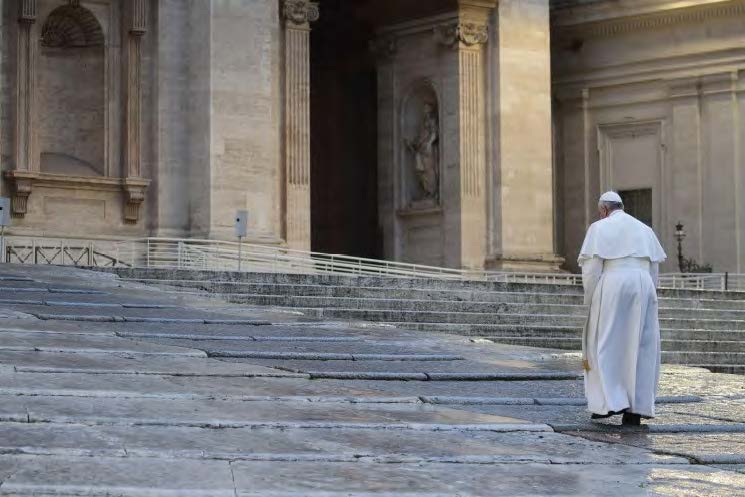 The Long Game
By Kristine Stremel
Our own Cardinal Joseph Tobin shares his insights about Pope Francis's vision of synodality in "The Long Game," published in the June 1 edition of Commonweal Magazine. Pope Francis keeps calling for a more decentralized Church, one marked by collaboration and consultative decisionmaking. In eight years, the pontificate of Francis has featured five synods. Another – "For a synodal Church: communion, participation and mission," will be announced soon.
Cardinal Tobin believes that the gathering is essential for our shared growth as the Body of Christ, to be more aware and intentional in our adoption of what Pope Francis sees clearly – and advocates for openly – as the model of Church that the Lord expects from us in this millennium.
"Synodality is indeed the long game of Pope Francis. It is a process that will challenge us and will require changes in what we are as Church. What we will find is that synodality is a focus on the journey of the Body of Christ through history, a journey that fosters ongoing conversion and, ultimately, calls us to mercy," he wrote.
Acts of synodality no longer function as sweeping dogmatic declarations, Cardinal Tobin said, but rather are used to fine-tune how the Gospel is applied to the signs of the times. And with that comes the next important point of Francis's long game: conversion to mercy – a new way in understanding and approaching how we carry out our mission. Pope Francis not only challenges the Church to move faster, but calls for a deeper institutional conversion that involves being nimble and strategic in our discernment.
"It is crucial that we as a Church not merely listen, but that we actually hear from people," he noted. "That is what softens our hearts and primes them for conversion, and what gives us bishops the confidence to know that, yes, that new thing we are discerning is a movement of the Spirit, because our people hear it too."
An important word in how the Church approaches mercy is "integration." Cardinal Tobin explained: In this case, it's helpful to integrate the head of the Church and the rest of the Body of Christ. The head is good for thinking, looking around, perhaps setting our vision on the far horizon and occasionally butting our forehead against the wall in frustration.  But we can't lift things up, we can't embrace people, with just our heads. Where are the outstretched arms of the Body of Christ? A circulation between the center and the peripheries needs to be a greater part of the daily goings-on of the Church. And as we continue on this mission from God, we have to keep attuned to our whole body, to the tension points, and even to the unhealed wounds that risk making our witness toxic – racism, misogyny, clericalism, sexual abuse.
"But God transforms everything, Cardinal Tobin wrote. "What is an unhealed wound that is touched by God? It's something another man named Francis bore on his body: the stigmata, the wounds of Jesus Christ. A Church of authentic synodality, that walks together, listens and brings mercy to all we encounter, inside and out, is one that never forgets our wounded parts, and the power they have to inspire faith. Read the entire article in Commonweal.