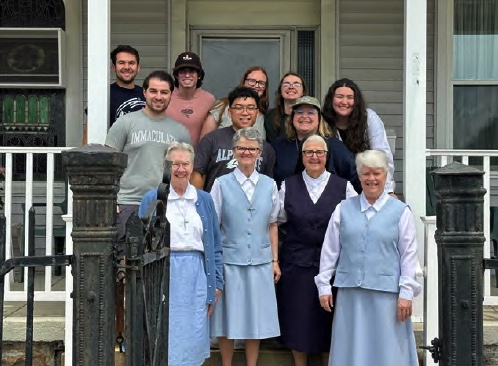 Summer Ministry at Immaculata University
by Andrew Tran-Chung
There's something special about waking up to birds chirping outside your window and the bright sun shining in your face at 5:30 in the morning. It's even more special to walk across campus to the chapel for morning prayer and Mass, and then make the short commute to the office under the summer sun feeling a cool breeze billowing between the buildings. This is summer at Immaculata's beautiful campus in Pennsylvania. A new ministry for the Redemptorists here in the United States, campus ministry is way to build bridges with the younger generation of Catholics that revel in their desire to build strong foundations of community, while they sacrifice their spare time to serve others in their local community and beyond.
I have the privilege of working with an incredible campus ministry team at Immaculata this summer: Fr. Royce Thomas, Sr. Laura Downing, IHM and Amanda Bielat. While some might say the summers are slow, I'd say we're going full steam ahead. Besides attending the online Encuentro with the Superior General for the students of the North American Conference, I'm learning the various ways campus ministry hosts summer service trips for students, on-campus events, and plans for the upcoming school year. The 2023 Nun Run, a recent fundraiser for the IHM Sisters' Camila Hall retirement home, brought people to run or walk the 5k loop that weaved through campus.
This past weekend, Amanda and I went with the students to Shenandoah, PA to help the Sisters clean and clear out the former school building. We carried thousands of books from the third-floor library down to the basement, where others set them up for people to browse and take home whatever they liked. If my weekends aren't taken up by service trips or on-campus events, they are either spent at the St. John Neumann Shrine in Philadelphia or on the road with Fr. Royce as he helps at other parishes. I'm so grateful to have this opportunity to spend my summer working with the amazing team here at Immaculata, and am excited to share all the amazing things we have planned.