Welcome to the Summer Edition of Hope!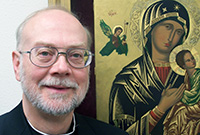 Summer's a good time to relax and reflect on our many blessings. It is also an opportunity to learn about some of the Redemptorist recent ministries: the triduum celebrating 100 years of weekly perpetual novena devotions at St. Alphonsus "Rock" Church; the continuing success of our marriage prep program in Guam; an innovative seminar sponsored by our LIFE Institute on healing the racial divide; and the pastoral work of our Fr. Thomas Pham supporting victims of the tragic school shooting in Ulvalde.
Finally, it's always a good time to remember our wonderful publishing house at Liguori that once again has some summer reading selections for children.
As always, we thank you for supporting the Redemptorists' ministries. We continue to hold you in our prayers. I hope that this online edition of Hope Magazine will further inspire and stimulate your faith. 
Yours in our loving Redeemer,
Very Reverend Stephen T. Rehrauer, C.Ss.R.
Provincial Superior, Redemptorists of the Denver Province

In This Issue: