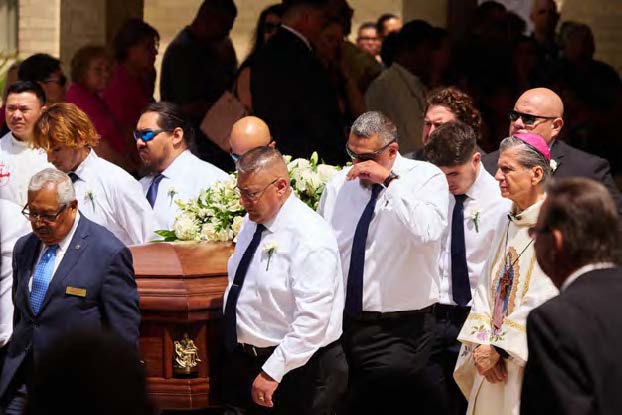 Redemptorist Confrere Offers Support for Uvalde Family
The Redemptorists in San Antonio were able to support victims of the tragic school shooting
in Uvalde, TX in a very personal way. Immediately after the incident, Fr. Thomas Pham reached out to offer condolences and pastoral care to the family of Irma Garcia, one of two teachers killed when a teenage gunman went on a rampage at Robb Elementary School on May 24.
The day after the shooting, Fr. Thomas traveled 90 miles west of San Antonio to offer pastoral care to Irma's family at their home. They prayed the rosary and shared memories of the fourth-grade teacher who died with a co-worker while covering and protecting students during the shooting. Irma's husband of 25 years, Joe Garcia, died two days later of a massive heart attack after placing flowers at his beloved wife's memorial site.
Their son, PFC. Cristian Garcia, is a Marine serving the 4th RECON, where Fr. Thomas is his Battalion's Chaplain. Fr. Thomas made multiple trips between San Antonio and Uvalde last week to support the family and joined them for the wake and funeral for Joe and Irma. Please remember the victims of the Robb Elementary School shooting in your prayers.
—Article and photos submitted by Fr. Thomas Pham
---
Are you wishing to deepen your prayer life this year? Our all-new mobile prayer app based on St. Alphonsus method of mental prayer is available free to you.