Summer 2019 Denver Province Snapshots
---
In Remembrance: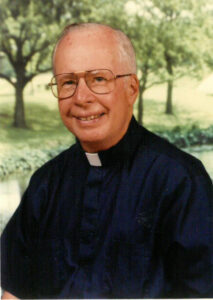 Fr. Ray Maiser, C.Ss.R.: Beloved Fr. Raymond (Ray) Maiser, an exceptionally gifted confrere who pioneered ecumenism decades before it was widely accepted, died on July 12 in St. Louis. A confident extrovert with a contagious zest for life, Fr. Ray cultivated an incredible network of friends during his 88 years. He delighted his confreres with his quick wit and hilarious tales of his adventures and epitomized the very best in friendship. Blessed with a sharp wit and exceptional intelligence, Fr. Ray earned a Master's in physics from Notre Dame. At 26, he was working as an engineer at Boeing Aircraft and teaching physics at Seattle University when he realized that he truly wanted to be a priest—but not a Jesuit destined for a lifetime of teaching. He chose the Redemptorists and the life of a missionary. After completing Tirocinium at St. Alphonsus "Rock" Parish in St. Louis, Fr. Ray returned to the West Coast, where he ministered almost exclusively for the next five decades. With such an engaging personality, Fr. Ray was naturally suited for vocation and formation work. He was assigned as vocation director at Holy Redeemer College while it was in the process of closing, and served at the helm of The Redemptorist Family of the West. He was assigned at St. Gerard Parish in Great Falls, MT from 1968 until 1977, where he was responsible for the youth apostolate and served as director of high school counseling. He had such impact that he received a Counselor of the Year award. Confreres elected Fr. Ray Provincial Vicar of the former Oakland Province for the 1987-1990 term. He was well suited for administrative work and valued the contributions of lay staff members. He was an early crusader for shared ministry with lay people, especially concerning social justice issues. Extended family members joined confreres to celebrate the life of this extraordinary Redemptorist earlier this week. Confreres shared memories at a wake hosted by the St. Clement Redemptorist Mission Community on Wednesday, July 17. A Mass of Christian Burial was celebrated on Thursday, July 18, followed by burial at the Redemptorist cemetery in Liguori. A Memorial Mass at Sacred Heart Parish for friends and relatives on the West Coast also is being planned. May Fr. Ray rest in the peace of the Redeemer, basking in the love that he showered on so many.
---
Ordinations, Professions & Jubilarians
Anniversary Celebrations: Celebrating 70 years of ordination: Rev. Wilfred Lowery, C.Ss.R.; Celebrating 65 years of ordination: Fr. Richard Thiele, C.Ss.R.; Celebrating 60 years of ordination: Rev. Donald MacKinnon, C.Ss.R.; Celebrating 50 years of ordination: Rev. Gregory Schmitt, C.Ss.R.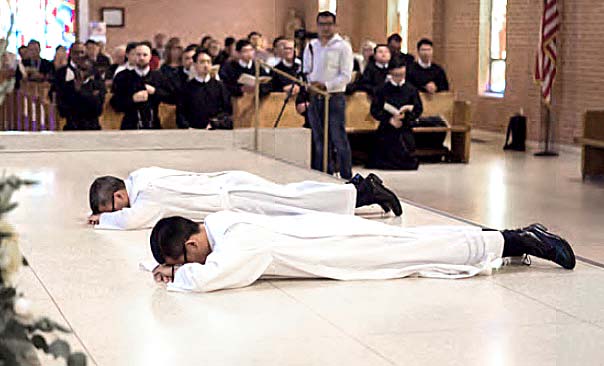 Two Ordinations: Chung Tran was ordained to the priesthood and Huy Vu was ordained to the diaconate in the same liturgical celebration by Galveston-Houston's Auxiliary Bishop George Sheltz at Holy Ghost Church in Houston on Saturday, June 15. We were truly blessed by the Spirit during the liturgical celebration as well as during the entire weekend. Many confreres, including Redemptorists Denver Province Provincial Superior, Fr. Steve Rehrauer, traveled far and wide to attend the weekend celebration and congratulate Fr. Chung and Deacon Huy on beginning this next chapter in their apostolic lives as Redemptorists. It was also an opportunity for our confreres to meet their families, and to thank them for the gift of their sons.
---
Liguori Publishes Biography of Sr. Thea Bowman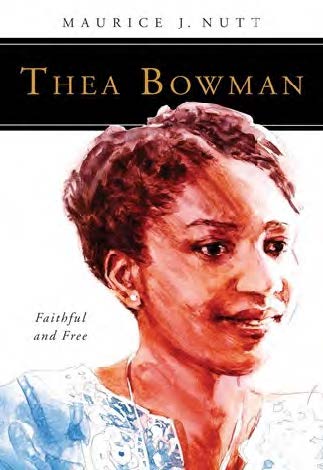 Congratulations to our own Fr. Maurice Nutt, C.Ss.R., on the publication of Thea Bowman: Faithful and Free, available now from Liturgical Press. With every passing year since her death in 1990, more people are recognizing Sr. Thea Bowman as one of the most inspiring figures in American Catholic history. This granddaughter of slaves became Catholic on her own initiative at the age of nine. As a Franciscan sister, she lived a wide-ranging ministry of joy, music and justice. Father Maurice's new biography of Sr. Thea introduces her and sheds new light on who she was as a person. Drawing on careful research and the insights of people who were close to her, Nutt explores her personality, her passion, her mission, and her prayer. He captures Thea Bowman as she was: an unapologetically African American woman, a religious sister who deeply loved God and the people to whom she ministered through teaching, preaching, and singing, and who embraced the blessing of her ancestry, the wisdom of the "old folks," and a passion for justice and equality for all of God's children.
---
And More!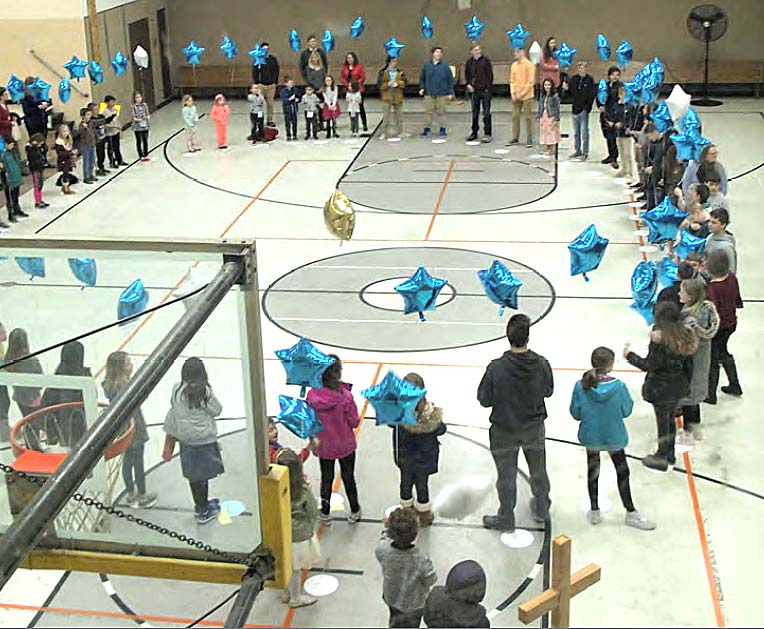 Children Release Prayers: We don't actually think of watching our prayers ascend to heaven, but the children in the Religious Education program at St. Alphonsus Parish in Grand Rapids did exactly that last Spring! The underlying theme of the year's faith formation program focused on prayer, with particular emphasis on the rosary. In addition to the curriculum-based learning, catechists wove in the essential prayers of the rosary to help the children become familiar with this traditional form of prayer. Volunteer catechists worked hard to find different ways to make the rosary relevant. Some classes made their own rosaries, which were then blessed by the parish priests. Younger children learned the prayers in song form. Regardless of the age or group, catechists found ways to introduce all of the children to this time-honored devotion to Mary. Students, teachers and parents gathered to pray in the gym, where volunteers had fashioned a rosary of helium-filled balloons that served as rosary beads. After praying the rosary, the rosary beads were released to the sky. Watching their prayers ascend to heaven was a joyful moment and an awesome experience for the students, their families and the catechists! —Maggie Vugteveen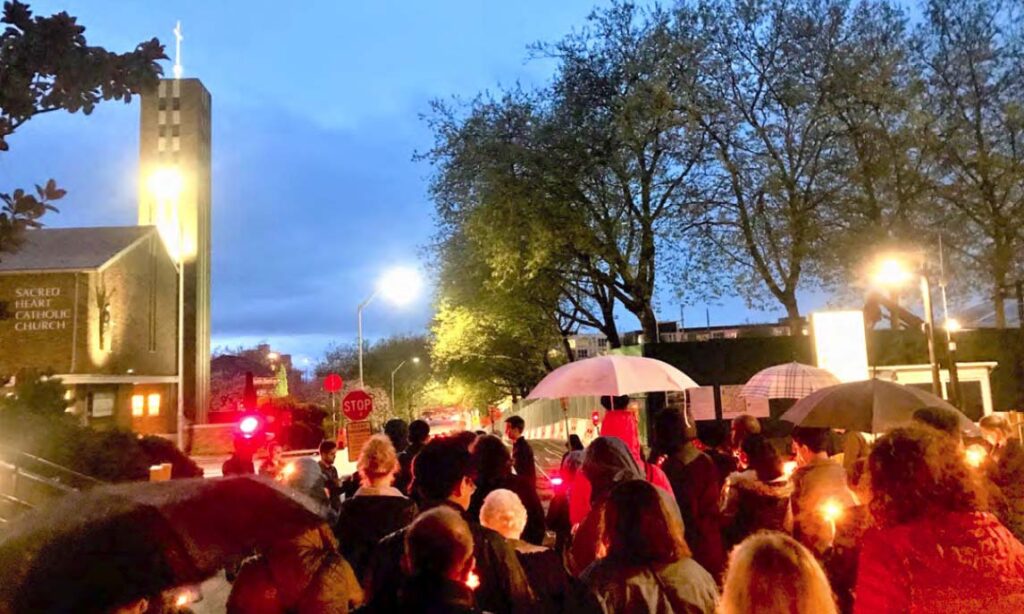 Revival in Seattle: Young Adults—often called the "Young Professionals" who have come to Seattle from all over the world – have revitalized Sacred Heart of Jesus Parish. The enthusiasm and energy of those serving on the Parish Council and other committees resulted in an incredible Triduum that culminated in standing-room-only Easter Sunday liturgies. These committees organized a candlelight procession through Seattle Center, just next to the Space Needle. The procession was about a third of a mile long, and took about 20 minutes as we stopped three times along the route for readings. The procession ended with reparation and adoration in the lower chapel. The first Mass on Easter Sunday morning was full and the second was standing-room-only—something that had not happened at Sacred Heart for many years.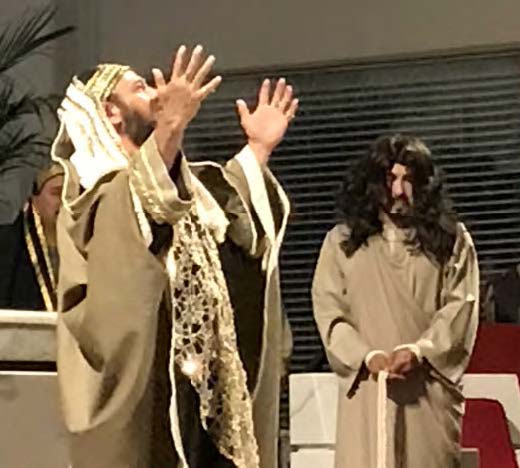 Passion Play on Good Friday: The Spanish-speaking theatric group, Los Obreros de Cristo, performed the Passion Play at the Redemptorist parish of St. Mary's Assumption Church in Whittier on Good Friday.
Documentary Film Screening at Liguori: Fr. Charles Vijay Kumar presented a special screening of his documentary Who is My Neighbor? on the Liguori campus on Monday, May 6. Liguori Publications staff, the Redemptoristines and members of the St. Clement community enjoyed the film, which Fr. Vijay hopes will raise awareness and build a positive Christian response to the worldwide immigration and refugee crisis. The documentary highlights the Redemptorists who provide immigrants and refugees with support and hope. We are proud of our confreres who dedicate their ministries to serving these poor and abandoned peoples.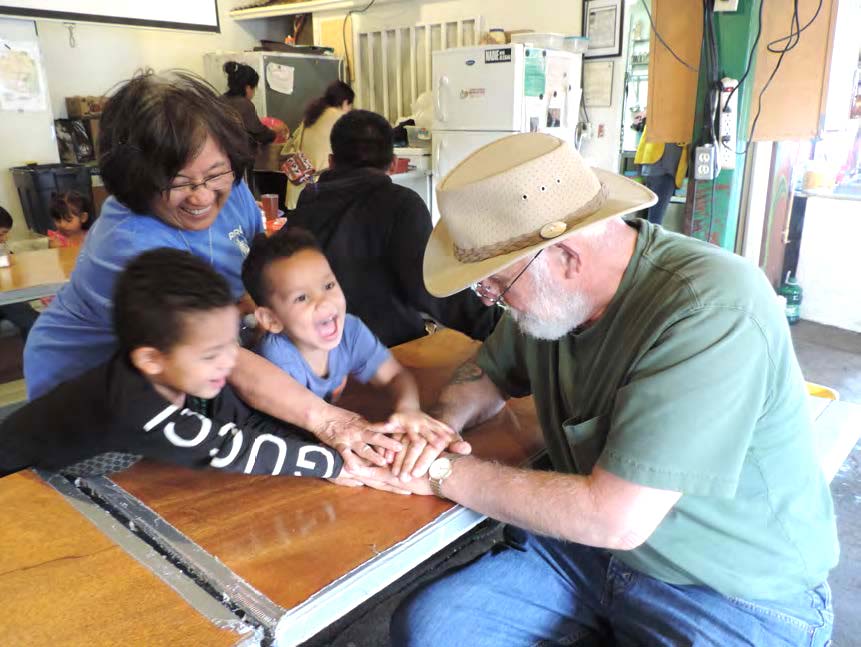 At the Border: Fr. Rich Boever and his classmates in the Redemptorist Renewal Center's spring sabbatical program experienced immigration at both sides of the Mexican border. They visited ministries at several sites: Nogales (both in the USA and Mexico), Douglas, AZ, and Agua Prieta, Mexico. He and his classmates – religious priests and sisters from across the USA, Canada and Ireland – served dinner to asylum seekers and their families from South and Central America at the Kino Border Initiative's soup kitchen in Nogales, and visited a parish-sponsored shelter housing some 30 families who are waiting to be called for interviews about their cases in Agua Prieta, Mexico. Fr. Ricardo Elford, who works with migrants in Tucson, accompanied the group to Douglas and Agua Prieta.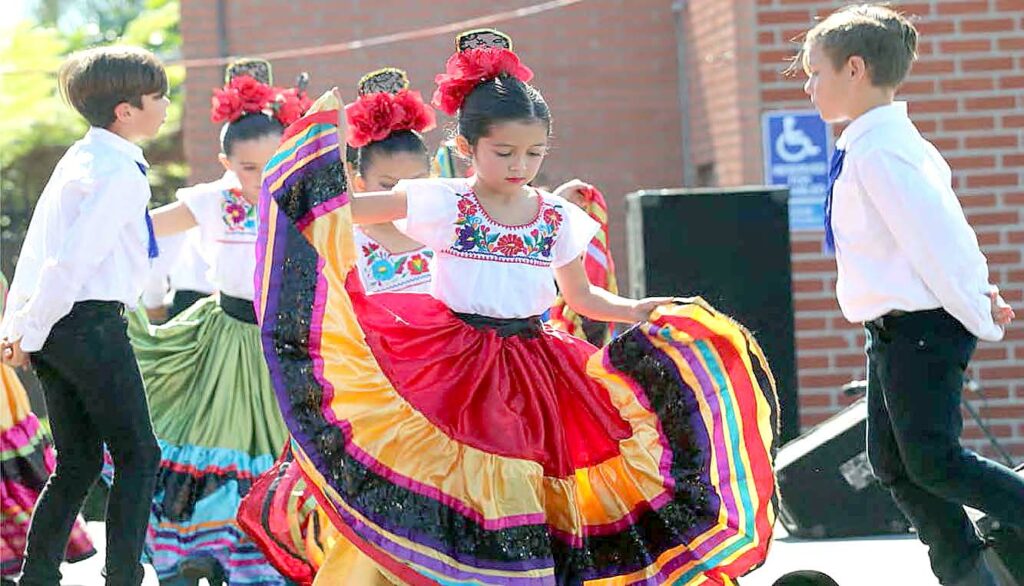 Update on St. Mary's: St. Mary of the Assumption Parish in Whittier, which celebrated its 125th anniversary last year, has a long history of service, especially to the Spanish-speaking in the area. The Redemptorists took over the parish in 1922, and the following year they founded St. Mary of the Assumption Elementary School. The community now has 12 Redemptorists. Besides the six Redemptorists working in St. Mary of the Assumption Parish, we support many of the other parishes in the Whittier area who are short of priests. The parish is also one of a handful selected to be a "pilot" parish in conducting a Capital Funds Campaign to address the infrastructure needs of a number of poor parishes and schools in the Archdiocese of Los Angeles. Fr. Steve Nyl and Br. Tom Wright in particular have given many of their working hours to making the campaign a success. Over the next five years this campaign will be extended to every parish in the Archdiocese.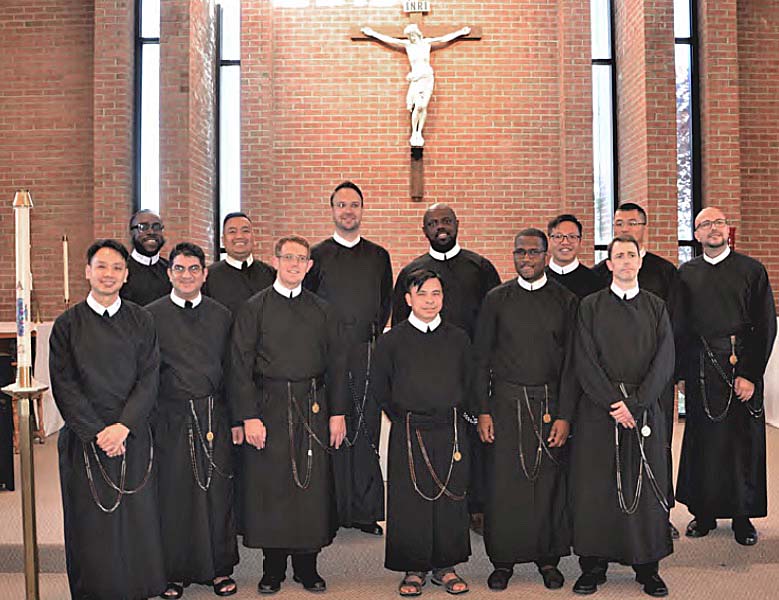 Redemptorist Students Renew Vows: Redemptorist students strengthened bonds and renewed vows in May at the student gathering, traditionally a week of strengthening fraternal bonds and learning more about the Redemptorist charism. Presenters included Fr. Raphael Gallagher (Dublin), who translated the works of St. Alphonsus on conscience, Fr. Dennis Billy (Baltimore), who discussed moral theology in the Alphonsian tradition, and Fr. Kevin O'Neil (Baltimore), who shared a lively and practical presentation on the dimensions of the formation and exercise of conscience.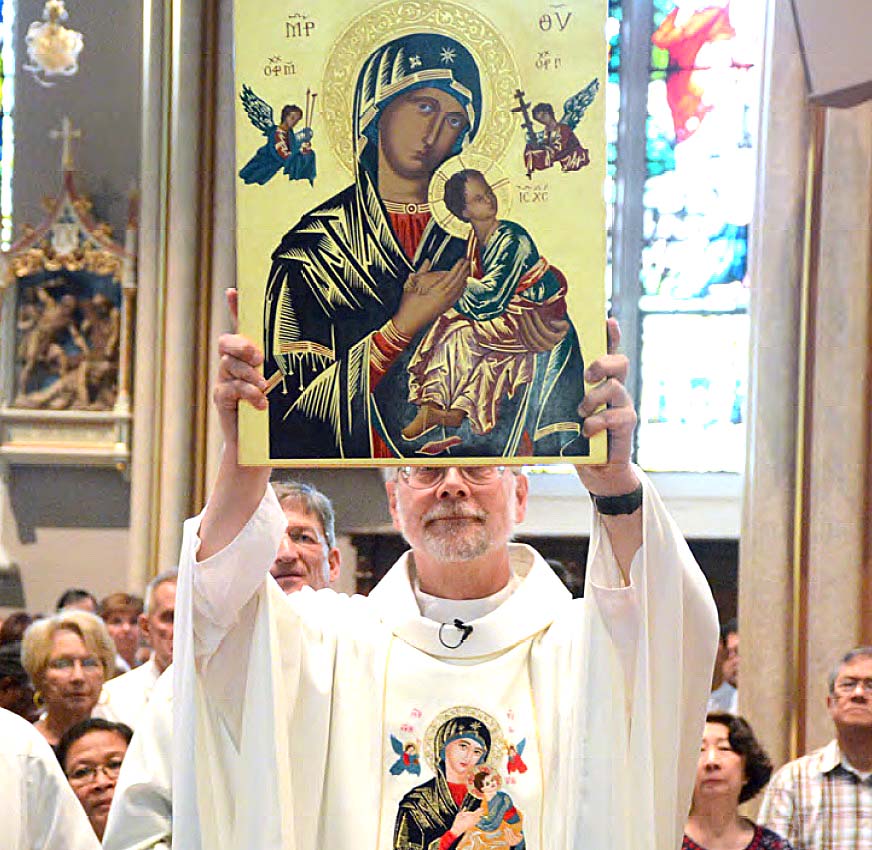 Liguori offers film on Icon of Our Mother of Perpetual Help: The 150th Jubilee Celebration of Our Mother of Perpetual Help launched a renewal of the Redemptorists' commitment to preach the Gospel, especially using the Icon of Our Mother of Perpetual Help to illustrate the mystery of redemption. Liguori Publications is offering a new resource for evangelization, Icon of Love: An Incredible Story of a Precious Image. Written and directed by Fr. Biju Madathikunnel of the Vice Province of Liguori in India, the 40-minute documentary provides information about the miraculous icon's history, tradition and symbolism, and shares details about the recent restoration and the sacred art of iconography. In addition to personal testimonies, interviews with Superior General Michael Brehl and other Catholic leaders are included, as well as special memories by St. Pope John Paul II. Please visit Liguori Publications at www.liguori.org for more information.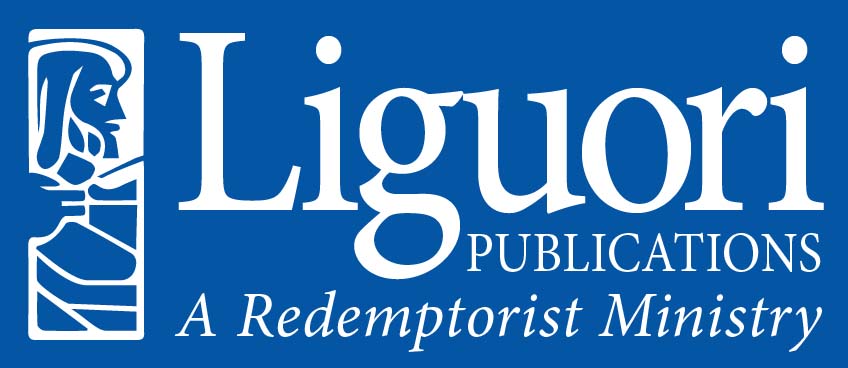 Liguorian Receives CPA Awards: Liguorian Magazine won 11 awards from the Catholic Press Association last week! No small feat, considering that the competition included nearly 4,000 entries from publications like US Catholic, America, Columbia, Maryknoll and St. Anthony's Messenger, and Liguorian submitted entries in only 13 categories of the competition. Redemptorists won two of the first-place awards: Fr. Patrick Keyes in the "Best Guest Column/Commentary" category for his editorial on the clergy crisis, "To Whom Shall We Go?"; and a multiple photo package by Redemptorist Br. Jun Santiago of the Philippines for "Everyday Impunity," which called attention to the Philippine government's violent crackdown on addicts and others in the "Best Multiple Picture Package – News" category. "Kudos to our small dedicated staff, which works on a shoestring budget," said Fr. Byron Miller, publisher. "It's good for Liguorian to be recognized for outstanding content by peers in the Catholic publishing world, but it's more beneficial for Redemptorists to recognize its potential to communicate our mission and charism in far reaching ways."
Special thanks to Kristine Stremel and DenverLink for providing these updates.

---
UPCOMING DATES
August 1: St. Alphonsus Liguori Feast Day
August 15: Assumption
August 22: Queenship
September 8: Birth of Mary
September 12: Holy Nmae of the Blessed Virgin Mary
September 15: Our Lady of Sorrows
September 27: St. Alphonsus Liguori Birthday
October 5: Blessed Francis Seelos Feast Day
October 7: Our Lady of the Rosary
October 16: St. Gerard Majella Feast Day