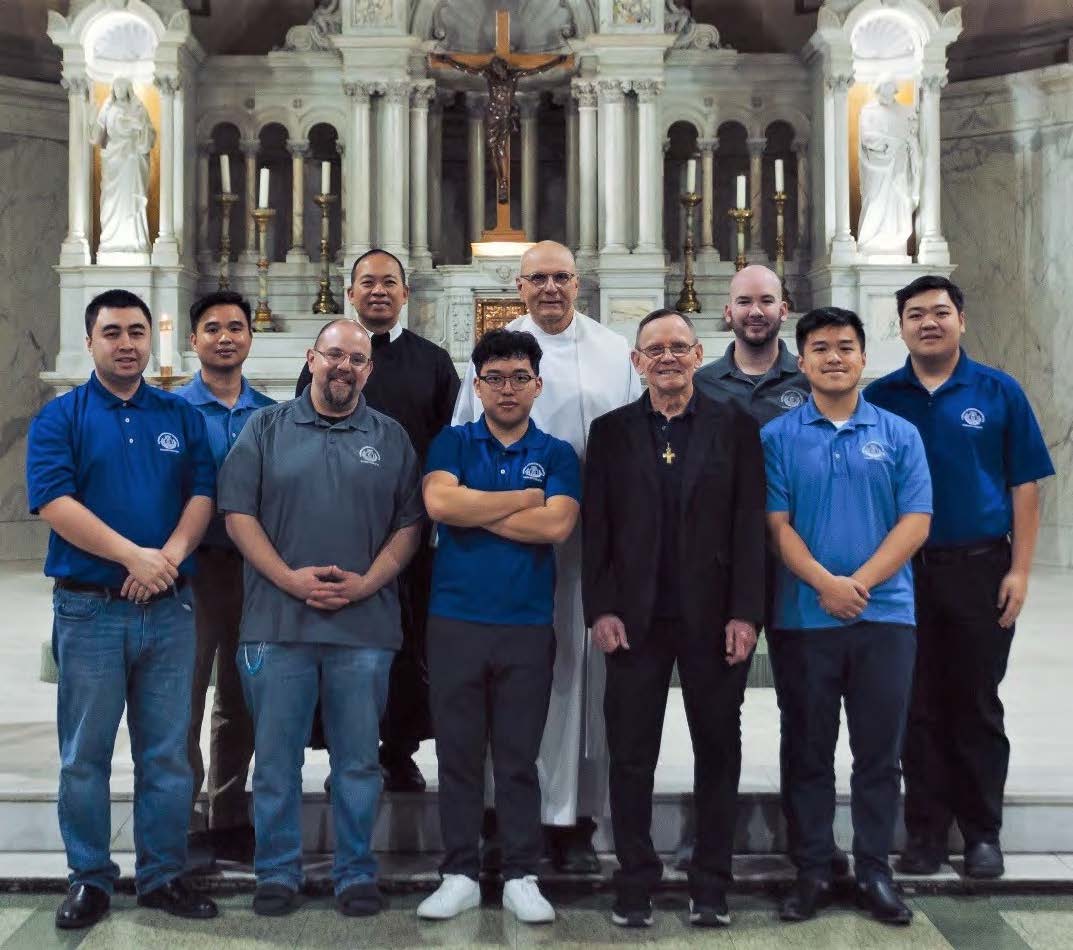 Meet Our Young Men In Formations
Striving to Answer the Redemptorists' Calling
by Andrew Jones
We are members of a community of men walking side-by-side to carry out, as best we are able, the mission of becoming greater disciples of Christ through the formation process with the Congregation of the Most Holy Redeemer. We are a band of men of varying ages with varying talents. We all are striving to answer a call to feed the hungry and to walk with those of our sisters and brothers who are in need. As a Redemptorist once said: I am constantly evangelized by the most abandoned as I continue to walk out this vocation with men with full hearts.
Though we are centered in prayer, we do not allow grass to grow under our feet. We just celebrated the life of Fr. Frank Sullivan in a Memorial Mass at Immaculate Conception Parish in Bronx, NY. The day was marked by some of us students arriving very late the day before from many parts of the country and world. The hours of formation can feel long, but the hard work and prayer in this community, especially with the bond the students have formed, reminds me personally that we walk together.
As students, we have apostolic assignments in addition to our schoolwork: some serve as catechists in the parish religious education/youth program and others minister to the homeless on the street, known as the Hope Walk. The swagger of the students in this community is familiar to the religious education students we teach and to those we meet on the street during the Hope Walk.
Our four-day retreat prior to the start of this Spring 2023 semester gave us a chance to encounter Jesus at the crossroad of apostolic work and formation studies. Fr. Aaron Meszaros, Provincial Vicar of the Denver Province, led us through gospel stories as he helped us to see Christ's presence through the sacred Word. We made connections between our lives and the words of the gospel, as we prepared to walk together through the new semester. We are building our community through recreation as well. Together with the enjoyable moments we share, we have also supported each other through moments of sickness and family struggles. We are learning that what matters most is to never stop walking.
---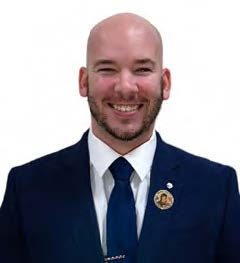 Cody Joseph Hill
I am the youngest of three siblings from a devout Catholic family of five in Biloxi. I served 10 years in the Army National Guard and earned my bachelor's degree in criminal justice. I have always had a natural inclination for assisting the poor, forgotten and unloved. The charism of the Redemptorists fit this part of me perfectly. The Redemptorists came to my area in a time of need after Hurricane Katrina ravaged the Gulf Coast. My family and our entire parish instantly fell in love with the Redemptorists and their charism. I was given the opportunity to pursue this calling, thanks to the support of my family and community. I am in New York participating in the postulate program, learning what it is to be a Redemptorist and working alongside them. During the day, we attend St. John's University. During the week, I am assigned to teach catechism, and I lead children's gospel sharing. This has helped my ability to explain Catholic doctrine and teachings in a simple way. I look forward to continuing my vocation journey, and ask for your prayers and support.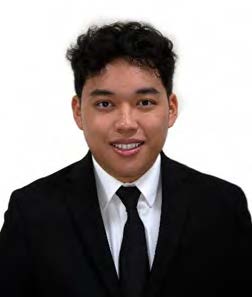 Andrew Dang Khoa Tran-Chung
Born and raised in Houston, I'm the eldest of two in my family. I grew up surrounded by Redemptorists, and I remember thinking that while my vocation was to be a priest, I knew for sure that I only wanted to be one of the guys wearing the iconic black Redemptorist habit. After my senior year of high school, I joined the Redemptorists in the Bronx, and have had the most wonderful time since. I've had the incredible opportunity to do so many things in the Bronx, including teaching catechism classes to middle schoolers, packing meals for Thanksgiving, distributing meals and offering prayers on the "Hope Walk," and contributing to the Liguorian and denverlink publications. I spent the summer in St. Louis at the Rock, where the biggest lesson I took away wasn't serving at the food pantry, cooking with the Missionaries of Charity, joining in on bible discussions or designing a new website. Instead, it was constantly evolving to meet the needs of the people, fighting for equality for all, and above all, just being part of a community that is always present for one another other, and for the people that we serve – a true testament to the Redemptorist mission.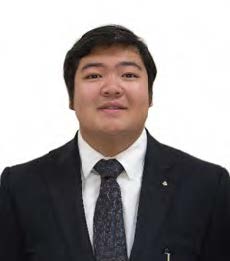 Minh Dang Nguyen
I am from Boston, MA. I had initially applied to the formation program in early 2019 and hoped to enter the formation program right after high school, but my life took a different direction. For a long while, I wanted to walk away from the Redemptorists, and away from a potential vocation as a whole. I wanted to start over with a refreshed perspective after I finished my work in University. During the uncertainty of the global pandemic, I realized my vocation and God sent a Redemptorist to my side to help guide me in ways no one ever had before – this time, to Him. I was ready. He entered into my life with the utmost gentleness, always reassuring me that I should never feel forced to follow this path. However, by his life and action, for what he has done for me and others, there is no one else I would rather follow. Just by being himself, he revealed to me exactly who the Redemptorists are. With no words, he convinced me that I should be with them. He was real, authentic: a true Redemptorist. In a small post dedicated to him, I conclude, "I continue to follow him because I want to be where he is and just like a son's dream: I want to be just like him when I grow up. He is Fr. Francis X. Tran Quang, C.Ss.R."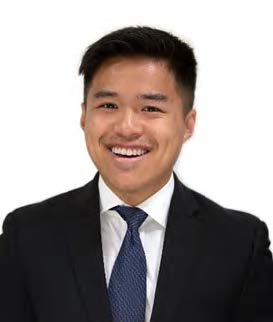 John Thien Nguyen
Coming from a devout Catholic family, I was sent to Catholic school from elementary school all the way up to college. My family attended daily Mass, and my mother's deep faith in God inspired me to really think about my future. My vocation was first ignited by my mother. She taught me my first prayers and told me about the wondrous Eucharistic miracle stories. Little did I know that the tiny sparks of my mom's devotion would ignite a raging fire of love for God in my heart. At only nine years old I joined the altar servers, and the thought of becoming a priest was always on my mind. So began the arduous journey of devoting my time to my classes and volunteering for hours a week at a hospital to gain experience. I was indeed blessed to attend La Salle Catholic College Preparatory. My parents' hard work gave me a chance to attend a good school along with tutors who would help me excel in my studies. My education gave me the opportunity to pursue whatever career I wanted for myself. However, I had no idea that God had something else planned for me. After graduating from La Salle Catholic College Preparatory, I attended the University of Dallas in Texas, where I joined the Vietnamese Extra-Patriam Redemptorists. After a year of discernment, I believed that the community there was not a good fit for me, and I began to doubt my vocation. I resolved my doubt by going back to the secular world while applying to the Redemptorists of the Denver Province. After a while of being stranded and drowned in the vanities of the world, I felt lost in life at one point. Nevertheless, God was there to comfort me: Even though I walk through the valley of the shadow of death, I will fear no evil, for you are with me; your rod and your staff comfort me (Psalm 23:4). After a year and a half at the University of Dallas, I transferred to St. John's University, where I joined the Redemptorist formation program in the Bronx. I genuinely treasure being part of the formation program where my formators help guide me, and the brotherhood formed in the program will last a lifetime. In the seminary, we do not pray or read the Bible 24/7, nor do we memorize the Bible from back to front. We are not perfect; we make mistakes and ask God for forgiveness just like other people. Nevertheless, like Jesus' disciples, we as seminarians are simply normal people who hear God calling and choose to follow Him. I was given the opportunity to serve in Grand Rapids where my ministry was very fruitful, as well as in Baton Rouge, where I was able to experience Hispanic Ministry. I have learned that if one puts one's heart in ministry the results will surely show, as I have seen hard work bear fruit at Grand Rapids and Baton Rouge. Through the mercy of God and the intercession of Our Mother of Perpetual Help, I am currently living in New York and am in my fourth year of philosophy studies. As I continue to discern my vocation with my Redemptorist brothers, I ask for your prayers for us!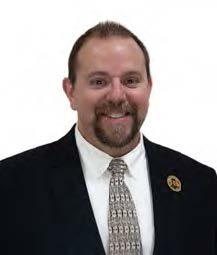 Andrew Russell Jones
I was born in Trenton, NJ, and lived a great many years searching for God's plan. I entered formation at the beginning of 2021. I first heard the Lord reaching specially into my life driving cross-country in my early 20s, but I was not ready to fully embrace the depth of His love until my late 30s. I am finishing my senior year at St. John's University and am so excited to be going to Mexico. I am nervous because I have never left this country, but am looking forward to growing with guys I have walked closely with in this process, and working with men from other provinces. I have learned so much in these past two years about serving in different ways. I learned to apply my music to assist in parish liturgy, and I got to try some great cuisine. I am testing my limits by seeing some of the heights of New York City and expanded my love of neighbor by serving meals to the homeless and teaching students entering the Church from under-served communities. Visiting Redemptorist communities and working at Sacred Heart in Baltimore and St. James in Concord over the summers gave me a taste of the energy and mission Redemptorist bring to our faith. There are plenty of people in these times who need care, both physically and spiritually. I for one love to be a part of an organization in Christ that cares enough to step forward in truth, in faith, and in service. Please continue to pray for me, as I am praying for all.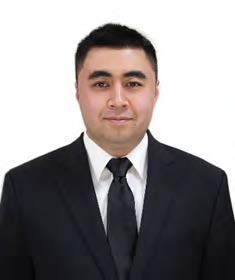 Dominick Thien-An Do-Tong
I am 25 years old, and currently finishing my second and last year of philosophy as a postulant for the Denver Province. I was born in Seattle and raised in Everett, a nearby city north of Seattle. My home parish is St. Mary Magdalen, where I served as an altar server/acolyte, sacristan, extraordinary minister of Holy Communion, and musician for the Hispanic and Filipino choirs. I attended Catholic schools for a good part of my life, graduating from St. Mary Magdalen School in Everett in 2011 and O'Dea High School in Seattle in 2015. After high school, I studied for two years at Edmonds College in Lynnwood, completing my Associate of Arts degree. I then transferred to the University of Washington in Seattle, where I studied for three years, and graduated in 2020 with a BA in English Literature and a minor in Music. I had also taken a few introductory philosophy courses online through Edmonds College prior to starting formation. Initially, I had heard of the Vietnamese Redemptorists through the media and an Extra-Patriam Redemptorist priest who celebrates Healing Masses. I even had a chance to visit the Redemptorist church in Saigon when I visited Vietnam 16 years ago. Yet, I have learned more about the Redemptorists of the Denver and Baltimore Provinces in recent years, especially by attending daily Masses at Sacred Heart of Jesus Church in Seattle and getting to know the professed members there. I participated in a Come and Pray weekend in Philadelphia with the Redemptorists in November of 2019. I decided to join the Redemptorists because of the opportunity to celebrate the Sacrament of Reconciliation and the Congregation's strong devotion to Our Mother of Perpetual Help. I have learned a lot more about the Redemptorists and their charism throughout my year-and-a-half in formation. As I complete my last semester in the Bronx, and also moving forward, I hope to learn much more. I pray that God will grant me the graces of persevering in my vocation and guiding my own discernment. May Our Mother of Perpetual Help, St. Alphonsus, and all the saints, continue to help and intercede for me, and for all of us.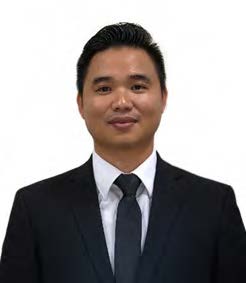 Son Thanh Lai
I was born and raised in the countryside of South Vietnam. When I was 18, my family and I moved to America to be reunited with my relatives. I grew up in a family with five siblings. I am the fifth child in my family: I have three older brothers, one older sister, and one younger sister. In the past, I operated a small business with assistance from my family. For many years, I worked in a rewarding career, but I never truly felt at peace with my life. I became more involved in the Church and began to sense a call from God. I had a long struggle with myself and numerous conversations with the Redemptorist Vocation Director, who assisted me in understanding how God wants me to live and function in this world. I ultimately made the decision to join the Redemptorists in September of 2021. This year is my fourth semester at St. John's University studying philosophy. Being a Redemptorist seminarian is a blessing for me. I am satisfied with where I am, and I am happy with the opportunities that I have gotten by giving up my own will to combine it with the will of God. I like being with my fellow seminarians. I think it's important to highlight that we all come from various cultural backgrounds, which is a blessing since we can all learn a lot from each other as we accompany one another. Please continue to pray for my brothers and me as we follow in the footsteps of St. Alphonsus.
---
Are you wishing to deepen your prayer life this year? Our all-new mobile prayer app based on St. Alphonsus method of mental prayer is available free to you.