Spring 2022 Denver Province Snapshots
---
Ordinations, Professions & Jubilarians: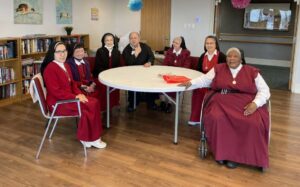 Silver Jubilee of Sr. Alphonsina Marie (Skho): The Redemptoristines celebrated the Silver Jubilee of Sr. Alphonsina Marie (Skho) as a Redemptoristine Nun. The celebration was delayed due to the global pandemic, but everyone enjoyed marking her milestone anniversary celebration a year later. Her solemn profession as a Redemptoristine took place 25 years ago, but she celebrated her 50th anniversary as a religious some years ago in Liguori with the late Fr. Richard Thibodeau, her very close friend who served as the Mass celebrant and homilist.
Vice Province of Manaus Celebrates Ordination: The Vice Province of Manaus has been blessed with one more ordination to the priesthood. Deacon Valdicleoson Maranhão dos Santos was ordained on December 12, the feast of Our Lady of Guadalupe. The ceremony was held in his hometown,  St. Gabriel de Cachoeiro, Amazonas, about 500 miles northwest of Manaus on the Rio Negro. Like Valdicleoson, most of the  25,000 people who live there are of Indigenous origin. Bishop Edson Tasquetto Damian presided at the Ordination Mass.
In Remembrance: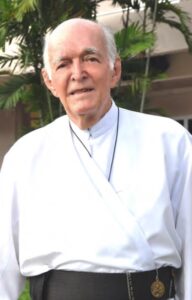 Fr. Leo Travis, C.Ss.R.: Fr. Leo Joseph Travis, a dedicated Redemptorist missionary who devoted his entire life to ministry with the poor and abandoned in Thailand, died on January 7. Born on July 30, 1928 in Waukesha, WI, he professed temporary vows on August 2, 1949 and perpetual vows on September 2, 1952. He was ordained to the priesthood on June 29, 1954. After second novitiate at Pine City, MN, Fr. Leo set sail for Thailand in 1956. He served in parish ministry in Viengkhuk and Nongkhai before he was elected to serve in leadership of the former Vice Province of Thailand. He served as Vice Provincial Consultor in 1962-1973; Vice Provincial Superior in 1973-1981; Vice Provincial Consultor in 1981-1986; as a member of the Extraordinary Council in 1987-1997; and as Vice Provincial Vicar in 1997-1999. He served as director and later Deputy Head of the Ruam Rudee International School. May this faithful Son of Alphonsus rest in the eternal peace of the Redeemer.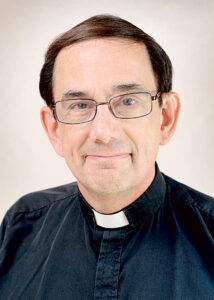 Fr. Richard Thibodeau, C.Ss.R. Fr. Richard Thibodeau, the first Provincial Superior of the Denver Province whose leadership was so appreciated that he was elected to serve a third term, died on January 16 of COVID-related pneumonia in Oconomowoc. An exceptional administrator blessed with the sensitivity to navigate difficult issues, Fr.
Born on October 9, 1949 in Milwaukee, and was accepted into the Redemptorist formation program of the former St. Louis Province. He entered novitiate in 1969 and professed temporary vows on August 2, 1970. He made second novitiate and professed perpetual vows on August 25, 1973, and proceeded to Mount St. Alphonsus Seminary in Esopus, NY for four years of theological studies. Ordained to the priesthood on June 3, 1976, Fr. Richard earned a Master of Arts in Teaching and completed graduate courses in Educational Administration at Whitewater State University. He joined the faculty of St. Joseph's Preparatory College in 1977 and was later appointed principal. He joined the faculty at Holy Redeemer College in Waterford, WI and was elected vicar of the local community, positions he retained until the school closed in 1985. He was then appointed Marketing Director of Liguori Publications at Liguori Mission House in Liguori. After two years, he was appointed rector of the community and was named president of Liguori Publications.
Fr. Richard was a very private person, and his confreres generally viewed him as a "confrere's confrere"—a good religious and an intelligent, thoughtful and supportive leader. He was elected Consultor of the Ordinary Provincial Council in 1990, and also served as vicar of the Villa Redeemer community in Glenview, IL. In 1996, he was elected as the first Provincial Superior of the new Denver Province. He served two terms, and received permission from the General Government to serve an additional term, extending his time at the helm until 2005.  As Provincial Superior, he encouraged the development of new initiatives and provided sufficient support to ensure their success. Those dealing with difficult circumstances found in him a compassionate ally. Fr. Richard also garnered respect at the international level of the Congregation.
After years of caring for his confreres, Fr. Richard was perfectly suited for parish ministry. He served as pastor of St. Michael Parish in Chicago from 2005 until 2011, and as pastor and local superior of St. Alphonsus Parish in New Orleans from 2011 until 2019. He was popular with parishioners and successfully raised funds to renovate both historic churches. Fr. Richard was appointed local superior and director of the Redemptorist Retreat Center in Oconomowoc in 2019. He was evaluating spiritual programs and retreats when the global pandemic interrupted operations, and ultimately led to his unexpected death.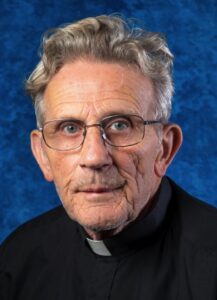 Fr. Kyle Fisher, C.Ss.R., who served the poor and minorities in parish ministry for more than five decades, died at St. Clement Redemptorist Mission Community in Liguori on March 28. A natural leader who championed all of those he served, Fr. Kyle left a lasting legacy as a beloved priest, mentor and friend. Born on December 4, 1937 in Wichita, KS, he was one of 10 children who grew up in a modest home near St. Joseph Catholic Parish, staffed at that time by the Redemptorists. He followed his older brothers to St. Joseph Preparatory College in Kirkwood, MO, professed temporary vows on August 2, 1958, and professed perpetual vows on September 2, 1961. He was ordained to the priesthood on July 2, 1963.
In 1964, newly ordained Fr. Kyle returned to Mount St. Clement's College to serve as assistant novice master. In 1967, Fr. Kyle returned to St. Alphonsus "Rock" Church in St. Louis as a parish priest, and was elected local vicar of the community two years later. His energy and enthusiasm for ministry was impressive; he was only 34 years old in 1972 when he was appointed local superior and pastor. It was very rare for such a young priest to serve in such a responsible position in those days.
In 1978, Fr. Kyle was assigned at Holy Redeemer Parish, a large multicultural inner-city parish in Detroit. He went to Mexico to learn the Spanish language to better serve the Hispanic community. Twelve years later, he was appointed pastor of Our Lady of Peace Parish in Greeley, CO and its three mission stations. He was elected local superior of the community two years later, and served in those positions until the Redemptorists returned the parish to the Archdiocese of Denver in 1999. That same year, Fr. Kyle was appointed local superior and pastor of St. Joseph Parish in Denver. It was in such a bad state that many believed that the church was closed. Fr. Kyle led a major renovation of the historical property, and was at the helm when the Redemptorists returned the parish to the Archdiocese of Denver in 2005. At the age of 68, Fr. Kyle was assigned at St. Alphonsus "Rock" Church to serve Hispanics in St. Louis, Warrenton, MO and Cahokia, IL.
Although he officially retired in 2008, he remained in residence and focused on producing an in-depth history of St. Alphonsus "Rock" Church. He was involved in planning the 150th jubilee of the Congregation receiving the original Icon of Our Mother of Perpetual Help at St. Alphonsus "Rock" Church, in June of 2016.
Health issues necessitated his move to the St. Clement Redemptorist Mission Community in Liguori in 2018. Despite his health challenges, Fr. Kyle maintained his independent spirit and wry sense of humor, and was a welcome addition to the community.
Vocations: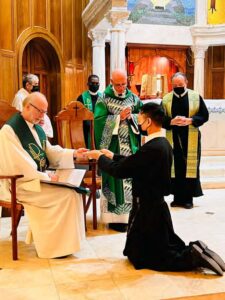 CONGRATULATIONS to Thien Hoang. Thien who received the ministry of Acolyte at St. Gerard Church in San Antonio last weekend. Provincial Superior Stephen Rehrauer presided at the ceremony. Thien is looking forward to his ordination to the diaconate in the coming months.
New Novitiate in Mexico: Special thanks to Br. Larry Luján and Fr. Matt Allman of the Baltimore Province for sharing a photos of the property in Tlalpizahuac, Ixtapaluca, Mexico that will serve as the new North American novitiate.
---
Greetings from the Bronx 

As the virus continues to surge, the Bronx community perseveres. There are seven postulants at the Redemptorist Pre-Novitiate Program residence at Immaculate Conception Parish: Andrew Tran-Chung, John Nguyen, and Dominick Do-Tong for the Denver Province; and Andrew Jones, McQuain Clovis, Tran Do, and Son Lai for the Baltimore Province. In addition to devoting time for prayer and the liturgy, the postulants are deeply involved in the Church and their surrounding community during formation. Among the community's apostolic works is volunteering in a soup kitchen, where they learn how to cook food from scratch and serve the poor in small ways. They are also part of a youth group and lead various activities to help young people better understand the Church's stances on many current issues. Another opportunity that postulants experience in Redemptorist formation is leading a religious education class. They teach students about the Catholic Church and receive firsthand experiences on what methods are effective for today's youth. The postulants also on certain occasions walk through the streets of their Bronx neighborhood to give food and attend to the needs of the homeless there. Involvement in the Bronx community continues to be an important part of the formation process.
---
And More!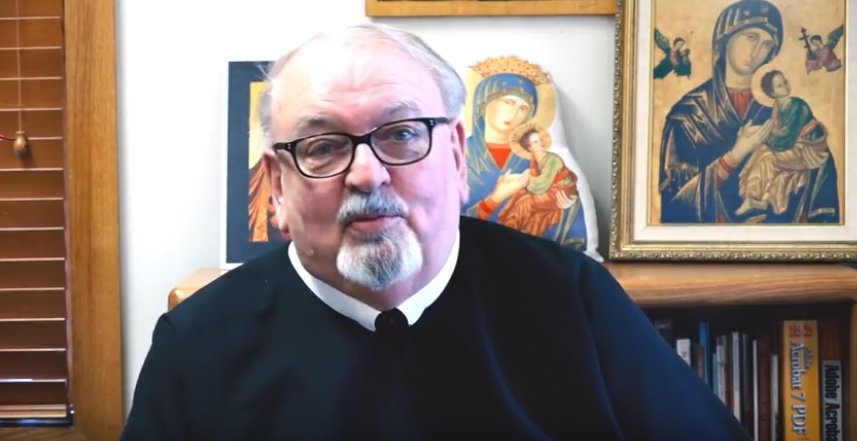 Br. Dan Korn Retires "The Redeemer, Mary and You" Column: Br. Daniel Korn has retired as author of Liguorian Magazine's "The Redeemer, Mary, and You" column after a decade of contributing thoughtful and inspiring reflections. As the iconologist for the Redemptorists, Br. Dan has been and will continue to be a priceless resource about all things Marian and all things Catholic. In addition to his insightful column, Br. Dan has advised Liguori Publications about the magazine and the products published. One of his shining personal works is Embracing the Icon of Love, his book about the Our Mother of Perpetual Help icon that Pope Pius IX entrusted to the Redemptorists in 1866. The Pope instructed the Redemptorists to "make her known." Br. Dan did and will continue to do just that. "He always made himself available to answer my questions, expand my understanding, and sometimes just chat. He introduced me to lectio divina and recounted the history of the Redemptorist Congregation," explained Elizabeth Herzing Gebhart, editor of Liguorian. "I am eternally grateful for his collaborative spirit and everything he has done for the magazine and my personal faith journey. Ask people who know Br. Dan and they will all relate similar memories – all of which will continue in his retirement. Br. Dan, with gratitude, warm friendship, and respect from the entire Liguorian and Liguori Publications team, we wish you the best as you continue to serve the Lord with gladness." — Fr. Byron Miller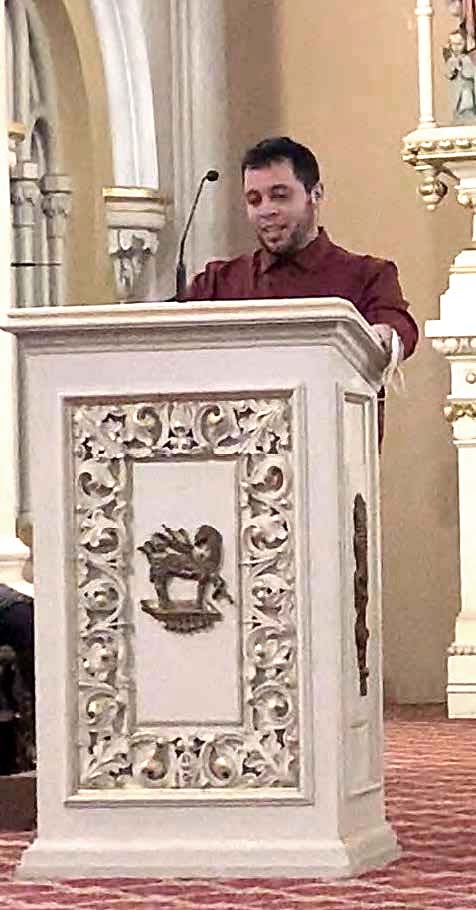 Expanding Circles: The Chicago Circle of Associates initially met at St. Michael's parish in Old Town, Chicago.
With the aid of ZOOM, the group has been able to expand beyond the Chicago area. What began as a small group meeting at St. Michael's has grown to number around 20 and is truly a national group. Throughout the pandemic, the Chicago Circle has continued to meet faithfully each month. It now includes members  from Missouri, Arizona, Indiana, Minneapolis and New York. The Circle is also connected to members of Life Directions who work with Fr. John Phelps.
Following the teachings of St. Alphonsus, sharing in the Gospel and praying together has united a group of people who otherwise would have never met. Together, though in our different parts of the United States, they live the charism and share the news of the Holy Redeemer. The group is diverse in background and location but united in their common belief in the Redemptorist charism and spirituality, as well as sharing their spiritual journeys.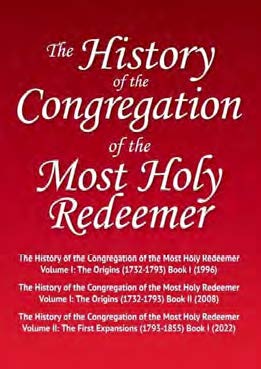 History of the Congregation Available: In 1987, on the occasion of the 200th Anniversary of the Death of St. Alphonsus, Superior General Juan Lasso de la Vega requested the Historical Institute of the Congregation to initiate a long-term project of providing the Congregation with a general history of the Institute. Over the past three decades, a large number of confreres who specialize in history have prepared assigned areas of the project. The History of the Congregation of the Most Holy Redeemer was also to serve as a response to Vatican Council II's call for religious institutes to restudy their charisms. The history book is available on a CD which contains the NEW English translation of Volume II/i of The History of the Congregation of the Most Holy Redeemer published by the General Government's Historical Institute. One copy of the CD has been sent to each community of the Denver Province; you should have received it, or it will arrive shortly. The work is being published under the auspices of the North American Conference of the Congregation and Liguori Publications, which offer it gratis to the Units which use English as one of their languages. It is being published only in digital form; there will be no print edition. This volume is being produced together with the two earlier English volumes so that the entire translation that has been completed so far can be found in a single source and be read in any of three different formats: .doc, .pdf, or E-book. The material on this CD will also be permanently available on three websites: those of the Historical Institute, of the Denver Province, and of Liguori Publications. Liguori Publications will also provide additional free copies of the CD to Redemptorists if requested. Address such requests to wbarnes@liguori.org.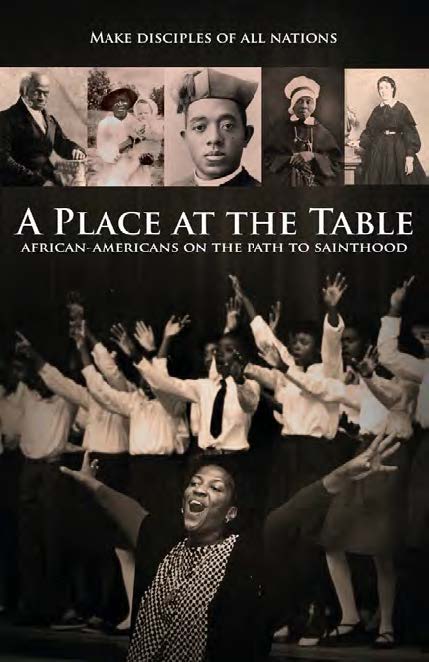 Black American History—A Place at the Table: Six incredible men and women on the path to canonization are featured in A Place at the Table: African Americans on the Path to Sainthood, released this month by Stella Maris Films. Our own Fr. Maurice Nutt shares the story of his friend and mentor, Servant of God Sr. Thea Bowman, FSPA, a powerful teacher with a profound love for liturgy and music who was instrumental in the founding of the Institute for Black Catholic Studies. Others featured in the film include: Venerable Pierre Toussaint, a popular Haitian hair stylist who used his wealth to serve the poor; Servant of God Mother Mary Lange, founder of the Oblate Sisters of Providence, the first congregation of African American religious; Venerable Henriette Delille, a free woman of color who assumed abject poverty to serve the forgotten of society; and Servant of God Julia Greeley, a former enslaved woman whose enthusiasm for and devotion to the Eucharist impressed even the Jesuits who ministered to her. Produced and directed by David Michael Warren, the new film is available for purchase or rent at Vimeo on Demand.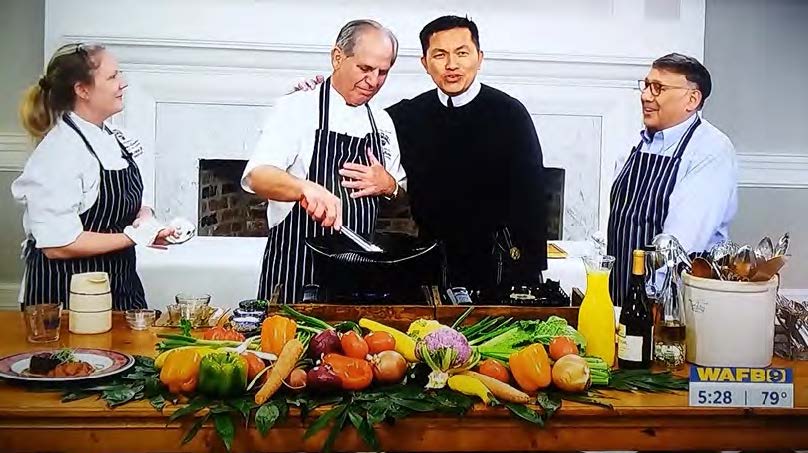 Fr. Tat Stirred It Up: Fr. Tat Hoang joined Chef John Folse's "Stirrin It Up" segment aired on WAFB in Baton Rouge on February 22 to advertise the "Messengers of Hope" gala for Redemptorist St. Gerard School that was held on March 20 at White Oak Estate & Gardens in Baton Rouge. You can watch the segment here.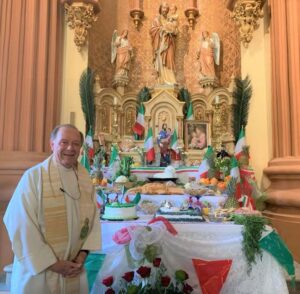 St. Joseph's Day in New Orleans: Lillian Moran, beloved former parish secretary who coordinated the St. Joseph's Day altar for many years, stepped in to help with the feast day celebration again this year. The St. Alphonsus Parish family gathered at St. Mary's Assumption Church in New Orleans on March 18 for the altar blessing by Fr. Allan Weinert. Laden with wines, breads and desserts, the altar held a few other items to maintain long-standing Italian traditions: fava beans and fresh lemons. The fava bean legend began during the famine in Sicily, where the bean was used as fodder for cattle. Crops were so poor that the farmers were forced to eat the fava beans, which grow well in poor, rocky soil. Sicilians began carrying a bean from a good crop to ensure another good crop the following year.
Lenten Mission: The North American Theologate community preached a very successful Lenten Mission highlighting the Bible, the Cross and the Eucharist at St. Anthony of Padua Parish in San Antonio on March 21-23.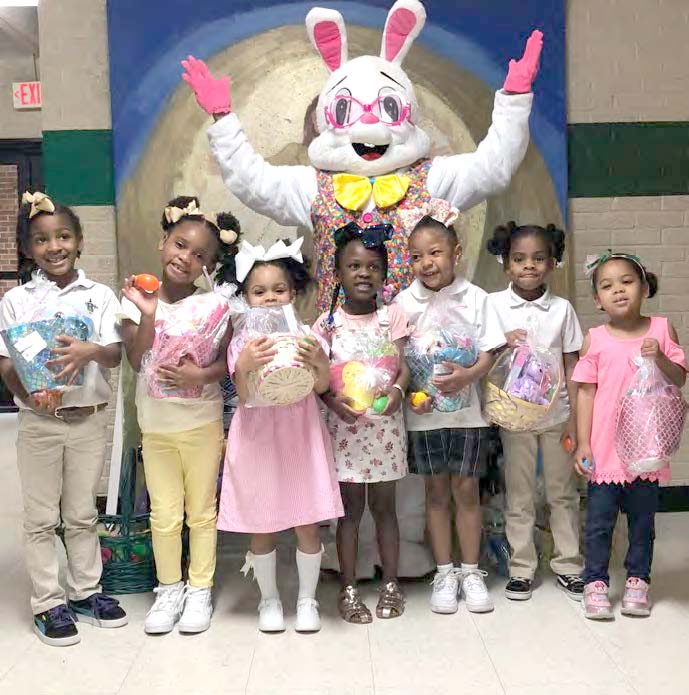 Easter in Baton Rouge: Students at Redemptorist St. Gerard School enjoyed an Easter Egg Hunt in the school gym.
Snapshots adapted from Denver Link; special thanks to Kristine Stremel.

---
UPCOMING DATES
May 13: Our Lady of Fatima
May 31: Visitation
June 5: Pentecost
June 12: The Most Holy Trinity
June 27: OMPH Feast Day
June 28: Ukrainian Martyrs Feast Day
July 18: Feast of the Most Holy Redeemer