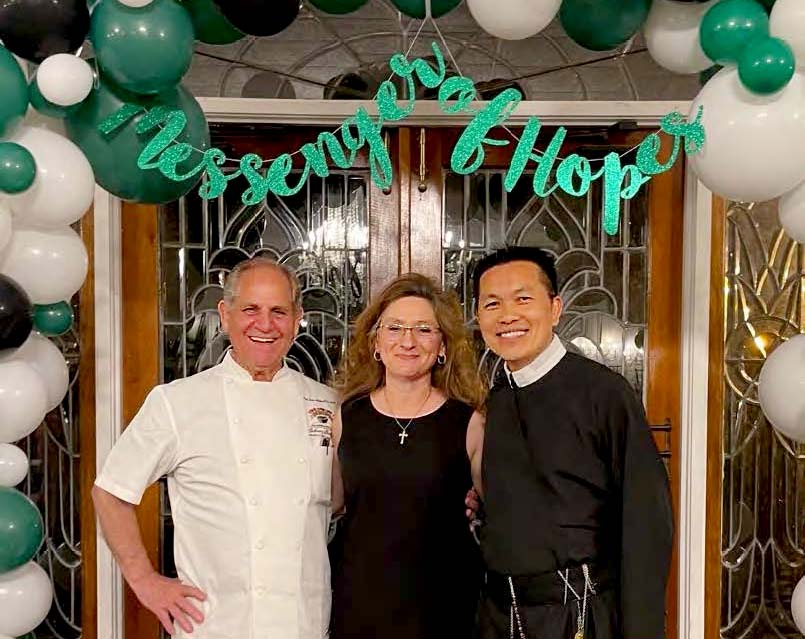 First annual Gala Event at St. Gerard
by  John F. Crifasi
A small act of kindness almost a year prior culminated in the first annual Gala Event in support of Redemptorist St. Gerard Catholic Church and School in Baton Rouge in partnership with world-renowned Chef John Folse. Held on the beautiful grounds of White Oak Estate & Gardens, over 250 guests and dignitaries were treated to a wonderful evening of fellowship, live music, gastronomic delights and inspirational addresses on the evening of March 20. The money raised and gifts collected will go
toward helping Redemptorist St. Gerard (RSG) maintain the honor, education and spiritual growth of the student body, which currently consists of 151 students enrolled from Pre-K to 8th grade. The Redemptorists have supported education and the catechesis of students at RSG since 1944.
The origin of this event is an inspirational story in itself. Early in the summer of 2021, Fr. Tat Hoang, pastor of St. Gerard Church, was contacted by a lady asking if he would be open to providing a visit and tour of the church and school for some of her cousins who were visiting from out of town and had family ties to Redemptorist St. Gerard Catholic Church and School. Fr. Tat warmly welcomed the group, and blessed all present with a first-class relic of Blessed Francis X. Seelos towards the end of their time together. Unbeknown to Fr. Tat, the lady who contacted him about this visit was Michaela York, vice president of communications for Chef John Folse! Upon hearing of Fr. Tat's kindness to her family members, Chef Folse contacted Fr. Tat and eagerly pledged his cooperation in any matter involving RSG. As they say, the rest is history!
The evening began with live music from Luis Wendt, Leroy "Bishop" Toussaint, and RSG's own cantor and singer, Mary Rosenbloom. Silent auction items were on display for viewing and bidding on the Estate's patio, as guests enjoyed passed hors d'oeuvres and cocktails in almost perfect South Louisiana spring weather. Soon after, the official program began. Master of Ceremonies Tony Cockerham ('78), welcomed everyone and encouraged all to, "Keep up the RSG tradition of strengthening the individual." Jim Richard ('82) was called on for the introduction of distinguished guests, and added that he was, "Thankful to be part of this effort, with our current student body as messengers of hope."
Upon introduction, Cheryl Domino, RSG principal, welcomed the guests with, "It is with a joyful heart to have you in our midst this evening, as we spread the word as messengers of hope, and continue to strive for excellence." Next, during Fr. Tat's address, he stated, "Hope drives us to move forward and upward! In my three years in Baton Rouge, I have witnessed many hopes. All of the students of RSG are my hope, because they share with us their purest joy and faith. Let us celebrate God's mission, and let us be messengers of hope!" Bishop Michael Gerard Duca of the Diocese of Baton Rouge, was called upon to offer the blessing of the meal and the gathered guests. The Honorable Mayor Sharon Weston Broome addressed those gathered and stated, "The work of RSG is vitally important to our community. I know the value of faith integrated into education." Chef Folse was called up to describe the menu for the
evening, but first added, "Fr. Tat has been a special friend. It's an honor and privilege for us to be a part of this event, and I look forward to continuing this event every single year!" After giving mouth-watering descriptions of the Corn and Crab Bisque, Twin Beet Salad, Beef Short Ribs and the Red Velvet Cheesecake, he informed the now-hungry crowd that many of the vegetables and items used in preparing the dinner came right from the gardens on the property.
Dinner and a Message of Hope
"Hope drives us to move forward and upward!"
While dinner was served, a short and inspirational video —expertly produced by Jeff Cotton and Stephen Lee of Catholic Life TV— captured the attention of all gathered. Afterward, Provincial Superior Stephen Rehrauer offered comments of historical importance as they related to the evening.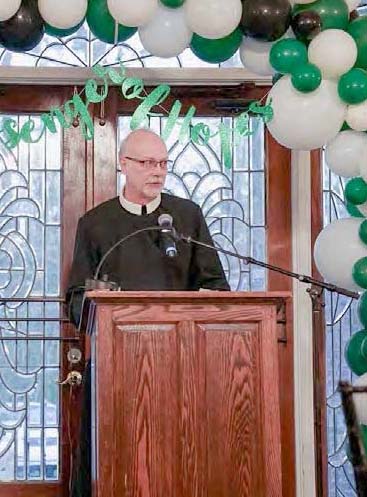 Keynote Speaker Sid Edwards ('81) spoke of the sacrifices parents made to send their children to RSG, adding "We have to get people to see the magic you all are doing at RSG!" He closed with an exercise to demonstrate how much more we can do that we don't think we can do. Distinguished alumnus, Eddie Rispone ('67), gave an emotional address. "Our family could not have gone to RSG without the work and presence of the School Sisters of Notre Dame and the Redemptorist priests," he said, adding that he was proud to support the efforts of Fr. Tat.
Before calling Chef Folse to the microphone to describe his live auction item, Cockerham recognized two other important guests in the audience: Deadra James-Mackie ('78), and her sister, Kevin L. James ('82), who were the first African American students to attend RSG back in the early '70s. As Cockerham pointed out, "That's what we were taught by RSG, the values of respecting life – not white, not black – just respecting life, and to embrace diversity."
Chef Folse then shared with us his experience of cooking a Vatican State Dinner for Pope John Paul II. As he recalled some of the events surrounding this tremendous honor, his voice shook with emotion while recounting how awe-inspiring it was to receive the Holy Eucharist from the Pope in a private Mass. In remembrance of that very special occasion, Chef Folse offered a dinner as a live auction item that will duplicate the meal he prepared in Vatican City. The dinner will be held in the newly renovated Great Room of White Oak Estate.
SPECIAL THANKS
Fr. Tat closed the evening by recognizing all of the distinguished guests; the many Redemptorist priests and religious Sisters in attendance from Baton Rouge and New Orleans; all teachers, staff, parents and volunteers of RSG; and all who played a part in making this inaugural event such a success, especially the Gala Committee, which consisted of Alan Lahr, Darren Pizzolato ('87), Ruth Oliver, Michaela York and Fr. Tat. A very special thank you was expressed to Chef Folse and his entire team for their hospitality, generosity, and enormous love. Lastly, he shared the RSG Creed, which he sings with the students each day: I am a Redemptorist St. Gerard Scholar. I have faith in God. I face any challenge courageously with confidence. I accept any disappointment as a lesson, and forge forward with pride and passion towards my next accomplishment.
As Fr. Tat gave a final blessing for all in attendance, there was a noticeable increase in the ranks of the Messengers of Hope, as many new friends and alumni promised to come and make a difference at Redemptorist St. Gerard Church and School with their own small acts of kindness. To participate in RGS's mission, please visit rsgbr.org, or call 225.355.1437 (school) or 225.355.2553 (church).
"Raising over $100,000 certainly demonstrates that we have reached a milestone…"
Confreres are justifiably proud of the outcome of the first Messengers of Hope Gala for Redemptorist St. Gerard School in Baton Rouge. "Raising over $100,000 certainly demonstrates that we have reached a milestone in returning St. Gerard's to its place as a thriving mission in the Denver Province," said Fr. Don MacKinnon. "The community support for our ministry is outstanding Among those contributing $5,000 were Mayor Sharon Weston Broome and Bishop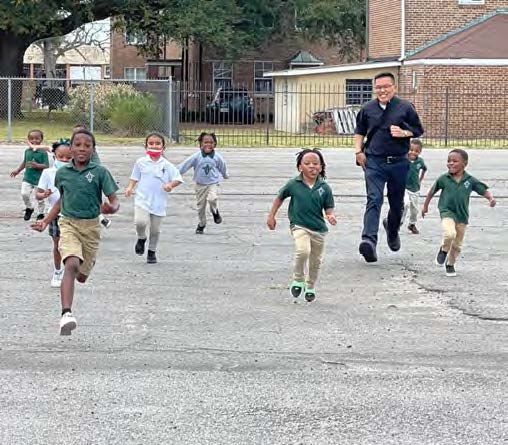 Michael Gerard Duca." Fr. Tim Watson, who is involved in the Hispanic Apostolate for the Diocese of Baton Rouge, enjoyed meeting many new people at the Gala. "We have a thriving ministry here, with many opportunities to work in Black and Hispanic ministry," he said. "Fr. Tat has so many ideas and is so enthusiastic that he has gotten a lot of people involved. We're hoping he can continue as pastor for a few more years to strengthen his base of support. He and Fr. Kevin Zubel, director of the Hispanic Initiative, are the spark plugs here. We need them both, and we need more confreres to experience ministry in Baton Rouge."