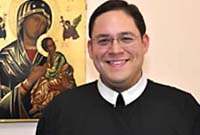 Welcome to the Spring Edition of Hope!
We continue to celebrate the 50 days from Easter Sunday to Pentecost with great joy and exultation. During this season, Christ's resurrection, the triumph over the power of sin and death, continually gives birth to new life breaking through in unexpected places and unimagined ways. In our ministries to those on the peripheries of society, we Redemptorists witness many of these sacred moments. In this edition of Hope we wish to share some of those moments: from the revival of a struggling Catholic elementary school to a ministry to feed the hungry on Martin Luther King Day.
As always, we thank you for supporting the Redemptorists' ministries. We continue to hold you in our prayers. I hope that this online edition of Hope Magazine will further inspire and stimulate your faith. 
Please continue to pray together with us!
Yours in our loving Redeemer,
Reverend Kevin Zubel, C.Ss.R.
Provincial Superior, Redemptorists of the Denver Province
In This Issue:
Feeding the Hungry on Martin Luther King Day
Seabell Thomas and the other volunteers from St. Gerard Catholic Church show that prayer and a hot meal can go a long way.

Back to Basics
Our own Fr. Maurice Nutt preached a Lenten Revival for Our Lady of Assumption Parish that inspires the faithful.
Beyond Surviving to Thriving
Redemptorist St. Gerard Catholic School is springing back to life. Founded on a strong alumni community and a tradition of educational excellence, the school is making a quiet comeback that's more important now than ever.
Meet Our Young Men
Our seminarians share their formation stories. 
Vietnamese Lunar New Year
Share the fun and excitement of the Vietnamese Lunar New Year as recounted by Fr. Anthony Nguyen, C.Ss.R.
Spring 2023 Denver Province Snapshots
All the latest news from the Denver Province.