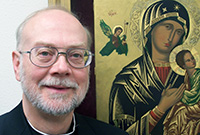 Hope—Fall, 2020
In this Fall issue we explore a number of Redemptorist ministries as well as our rich spiritual tradition. We offer you news of Fr. McAndrew's new website dedicated to his ministry to migrant workers, a program in New Orleans to help women released from prison begin again their lives, a new initiative spearheaded by our Fr. Phelps to train and send active Catholics into our communities, and finally, our continuing invitation to each of you to join in our Redemptorist's spirituality through our Partners in Mission program.
Thank you for supporting the Redemptorists' many ministries. I pray that this online edition of Hope Magazine will inspire and stimulate your own faith. Please continue to pray together with us!
Yours in our loving Redeemer,
Very Reverend Stephen T. Rehrauer, C.Ss.R.
Provincial Superior, Redemptorists of the Denver Province

In This Issue:
On Joining the Redemptorist Family
The Redemptorists continue to seek ways to involve others—lay people especially—in the mission of Jesus and the Church. Desire has grown among lay people to share in both the spirituality and the mission of Redemptorists. From these mutual aspirations, Partners in Mission has continued to grow.
St. Mary's Assumption Church in New Orleans
For over 160 years St. Mary's has continued its rich tradition of serving the spiritual and material needs of its parishioners and those who live in the surrounding neighborhoods.
Life Directions Rolls Out a New Parish Initiative
Since 1973, Life Directions has been making a difference for Detroit's young people. Now, its leadership wants to make the same difference for northwest Detroit's Catholic parishes.
Padre Migrante
The Redemptorists are excited to announce the launch of a new website dedicated to migrant ministry.
Our Mother of Perpetual Help Phone App
COVID-19 presents us with many challenges. Through it all Mary remains our perpetual help. Download our free app to Our Mother of Perpetual Help.
Fall 2020 Denver Province Snapshots
All the latest news from the Denver Province.