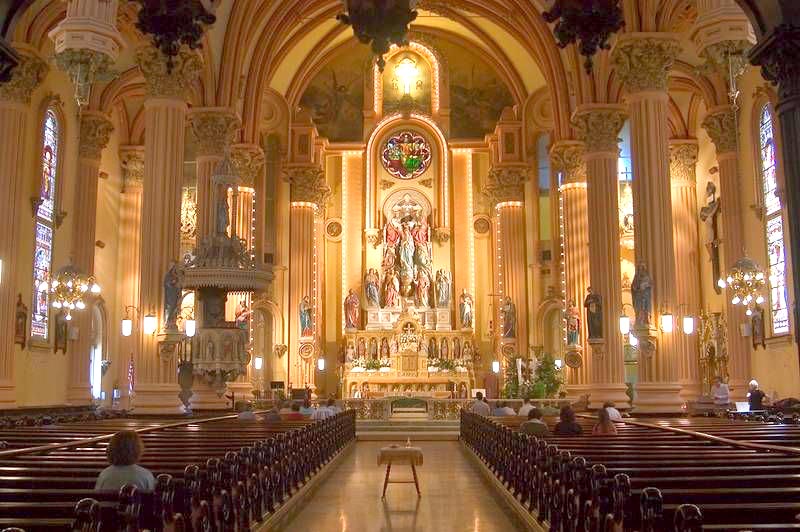 St. Mary's Assumption Church: Serving the Spiritual and Material Needs of Our Parishioners
Among the many outreach programs that St. Mary's hosts is Women Determined, an organization that helps women newly released from prison transition back into their communities. The group has created a one-act play titled "Released to Nowhere" that chronicles the difficulties and triumph of spirit of one woman who is determined to put her life back together.
By Fr. Allan Weinert, C.S.s.R.
Released to Nowhere photo by Darlene Gaiennie.
St. Mary's Assumption Church of St. Alphonsus Parish is a Redemptorist church in New Orleans, declared a National Historic Landmark Church in 1974. It was completed in 1860 to serve the swelling German Catholic immigrant population in the Lower Garden District of New Orleans. It is also home to a shrine and museum for Blessed Francis Xavier Seelos, a Redemptorist priest who was pastor at St. Mary's in 1867, and who, while caring for victims of yellow fever, died of the disease himself. For over 160 years St. Mary's has continued this rich tradition of serving the spiritual and material needs of our parishioners and those who live in our neighborhood.
Most-of the social outreach done by the parish involves the work of two groups: The Human Concerns Committee of the parish and Hope House, a faith-based organization closely aligned with the parish. Both share the same vision: to be a visible sign of the Christian community which manifests the human concern of Jesus for all people. Both organizations work to build a world where peace is built on justice and justice is guided by love.
In the 1980s Sr. Helen Prejean came to Hope House to teach literacy skills to women. At that time the Coalition to End the Death Penalty also worked out of Hope House. Sr. Helen was asked to write a letter to an inmate on Death Row. Sr. Helen became his spiritual advisor and that correspondence led to the book by Sister Helen and the 1995 film Dead Man Walking starring Susan Sarandon and Sean Penn.
Today Hope House provides food boxes from their pantry and utility assistance through their financial assistance programs. The adult learning center has recently reopened with limited seating. On-line educational activities remain available for students not able to attend the learning center in person. Career development programs continue to help neighbors apply for college as well as for food benefits, unemployment and other benefit programs.
COVID-19 has placed extra demands on Hope House's resources. In June the Eviction Courts reopened and began hearing cases. Most of our neighbors have been shielded from eviction by the Federal Cares Act. But that moratorium ended in July and many neighbors are in need of assistance. The moratorium on utilities also ended in July and in the two months following, Hope House has spent $24,000 helping people. Nineteen families have received rent assistance. All had notices to vacate. Seventy-two families have received assistance with electric or water bills. All had past-due notices. Besides the basics of food, rent, and utilities, many find it difficult to cover other expenses such as life insurance, phone bills, auto loans and auto payments.
The Human Concerns Committee works with Hope House, providing a parish food donation program that helps stock their pantry. It supports a telemedicine program where uninsured or under insured people can receive medical attention from St. Thomas Clinic. The committee also supports many pro­life activities, including a collection once a year for women in a crisis pregnancy.
___________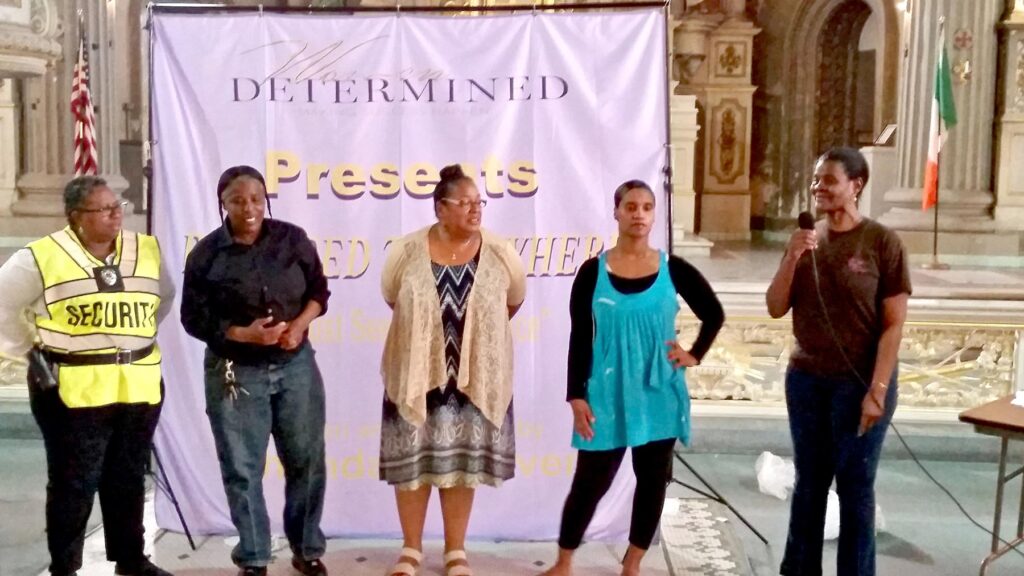 A little over a year ago the committee received a request to host a group called Women Determined. Rhonda Oliver founded this grass roots group to help formerly incarcerated women regain physical, emotional and financial independence. When these women are released from prison, they are given a $20 debit card, but often have no employment opportunities, no transportation, and often no home or family to welcome them back into society.
Women Determined is organized to help women released from prison by providing stable and secure housing for up to a year and giving a start-up bundle that contains everything a woman needs to begin again.
Using theatrical arts, their story is told in a one-act play titled Released to Nowhere, which describes the lives and difficulties of formerly incarcerated women. The story centers on a woman who has been roaming the streets of New Orleans for weeks and has not been successful in finding employment. She tells herself that it would be easier to go back to jail where she would have food to eat and a place to sleep. In a memorable, agonizing scene, she gathers the strength to resist the temptation to resort to crime—a moment that embraces the spirit of Women Determined.
We are deeply grateful for the staff of Hope House and the members of the Human Concerns Committee, for their love for our people, for their presence among us, and for their efforts to create a world as God would have it.