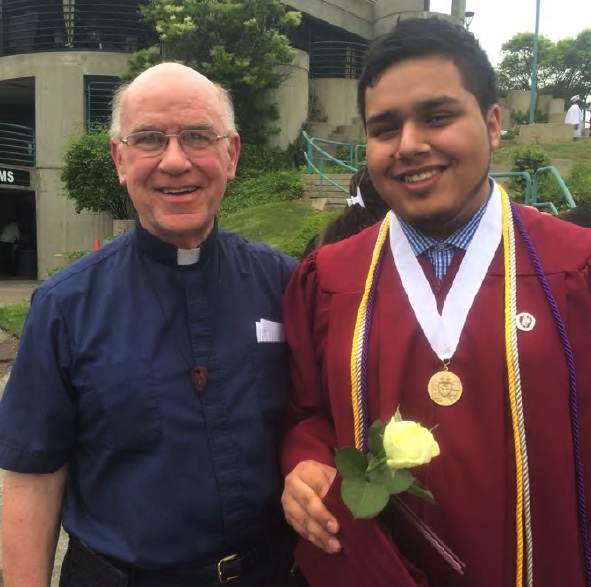 Life Directions Rolls Out a New Parish Initiative
Since 1973, Life Directions has been making a difference for Detroit's young people. Now, its leadership wants to make the same difference for northwest Detroit's Catholic parishes.
For almost half a century, the faith-based nonprofit has helped young adults ages 13 to 35 learn to overcome obstacles and thrive as responsible adults through peer-to-peer mentoring and engagement. Life Directions works with public high schools to encourage positive values and spiritual growth, and has impacted the lives of more than 168,000 young people since its inception. The organization's training center is located on the campus of the former Marygrove College on McNichols in northwest Detroit.
Fr. John Phelps, C.Ss.R., co-founder, president and CEO of Life Directions, also serves as pastor of St. Peter Claver Parish and as vicar of the Archdiocese of Detroit's Trinity Vicariate, which is made up of 12 parishes in northwest Detroit, where 90% of area residents are African-American and 32% live below the poverty line.
With the help and support of the archdiocese, Fr. Phelps is spearheading a new initiative, "ReImagine Parish Life," that aims to train, equip and send active Catholics into the community to serve, evangelize and develop parishes into missionary centers for the common good of all God's people living in the vicariate.
Fr. John said the vision set forth by the initiative is Eucharistic people strengthening communities to change the world. "ReImagine Parish Life engages the small committed minority who desire to be apostolic," he explained. "With a 'Gideon spirit,' we will want to inspire each other to learn how to accompany those who were once strangers to us."
Gideon's 300 dedicated soldiers were able to do what an army of 32,000 could not, Fr. John explained. In the same way, parishes will identify an enthusiastic group of leaders to encourage conversation, community engagement and hospitality. Depending on the parish, topics could include housing, unemployment, education, transformation of neighborhoods and racial justice.
Fr. John recently applied for a grant from the Lilly Foundation to help finance the ReImagine Parish Life effort, and expects a decision by the end of the year.
The proposal is endorsed by all 12 pastors in the vicariate, as well as Archbishop Allen H. Vigneron, Auxiliary Bishop Donald F. Hanchon, leadership from Detroit's Catholic high schools, the Marygrove Conservancy and others.
"ReImagine Parish Life is a natural growth from Life Directions' fundamental gift of bridging parishes and public schools," Bishop Hanchon, the episcopal moderator for the archdiocese's Central Region, which includes the Trinity Vicariate, said in a letter of support.
The goal of ReImagine Parish Life is to transform parishes beginning with a small group of confirmed Catholics who, through action and dialogue, will help heal and inspire entire communities, he said.
Through stages of engagement, the project hopes to reach four audiences: active Catholics who attend Mass and regularly receive the Eucharist, passive Catholics who are disconnected from the Church, those who worship at non-Catholic churches, and 'people of goodwill'—those who have not yet heard the Gospel.
The five-year plan begins with identifying lay 'asset coordinators' at each parish, who will work with the pastor to evaluate needs. In the case of ReImagine Parish Life, 'assets' are defined as the seven gifts and nine fruits of the Holy Spirit. Lay leaders will be trained to identify the pastoral needs of both the parishioners and the neighboring community.
The project will use skills gained from the COVID-19 pandemic – Zoom, Google Classroom and Microsoft Teams – to share its asset-based community development plans with other dioceses in the Midwest and beyond. Fr. John is currently discussing the idea with clergy in Chicago.
The project dovetails with the vision of Unleash the Gospel outlined by Archbishop Vigneron, who also pledged his support in a letter to the Lilly Foundation. "I offer my complete support of Father Phelps' initiative as I see it working closely together with the call to bring the Gospel message to everyone in southeast Michigan," he wrote.
Fr. John said the initiative grew out of the archdiocese's Synod 16, which called for parishes to discern new ways to share Christ's message with those around them. As parishes move toward a new phase of parish groupings, or 'families of parishes' this winter, the Trinity Viciariate hopes to be on the front lines of parish innovation.
"To that end, we want to build up our vicariate interdependence among 12 parishes, (five) Catholic schools, a retreat center, soup kitchens, a homeless shelter and local community-based and faith-rooted organizations,"
Fr. John wrote in a letter to the foundation. "As we face the challenges that poverty gives, it is important to work together to reach all the people in our vicariate with hope."
___________
Reprinted from Detroit Catholic
Photo caption: Fr. John Phelps and Roberto Aquino, a graduate of Western International High School who participates in Life Directions' peer motivation program.