Winter 2020 Denver Province Snapshots
---
In Remembrance: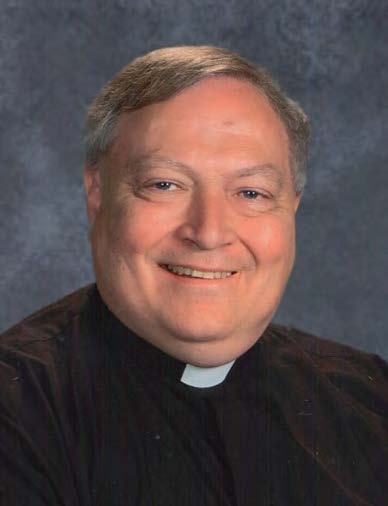 Steven Nyl, C.Ss.R.: Fr. Steven Nyl, a popular parish priest who excelled in Hispanic ministry, died peacefully at AngelsGrace Hospice Center in Oconomowoc on December 16, less than two weeks after he was admitted suffering from inoperable brain cancer. Blessed with a quick wit and a radiant smile, Fr. Steve is remembered as a dependable confrere who understood the importance of being authentic and truly present to others. He was a blessing in community and to those he encountered in his 18 years of ministry.
Steven John Nyl was born to John and Dorothy Nyl on August 20, 1959 in Milwaukee. He and his older sister, Mary, grew up in rural Wisconsin. He drifted from the Church as a young adult, and was teaching high school journalism when a fellow teacher invited him to help with her Confirmation class. Although he tried to ignore the persistent call to a religious vocation, his efforts were futile. He enjoyed a positive "Come & See" weekend experience with the Redemptorists, and was attracted not only to their charism, but also to their genuineness as men committed to the Lord and sharing the Gospel.
He entered the novitiate at Villa Redeemer in Glenview, Illinois at 38 years old. Classmates remember him as a voracious reader with a large vocabulary who was an expert in making puns—his favorite form of humor. "When someone spoke for more than a few paragraphs, Steve would come up with at least three puns—and that was holding back," remembered Fr. Chuong Cao. "He was a procrastinator, but he always managed to complete his work, regardless of the hours or effort that it took."
He professed temporary vows on August 2, 1997 and perpetual vows on October 15, 2000. He was ordained as a Redemptorist priest on September 1, 2001 in Oconomowoc.
Newly ordained Fr. Steve ventured West in his first assignment, to St. Joseph Parish in Denver. A primarily Hispanic parish, it has an outreach program serving a large homeless population. He credited the homeless for helping him to focus on what is truly important in life. Fr. Steve quickly established himself as an exceptional preacher and compassionate confessor who was embraced by the community. Although he was a private and humble confrere, he was a welcome presence at every gathering. He enjoyed good food, good company and good conversation. Everyone felt included in his wide circle of friends.
Fr. Steve was assigned at St. Mary of the Assumption Parish in Whittier in 2005. He thrived in the largely Hispanic parish, and especially enjoyed working with students at the parish elementary school. He was appointed pastor and local superior of the community in 2011. He encouraged parishioners to get involved with their community, and was a key member of the parish evangelization effort.
May the soul of this dedicated Redemptorist missionary, who lived life fully and remained present until the moment he passed into eternal life, rest in peace. (Submitted by Kristine Stremel, with contributions from Fr. Chuong Cao and Fr. Charlie Wehrley)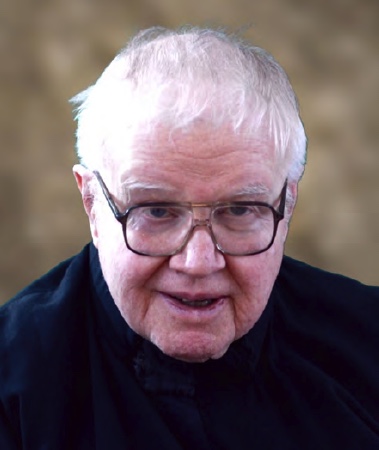 Br. James (Jim) Burke: One of the Denver Province's "true characters," Br. Jim Burke died on December 20 at St. Clement Redemptorist Mission Community in Liguori. He was 89, and had been on hospice care for several months.
Br. Jim was deeply devoted to Our Mother of Perpetual Help and lived a humble life of service, but he is best remembered for carefully researching and compiling a personal treasure trove of sports statistics – a comprehensive study spanning more than 100 years, written in his bold hand on loose leaf notebook paper.
James Joseph Burke was born on September 24, 1930 in St. Louis. His passion for sports – especially baseball — may have been influenced by his uncle, Jimmy Burke, who managed the St. Louis Cardinals in 1905 and the Browns from 1918-20.
Br. Jim professed temporary vows at Mount St. Clement's College in DeSoto, MO on February 2, 1958, and perpetual vows on February 2, 1962. He served in ministry for a total of 49 years: working in the laundries of Immaculate Conception Seminary in Oconomowoc and Mount St. Clement's College for 11 years; and as a parish sacristan for 39 years. Although he was briefly assigned at St. Joseph Parish in Denver and St. Alphonsus Parish in Davenport, IA, he racked up 37 years at Our Lady of Perpetual Help Redemptorist Parish in Kansas City.
He was known well beyond the parish boundary as the Redemptorist who pedaled a bicycle throughout Kansas City. In addition to serving as sacristan, Br. Jim led weekly Perpetual Help devotions in his deep, booming voice for decades. He loved Motown music, and instilled a sense of safety roaming the property like a parish watchdog.
"He was an absolute joy, and very dear to us," said Pat McDonald, parish secretary. "He was a virtual walking encyclopedia of sports statistics and trends. He also had an affinity for weather, and could spout off the average temperature in major cities across the country." Confreres tried, but rarely stumped him, on the facts.
Fr. Jim Shea, former Provincial Superior who was stationed with him in Davenport and Kansas City, quips that Br. Jim is noted for having gone to more universities than any other Redemptorist: for decades, he spent his entire vacation in libraries, researching statistics. In 1998, it was reported that he had combed through files at 80 colleges, 67 public libraries and 26 newspapers in every major city of the country. He never thought to make hotel reservations, he would knock on the door of a local rectory and asked for a place to stay while he was in town.
Failing health necessitated Br. Jim's move to Liguori in 2007, where his recall of statistics continued to entertain his confreres and amazed the staff, who called him "Rain Man." Family and friends joined confreres in Liguori to celebrate his life on December 23, and Br. Jim was interred at the Liguori cemetery on Christmas Eve.
May Br. Jim rest in the eternal peace of the Redeemer. (Submitted by Kristine Stremel; with contributions from Br. Gerry Patin, Fr. Jim Shea, and Pat McDonald)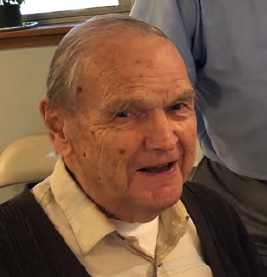 Redemptorist Oblate Victor Coupez: Redemptorist Oblate Victor Coupez, who made significant contributions to the Sacred Heart Parish community, died this past week in Seattle. He was honored as a Redemptorist Oblate, the highest recognition given to a lay person by the worldwide Congregation, in March 2018. He shared our spirituality and worked closely with the confreres to further the mission in Seattle.
---
Smithsonian Museum Interview:
Our own Fr. Maurice Nutt recently participated in the Smithsonian National Museum of African American History and Culture's "African American Oral Religious History Project." Funded by an Eli Lilly Foundation Grant, this project is designed to record and preserve the experiences of select African American religious leaders throughout the country, including the Black Catholic religious experience. "It was a pleasure to expound upon my ethnic heritage, religion and life as a Redemptorist missionary," Fr. Maurice said. "I thank my friend, Teddy R. Reeves, Curatorial Specialist of Religion at the National Museum of African American History and Culture, for including me in this project!"
---
And More!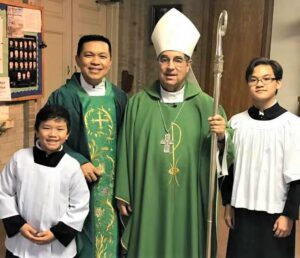 A New Pastor in Baton Rouge: Bishop Michael Duca installed Fr. Tat Hoang as pastor of St. Gerard Church in Baton Rouge on October 6. We wish Fr. Tat great success in his new endeavor. Pictured here are Fr. Tat and Bishop Duca with altar servers.
Houston Health Fair: The Faith and Citizenship Committee at Holy Ghost Parish in Houston presented a Health Fair for the Spanish-speaking on Saturday morning, September 28. Approximately 200 people took advantage of the opportunity to receive free medical, dental and optical screenings and services, as well as consultations with immigration attorneys. Among the many presenters, we only mention here: Texas Heart Institute, Legacy Community Health, Houston Eye Center and networking with great local organizations.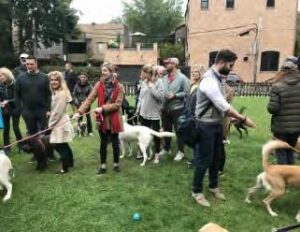 Blessing the Animals: Fr. Larry Sanders offered a special blessing for pets at St. Michael Church in Old Town, Chicago on October 4, the feast of St. Francis of Assisi. Every Friday during October (weather permitting) neighbors are welcome to bring their pets to the Parish Center to enjoy the expansive lawn—in the spirit of St. Francis!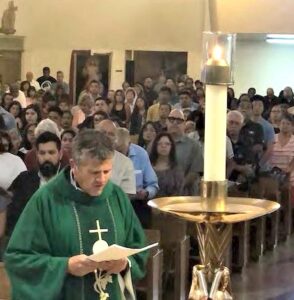 New Pastor Installed in Whittier:  The Redemptorist Parish of Saint Mary of the Assumption Church in Whittier was packed on Sunday, October 13, for the installation of Fr. Patrick Keyes as Pastor. The Very Rev. Mark Trudeau, Auxiliary Bishop for our Deanery, officiated at the ceremony. Br. Tom Wright and his team put together a beautiful reception afterwards in the parish hall.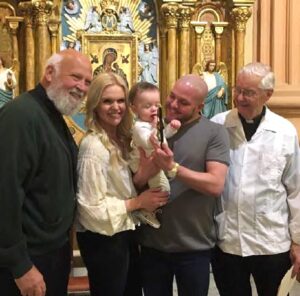 Seelos Canonization Cause: Fr. Rich Boever, executive director of the Seelos Shrine (left), and Fr. Gil Enderle, Vice Postulator of the Seelos Cause for Canonization, recently met with the Carson Carlyle family. The couple is hopeful that in their case, or some other, the Vatican Commission in Rome will find cause to move Blessed Francis X. Seelos into the ranks of sainthood.
Life Directions Receives Generous Grant: Life Directions has received $40,000 from the Congregation of St. Joseph's Generous Promise Grant Fund. The generous gift reflects Life Directions' growing reputation for supporting efforts to improve the lives of young adults. The grant will support "Women Bridging Change" (WBC), a Wounded Healers Care Group Ministry offered through the Life Directions Training Center. WBC is designed to empower women to respond to the climate of despair and hopelessness, to promote a generous promise "to heal the hurts of the world" by healing each other's wounds and becoming wounded healers.  The program is designed to benefit women by improving their quality of life. It engages in deep growth to heal women, and examines ways to use healing to engage in social and ecological justice. The WBC program follows peacebuilding practices, including personal healing, processing and justice. This unique program is an essential contribution to the interrelationship of body, mind and soul in creating holistic homes and families. Life Directions remains dependent upon the heartfelt contributions of individuals and the generous donations of churches, organizations and foundations. (Submitted by Annette Howard)
Survivors March in Houston: Br. Clem Furno and Fr. John Gouger joined parishioners of Holy Ghost Parish in Houston on a March of the Surviving Youth earlier this month. Surviving Youth are children whose parents rejected abortion, and chose to welcome them into the world. Fittingly, the march began at the Catholic Charismatic Center in downtown Houston. Participants continued under Highway 45 and climbed the incline to Calvary, the Abortion Clinic. Some visited a blue bus funded by the Foundation for Life offering free sonograms that conveniently parks on the street across from the Clinic. Statistically, 95% of women who see their babies decide to keep them. Finally, the surviving youth knelt to pray together in front of the Clinic before returning to the Charismatic Center!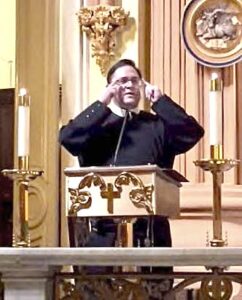 An Evening of Prayer: Fr. Kevin Zubel recently shared his experiences working with immigrants, refugees and migrants in the Mississippi Delta during "An Evening of Prayer and Reflection for Refugees and Migrants" at St. Mary's Assumption Church in New Orleans. The parish's Human Concerns Committee sponsored the presentation. Fr. Kevin explained that the immigration debate has many angles to consider. He asked the 35 people who gathered for the evening to reflect on the issue from the standpoint of faith, and think about how our faith invites us to care for the most vulnerable among us. As Fr. Kevin shared his personal ministry experiences, he spoke about how they affected him personally. The evening also included a time for participants to share. Two members of religious communities, our own Fr. Rich Boever and Sr. Irma, a Daughter of Charity, shared poignant memories of their own ministry experiences (Submitted by Fr. Aaron Meszaros)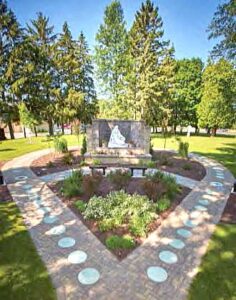 Redemptorist Associate Presents "Wild Rosary": Van Bensett, MA, Life Directions Project Director and Redemptorist Associate in Chicago, presented the "Wild Rosary" during a recent ecological justice retreat, "Love God, Love Creation," at Mundelein Seminary. The retreat is part of the Institute of Pastoral Leadership's new initiative to provide spiritual formation at the Joseph and Mary Retreat House. Van presented the "Wild Rosary," noting that praying the rosary outdoors is a way to develop integral ecology through prayer. He also shared Alphonsian Spirituality: Plentiful Redemption means creation healed.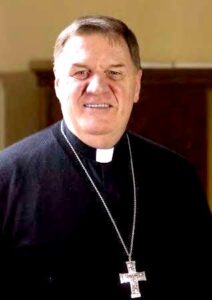 A New Papal Appointment: Congratulations to our own Cardinal Joseph W. Tobin, who was recently appointed to the Pontifical Council for Culture. Cardinal Tobin often remarks about the great diversity—a rainbow of cultural groups—in the Archdiocese of Newark. He recently issued Forward in Faith Together: Our Road Ahead, a pastoral vision designed to establish a positive path forward for the faithful, the clergy, and the Archdiocese while simultaneously addressing crucial challenges of the past and present.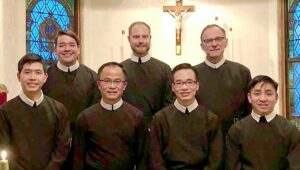 Novice Investiture Ceremony: Congratulations to the Redemptorist novices, who received their habits during an Investiture Ceremony on the Feast of the Immaculate Conception at the North American Novitiate in Lima, OH. Novices and their formators include (left to right, front row): Vinh Nguyen, Fr. Chuong Cao, Bao Tran, Dai Ho; and (back row) Antonio Montoya, Steven Urban and Fr. Ed Eherer. (Submitted by Fr. Charlie Wehrley)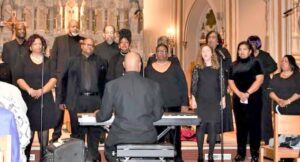 Annual Christmas Concert: Every year, St. Alphonsus "Rock" Church presents a Christmas concert. Performers include one of our church choirs, a gentleman's choir and a combined deanery-wide choir, as well as young dancers from the local St. Louis area who perform traditional African dances. We have a tremendous amount of talent here, and are very proud.
Restoring Our Essential Relationship: "The Jesus Mission": A new parish mission format for the Denver Province that potentially will be available to all confreres in the North American Conference –"The Jesus Mission" – attempts to integrate the power of the preached word, congregational participation, song, and a consistent theological perspective into a "preached evangelization event." After a two-year creative process – and with the various components of the mission tested in multiple settings (although not yet complete) – "The Jesus Mission" is ready to be presented. It is designed for a three- or four-night presentation within a time-frame of approximately 75 minutes. Redemptorist parishes in the Denver Province are invited to consider this preaching event as part of their evangelization efforts. Anyone interested in possibly scheduling the new mission may contact Fr. Tom Santa at tmscssr@gmail.com. After the mission has been presented three or four times, there will be a gathering of confreres who may be interested in presenting this new format as part of their own preaching apostolates. Thank you for your consideration. (Submitted by Tom Santa, C.Ss.R.)
Special thanks to Kristine Stremel and DenverLink for providing these updates.

---
UPCOMING DATES
February 11: Our Lady of Lourdes
February 26: Ash Wednesday
March 25: Annunciation
April 5: Palm Sunday
April 9: Holy Thursday
April 10: Good Friday
April 11: Holy Saturday
April 12: Easter
May 13: Our Lady of Fatima
May 31: Visitation