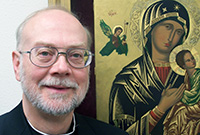 Happy New Year, and welcome to the Winter Edition of Hope! At this juncture between Christmas and Ash Wednesday, we are reminded of both the promise of Christmas and its fulfillment at Easter.
The New Year is a great time to renew your connection to the Redemptorists' many ministries. This issue offers news of an innovative Friday night program for young adults being held in Kansas City at our own Our Lady of Perpetual Help Redemptorist Church, exciting ministry plans by the new Redemptorist team at St. Gerard Catholic Church in San Antonio, a successful celebration of the Holy Vietnamese Martyrs feast day in Kansas City, and another outstanding award season for our Liguorian magazine. Also, please take a look at our Snapshots page for a roundup of many additional Redemptorist activities.
Thank you for supporting the Redemptorists' many ministries. I pray that this online edition of Hope Magazine inspires and stimulates your own faith.
Yours in our loving Redeemer,
Very Reverend Stephen T. Rehrauer, C.Ss.R.
Provincial Superior, Redemptorists of the Denver Province
In This Issue:
KC Underground
Church attendance among younger millennials is down across the entire American religious landscape. The Redemptorists in Kansas City are doing something about it.
St. Gerard's: A Conference Ministry Site
St. Gerard's in San Antonio has been chosen as a Conference Ministry Site. This means that the Conference Initiatives are a top priority for the San Antonio Redemptorist community.
Liguorian Takes Home More Awards in 2019
Once again the Redemptorists' Liguorian magazine has won numerous awards in multiple categories at the 2019 Catholic Press Awards.
Celebrating the Holy Vietnamese Martyrs
Redemptorists celebrate a special Mass for the Holy Vietnamese Martyrs.
Winter Denver Province Snapshots
All the latest news from the Denver Province.