St Gerard's Vision
The Redemptorist Ministry Vision Is Gaining Strength in San Antonio
by Donald Willard, C.Ss.R., Pastor, St. Gerard Catholic Church
As many of you are aware, St. Gerard's in San Antonio has been chosen as a Conference Ministry Site. This means that the Conference Initiatives are a top priority for the chosen Redemptorist community. To fulfill the ministry, Units in the Conference are asked to share resources and personnel. Currently, the seminarians with the Conference attend Oblate School of Theology and reside in what used to be the convent on the property. Their Co-Directors of Formation are Fr. Peter Hill (Baltimore) and Fr. José Chavez. Currently, there are eight seminarians in the community, and one dog, Sophia.
The St. Gerard Parish Team is: Fr. Donald Willard (Pastor), and Fr. Michael Houston (Baltimore) and Fr. Bob Lindsey (Associate Pastors). The other members of our community include: Fr. Thomas Pham (Rector and Co-Vocation Director), Fr. Lamar Partin (Co-Vocation Director), Fr. Luong Uong (Pastor at Vietnamese Martyrs Parish), Br. Charlie Fucik (ministering at a parochial school), and Fr. Alton Carr (in residence).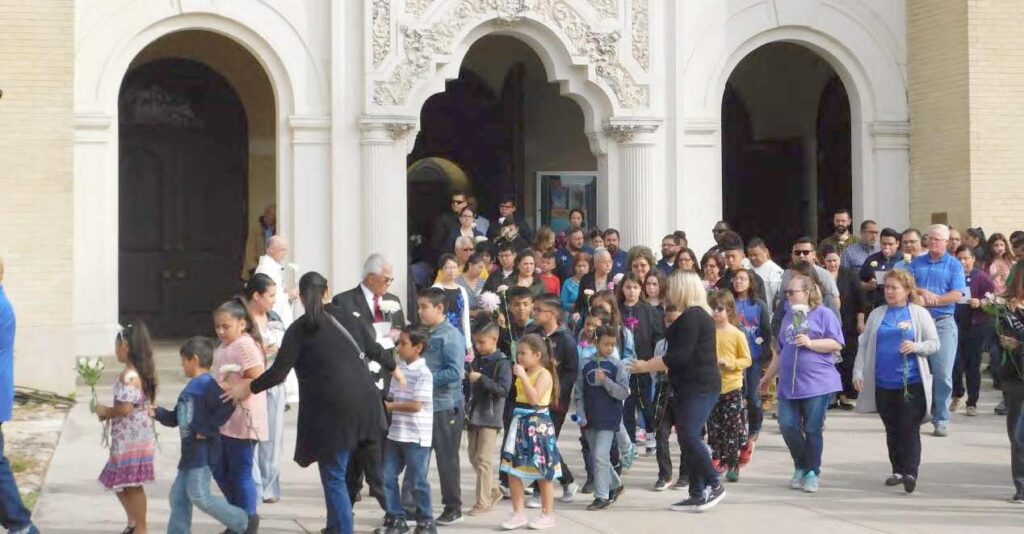 Parishioners at St. Gerard Feast Day celebration.


We have only been together for a little over a month, but the community life has been fantastic!! Perhaps one of the greatest aspects of our community life is that we are all involved in the ministry to fulfill the Conference Initiates – while also focusing on the parish. All of us, including the seminarians, help one another. Truly, the San Antonio community exists for the sake of the mission.
One of the Conference Initiatives is to minister with the youth and young adults. Fr. James Shea, former pastor, had already established a Catholic Youth Organization for the area. Currently, there are 60 youth involved and the organization continues to grow. Br. Charlie already ministers at a local Catholic school, but Fr. Michael and Fr. Lamar have taken a special interest in St. Gerard's High School. They attend football games and bless the team, and have started celebrating Mass at the high school twice a month. Fr. Alton helped announce and bless the homecoming King and Queen. Fr. Don serves on the School Board, and the school principal has joined the St. Gerard Parish Council.
Another Conference Initiative is to minister with immigrants and migrants. Fr. Bob Lindsey has been studying the various ways that we can minister in our area. He has engaged groups that already do this important work, but also is designing a planned response to the needs of immigrants and migrants in our area. Already, he is engaged in our food pantry and our outreach to the poor. Fr. Michael and Fr. Don have been preparing to begin offering the sacraments in Spanish at St. Gerard, starting this Advent. In the meantime, Fr. Luong has been busy ministering to the Vietnamese community which is building a shrine and expecting delivery of a statue of Our Lady of La Vang soon. Seminarians Huan Le and Huyen Nguyen (Vietnam) have been ministering closely with Fr. Luong.
Another of the Conference Initiatives is to engage the Nones—those people who may be spiritual but do not ascribe to a religion. The question is, "Where do you reach the Nones?" After all, they are not in the pews on Sunday. So, we have been working on creating a greater internet presence. Thien Hoang has been invaluable in helping in this area of parish relations. We're planning a series of events that will create experiences to invite friends and relatives to the parish. These are some of the easiest Nones to reach – those who are already in contact with members of the parish. We started with our annual St. Gerard celebration. Ryan Holovasky (Dublin) helped plan these events and served as emcee. He also works in the Liturgy Office for the Archdiocese. Brian Vaccaro (Baltimore) is investigating some opportunities to offer counseling at the parish, as well as being engaged in prison ministry. Royce Thomas (Baltimore) has been ministering at Holy Redeemer, and teaching St. Gerard parishioners new songs. Tony Moreno (Baltimore) is working with the readers at the parish, and Ivan Dzhur (Yorkton) is creating ways to teach the parish about the gift that Ukrainian Catholics are to our communion of faith.
While all of us living and ministering together have been very busy, we still have had lots of time to build community, share meals, and be present to one another. As I think on the last few days, I personally want to thank Fr. Lamar for helping me create and build my office, Thien for his incredible dedication and hard work on communications, and Ryan for being a friend.
Being with these young men has given me a renewed spirit and called me to be a better priest and a better Redemptorist. May Our Mother of Perpetual Help always intercede for us, and seek God's blessings in all that we do.