Winter 2022 Denver Province Snapshots
---
Ordination, Professions & Jubilarians: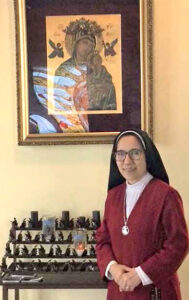 Celebrating 25 Years as a Redemptoristine Nun: Sr. Maria Celeste P. Kay, O.Ss.R. recently celebrated her 25th jubilee of profession to the Order of the Most Holy Redeemer (Redemptoristines) at Our Lady of the Desert Conventual Church in Tucson. Fr. Bill Bueche, her spiritual director of many years, presided at a joyful celebration of her contemplative vocation. Sister Maria Celeste entered the monastery in Liguori in 1993 and made her first profession as a Redemptoristine Nun on August 1, 1996. She loves the solitude, silence and prayer of the contemplative life, and professed solemn vows in 1999. Sr. Maria Celeste has served the Liguori community as Councillor, Assistant Novice Mistress, Novice Mistress and Sub-Prioress. In 2011, Sister was selected as a founding member and was appointed Sub-Prioress and Novice Mistress of a new Redemptoristine foundation whose temporary monastery/residence was in Minburi, Bangkok. Upon a request for assistance by the Redemptoristine Nuns of Maitland, Australia in 2016, Sr. Maria Celeste was sent and briefly served there as Formator. Sister returned to Liguori, and in the year 2019 went back to Thailand to serve as Sub-Prioress and Novice Mistress in the new permanent monastery in Korat. Some months later, she was appointed Prioress of that community. She served one year before she returned to Liguori in January of this year. One month later, she began her discernment as a hermit in Tucson. Grateful to God for the blessings of her faith and vocation, Sr. Celeste believes that God has used the blessings and challenges along the way to mold, strengthen and help her along her spiritual path and in her spiritual growth.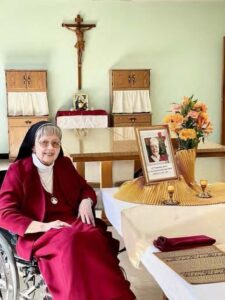 Celebrating 25 Years as a Redemptoristine Nun: Sr. Ann Marie Gool celebrated her 50th jubilee of profession to the Order of the Most Holy Redeemer (Redemptoristines) at St. Clement's chapel in Liguori. Fr. Bernie Carlin presided at a joyful celebration of her contemplative vocation on October 16, the Feast of St. Gerard Majella. Sr. Ann Marie was born in Erie, PA and christened Shirley Ann at St. Stanislaus Parish. After completing high school, she went to college part time and spent a year doing lay missionary work in the Diocese of Wheeling-Charleston, WV before following the call to a contemplative religious life. She entered the Redemptoristine monastery on October 28, 1968 and made her first profession of vows as Sr. Ann Marie of the Holy Spirit on October 16, 1971. "I felt called to the contemplative life as I felt that any other ministry was too limited, whereas prayer has no limits," she said. "Our charism is a joyful contemplative response of the plentiful and merciful love of Jesus, the Redeemer." Sr. Ann Marie has served the Liguori community as Prioress, formator, secretary and bursar since 1971. She was missioned to the new foundation in South Africa in 1996 and served there until 2011. "I count the 15 years on mission in South Africa as one the greatest blessings: to be among people who lived both poverty of spirit and material poverty has been a great lesson for me in following Christ," she said.
---
In Remembrance: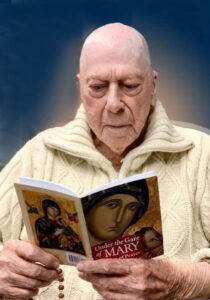 Fr. Wilfred Lowery, C.Ss.R., an early pioneer in Thailand who left a lasting legacy, died at St. Clement Redemptorist Missionary Community in Liguori on November 10. Fr. Lowery continued to minister to Thai and Laotian immigrant communities throughout the United States well into his 90s. At 97 years old, he was revered as the eldest member of the Denver Province. After completing novitiate at DeSoto, he professed temporary vows on August 2, 1944, and professed perpetual vows on September 2, 1947. He was ordained to the priesthood on June 29, 1949. In 1951, he was stationed  at Holy Redeemer Church in Bangkok, Thailand and studied the Thai language. Six months later, Fr. Wil was appointed pastor of Our Mother of Perpetual Help Parish in Xang-Ming, where he served until 1956. Later that year he was appointed pastor of Blessed Virgin Mary Parish and superior of the community in Viengkhuk, one of the first in the new Udon Thani Prefecture. In 1958, Fr. Wil was appointed pastor of St. Alphonsus Church and local superior in Nongkhai.  Fr. Wil also served as bursar in Bangkok and returned to Nongkhai when he was named Vice Provincial Superior for the 1964-69 term. After 25 years in Thailand, he was Vicar General of the Udon Diocese when health issues prompted his return to the United States in 1976. Back in the US, Fr. Wil continued to minister to immigrant Laotian Catholic communities throughout the country. He directed retreats and worked for the Mission Office while stationed at Villa Redeemer in Glenview, IL until 1981, when he joined the St. Joseph Parish community in Wichita, KS as rector. He moved to St. Michael Parish in Chicago in 1987, and served as an itinerant missionary preacher for two years while continuing outreach to Laotian immigrants. Eternal rest grant unto him, O Lord, and may perpetual light shine upon him. May this faithful son of St. Alphonsus rest in peace.
Vocations: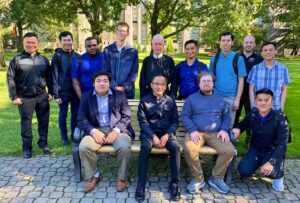 Come & See Weekend: Eight men gathered in the Bronx for a Come & See Weekend recently to experience a little bit of Redemptorist community life and the experiences of the students currently involved in Redemptorist formation. The weekend involved visits with the students and formation directors, a tour of St. John's University, a retreat day at San Alfonso Retreat House, a tour of Manhattan, and even some down time at an evening barbecue.
---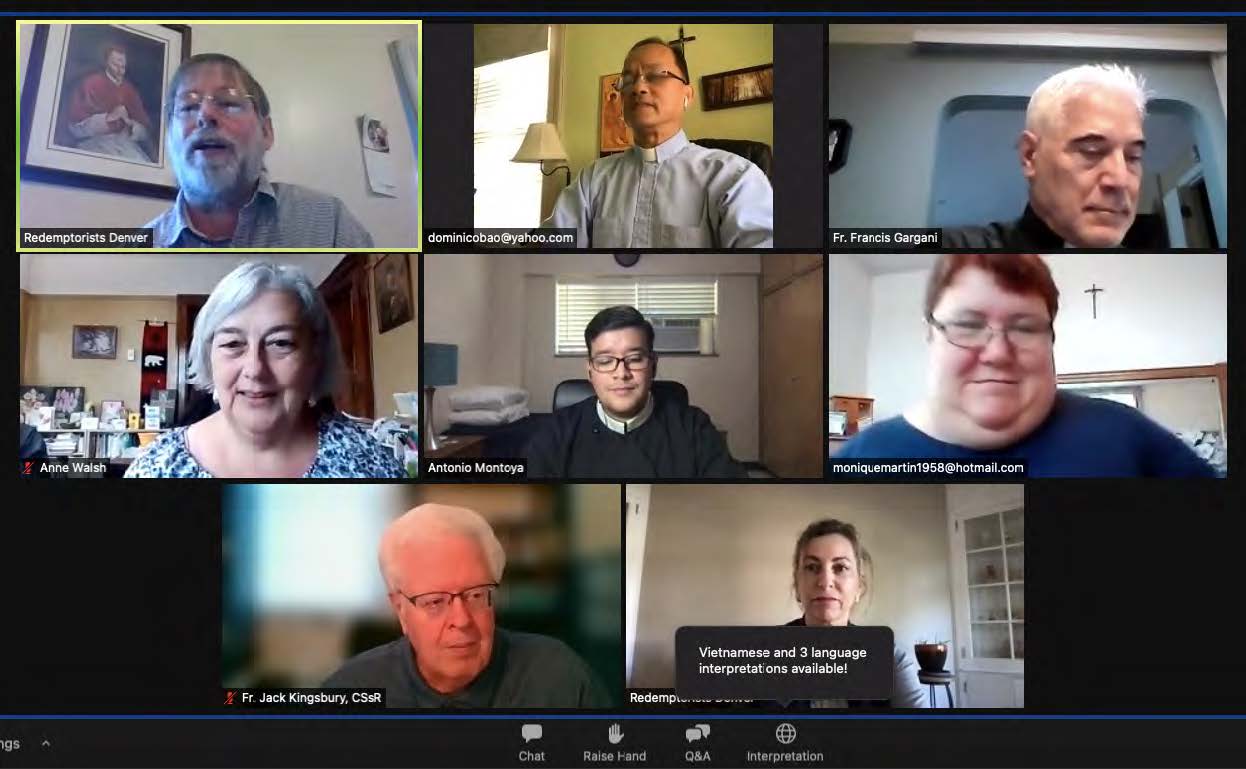 A CSSR Family Gathering:
Partners in Mission (PIM) from throughout North America discussed selections from the Gospel and Pope Francis' Fratelli Tutti through the lens of Redemptorist spirituality during the Fall Retreat on October 15-16. Months in the planning, the retreat was the very first online webinar hosted by the North American Conference Secretariat for PIM. "A total of 141 people registered for the retreat, which spanned five-and-a-half time zones and was facilitated in four languages," explained Fr. Greg May, host of the retreat. "There were a lot of moving parts, so it took a concerted group effort to ensure the success of the retreat." Participants look forward to more group gatherings to strengthen communication and build relationships. Check the North American PIM website  to view sponsored retreats and a host of other material related to PIM.
---
And More!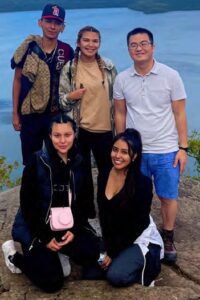 Christ Is Alive: In October Fr. Quy Duong, C.Ss.R. restarted the young adult ministry at St. Alphonsus Parish in Minneapolis after the pandemic. He took its spiritual inspiration from Pope Francis' post-synodal Apostolic Exhortation, "Christus Vivit," or "Christ is Alive." Among the highlights of the retreat was a trek up Mt. Josephine, a peak in the Sawtooth Mountains that sits at 1,300 feet in Grand Portage, MN.
African American Ministry Discussed: A total of 25 confreres gathered online earlier this week to hear and discuss the ministry experiences of three confreres: Fr. Steve Benden, pastor of St. Alphonsus "Rock" Church in St. Louis; Fr. Kenneth Gaddy, parochial vicar of Sacred Heart of Jesus Parish in Baltimore; and Fr. John Phelps, who in 1973 co-founded Life Directions, a ministry for young adults on the verge of dropping out of school and into self-destructive life choices. "We had a good turnout; our meeting went very well," Fr. Steve said. "I am hoping to plan more sessions to enable the guys to talk about their experiences and spark more interest in African American ministry."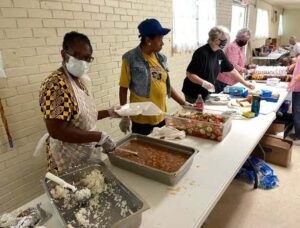 Feeding the Community: Tuesday and Thursday are the busiest days of the week at St. Gerard Majella Church in Baton Rouge. St. Vincent de Paul provides food for the hungry. Mama Seabell, Kenny Paola, Peter Ketchens, David Richard, Enola Miller, Fr. Don MacKinnon and many more lay missionaries from our parish and other churches come together to pack boxes of food and distribute them to the hungry in the city. Some people come to Seelos Hall to eat their hot meal of the day. The majority of the food is personally delivered to people on the streets and in areas where many of the poor and the hungry congregate.
Seelos Healing Mass: The faithful seeking the intercession of Blessed Francis Seelos participated in the annual Seelos Healing Mass at St. Mary's Assumption Church in New Orleans last weekend. Hundreds more submitted prayer petitions and participated via the livestream broadcast on the Shrine's Facebook page.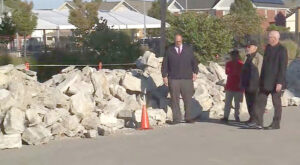 St. Alphonsus Liguori's Rock Wall: Parishioners of the historic St. Alphonsus Liguori "Rock" Church in St. Louis are praying for a miracle. The parish community noticed that the distinctive limestone rock wall surrounding the property was crumbling, so a portion of the wall was demolished as a safety precaution. But the City of St. Louis issued a notice prohibiting any further demolition until appropriate permits were granted. As the "Rock" Church was designated a City Landmark in 1976, any changes to the wall must comply with the architectural integrity of the site. Plans to rebuild the wall have been approved, but the cost is estimated near $250,000. The parish community is asking for donations from the St. Louis area and beyond. Donations are being accepted online at: https://stalphonsusrock.weshareonline.org/ws/opportunities/BF-BuildingFund
St. Michael's Pet Blessing & Dogs-N-Dogs: St. Michael Parish in Chicago had a great night for its annual Pet Blessing and Dogs-N-Dogs fellowship night earlier this month. More than 75 dogs and their owners received a blessing from Fr. Larry Sanders Sr. while Maryann McKeogh, CSFN, teamed up with John Steigerwald at the grill to cook and serve the hotdogs. Everyone had a good time meeting up with their neighbors and making new friends.
C.Ss.R. Memorial Mass: The Redemptorists celebrated the St. Clement Memorial Mass of All Souls in their chapel at the Mission House on the Liguori property. It was the last Mass that will ever be celebrated in that beautiful chapel. About 85 people – many of whom have celebrated special feasts with the Redemptorists over the years and admire the simplicity and prayerful atmosphere of the chapel – were grateful to have participated in the celebration. After presiding at Mass, Provincial Superior Stephen Rehrauer led them out to the cemetery, where they blessed the graves of the confreres and Redemptoristines they had gathered to remember, honor and celebrate. Afterward, they enjoyed a luncheon and shared many memories. Plans are to celebrate a Memorial Mass every year in Liguori.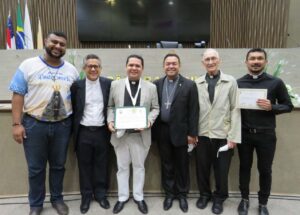 City of Manaus Honors Vice Provincial: Fr. José Amarildo Luciano da Silva, Vice Provincial Superior of the Vice Province of Manaus, was honored to receive the "Dom João da Mata Amaral" award from the City Council of Manaus last October 22. City Council members, Redemptorist missionaries, seminarians and friends were present as he received the award, which recognizes his service to the City of Manaus.
North American Conference Gets New Website: The North American Conference of Redemptorists has launched a totally new website – its third to be in operation since October of 2019. The original website received a makeover last September, but this new website is a total recreation. Everything has been changed, from the masthead to the page colors. The home page also includes drop-down menus for accessing Spirituality, Vocations, Ministries and Statutes. A Studies drop-down menu includes the Redemptorist North American Historical Bulletin, past and present issues. Visit the new website here.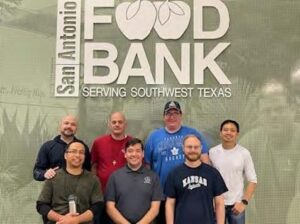 Feeding the Poor: Redemptorist theology students recently helped out at the San Antonio Food Bank, which serves one of the largest service areas in Southwest Texas. Special thanks to Fr. Peter Hill, co-director of formation, for sharing a few photos!
Confreres & Associates Discuss Collaboration: Fr. Greg May led an afternoon Zoom discussion about how Redemptorist confreres and the laity both might better realize their shared Gospel mission by working together in partnership. Nineteen confreres and six Redemptorist Associates participated in the virtual gathering on December 1.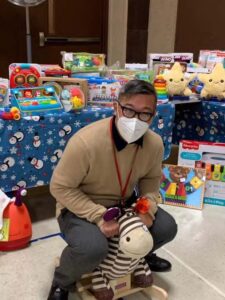 Parish Store Ensures a Happy Christmas for Kids: St. Alphonsus Parish in Grand Rapids invited lower income families to shop at their seventh annual Northeast Christmas Store on three separate days in early December. Families with children younger than 17 were able to buy toys priced at 10 percent of their retail value.
Special thanks to Kristine Stremel and DenverLink for providing content for these updates.

---
UPCOMING DATES
February 1: Presentation of the Lord
February 11: Our Lady of Lourdes
March 2: Ash Wednesday
March 6: First Sunday of Lent
March 25: Annunciation
March 28: St. John Neumann Birthday
April 10: Palm Sunday
April 14: Holy Thursday
April 15: Good Friday
April 16: Holy Saturday
April 17: Easter