Winter 2021 Denver Province Snapshots
---
Ordination, Professions & Jubilarians: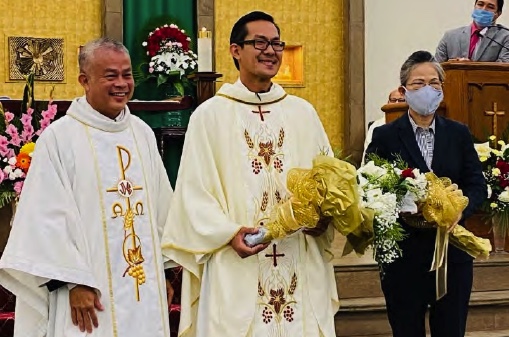 Ordination: Newly ordained Fr. Huy Vu, C.Ss.R., recently returned to San Antonio to celebrate Mass at Vietnamese Martyrs Parish, where Redemptorist Fr. Luong Uong serves as pastor. Confreres and parishioners extended a warm welcome! Click for more news about the ordination and videos.
First Profession of Vows: Congratulations to Scott Partin, novice who received his religious habit on December 9, the feast of the Immaculate Conception.
---
In Remembrance: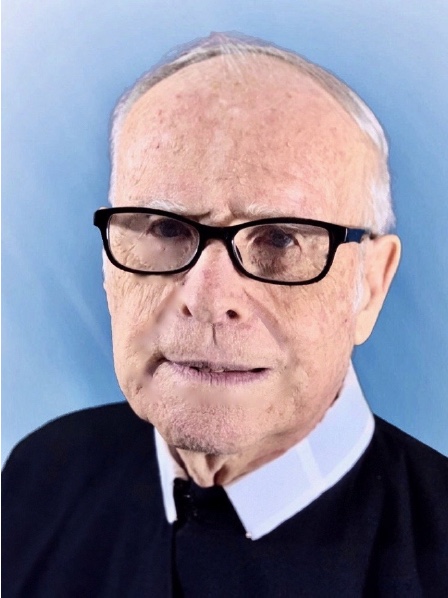 Rev. (Vernon) William Wright, C.Ss.R.: Please pray for the repose of the soul of beloved Fr. (Vernon) William Wright, C.Ss.R., a humble missionary who served in Thailand for 48 years, died on December 14 at St. Clement Redemptorist Mission Community in Liguori. He had suffered from health issues for many years and had recently been placed in hospice care.
Born on December 28, 1933 in Grand Haven, MI, Fr. Bill attended St. Alphonsus High School in Grand Rapids. Inspired by the Redemptorist missionaries, he entered St. Joseph's Preparatory College in Kirkwood and professed first vows on August 2, 1955. He professed perpetual vows at Immaculate Conception Seminary in Oconomowoc on September 2, 1958 and was ordained to the priesthood on June 29, 1960.
In his first assignment, Fr. Bill was missioned to serve the poor and abandoned in the North Country of Thailand. For the next 43 years, he served in a succession of parishes in the North Country: Thabo; Sakon Nakorn; Nong Khai; Ban Tin; Viengkhuk; Nong Song and Xang Ming, a large Catholic village in the Sakolnakorn Province. He is remembered as a humble and good pastor who never missed an appointment and was particularly devoted to the sick and the elderly. He helped many young people pay for their higher education, and inspired many religious vocations. Former Vice Provincial Will Lowery once said of him, "If we had a half dozen more like him, the rest of us could go home."
Health issues necessitated his return to the United States in 2010. Fr. Bill was granted retirement status when he joined the St. Alphonsus Parish in Grand Rapids, but he regularly offered the Sunday liturgy at Spectrum Rehabilitation Hospital and a Thursday liturgy at a nursing home operated by the Carmelite Sisters. When his health issues became more pronounced, he was assigned at St. Clement Health Care Center in Liguori. He is remembered as a joyful, happy presence in community who enjoyed reminiscing about his time in Thailand. May Fr. Bill, a true Son of St. Alphonsus, rest in the eternal peace of the Redeemer.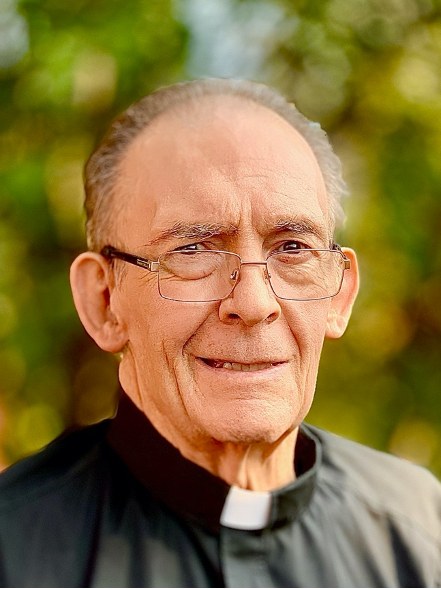 Rev. Kenneth Lee Sedlak, C.Ss.R.: Please pray for the repose of the soul of Fr. Kenneth Sedlak, C.Ss.R. Born in Omaha and raised in Holy Name Parish; ordained a Redemptorist Priest in 1972. He served in various parishes in Illinois, his last parish for 30 years was St. Michael's in Old Town Chicago. Fr. Ken passed away at the age of 74 in Liguori, MO on December 19, 2020. A memorial Mass was said for Fr. Ken on Saturday, January 9 at St. Michael in Old Town.
Fr. Ken was involved in many programs through the years including RCIA, Spiritual Direction, and the host of numerous Advent and Lenten prayer services. He was the co-founder of Pathways, which sponsored programs for young professionals seeking to integrate body, mind, and spirit. He was also on the core team of STILLPOINT, a contemplative outreach center. He is an author of the book, Why God Loves Us…No Matter What (available on Amazon). He assisted the pastors and parishioners of St. Michael's with dedication. His belief in God's love—given freely and unconditionally—was a message he never stopped believing and speaking about. He touched many lives and will be greatly missed by friends and family.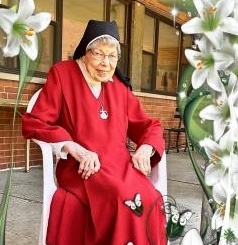 Sr. Nanette Rose Durham, O.Ss.R.: Sr. Nanette, a beloved member of the Redemptoristine community in Liguori, died on November 19, 2020 at St. Andrew's at Francis Place in Eureka, MO. A Redemptoristine for more than 45 years, Sr. Nanette will be remembered for her radiant smile and genuine love. She simply accepted people for who they are and faithfully tried to be a Living Memory of Jesus – offering her life and sacrifices to bring grace upon grace upon the world. Nanette was an only child, born on July 26, 1927 in Edmonton, Alberta, Canada. On graduation from high school, she completed a pharmaceutical course in British Columbia. She entered the Redemptoristines in Canada and transferred to Liguori as a novice. She professed first vows on the feast of Christ the King, November 24, 1974, and solemn vows three years later on the feast of Christ the King, November 20, 1977.
Sr. Nanette was chosen as one of the four foundresses for the foundation in the Philippines in 1980. After eight years, health issues made it impossible for her to remain in the tropics so she returned to Liguori. Her presence was again one of a happy religious living her contemplative life. She was sincerely interested in all of the Sisters, and her pharmaceutical background was invaluable to the entire community as they required various medications throughout the years. Sr. Nanette was made Novice Mistress of the first Thai candidates in Liguori, who remember her kindness, prayerfulness and empathy. When her health issues necessitated nursing home care, she moved to St. Andrew's at Francis Place. She was often found praying the rosary before the Blessed Sacrament in the chapel, and always had a word of gratitude for the aides and nurses. We pray that Sr. Nanette has a great reward with Our Lord and Our Lady!
---

Zoom Technology Enables Students to Complete Hesychia School of Spiritual Direction:
A diverse group of 25 students – including our confreres, Fr. Anthony Nguyen and Fr. Maurice Nutt – graduated from the Hesychia School of Spiritual Direction at the Redemptorist Renewal Center in Tucson on October 16. The participants, from different cultures and faith backgrounds, completed a four-week program learning the evocative, non-directive method of Spiritual Direction. The first two weeks of the program were offered as usual at the Renewal Center on February 3-13. When COVID-19 struck, the remaining two weeks of the program were postponed. During July, Peter Tran, associate director, and Pat Grile, C.Ss.R., Hesychia Program Director, conferred with all the facilitators and students, and it was decided to complete the course in the Fall using Zoom. Facilitators and presenters gave very inspirational and enlightening talks online about many aspects of Spiritual Direction. Topics included: Images in Spiritual Direction, Working with Trauma Victims, Discernment, Grief Work in Spiritual Direction, Contemplative Spiritual Direction, Code of Ethics, Boundary Awareness, Mind-Body-Spirit Connection, 12-Step Spirituality, Spirituality of Different Religions, The Mystical and Apophatic Traditions, Interreligious Spiritual Direction, Spiritual Direction with LGBTQ and marginalized persons, and Self-Care for the Spiritual Director. Although half of the course was conducted virtually, participants were able to create strong bonds. They hope to return to the Redemptorist Renewal Center for a reunion next year.
---
And More!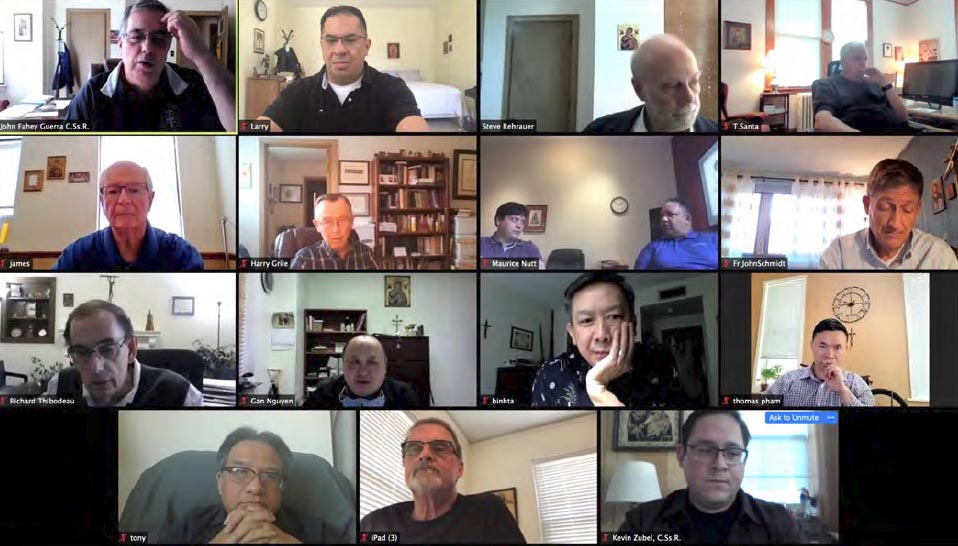 Superiors Discuss Servant Leadership: With the cases of COVID-19 rising, the EPC decided to hold the annual Superiors Meeting by Zoom this year. The first of two sessions, held on October 30, began with a prayer service focusing on the "Superior as Servant." Provincial Superior Stephen Rehrauer then gave a short presentation on the Superior as pastor of the local community. Using the biblical reflection on the Good Samaritan, he highlighted that the Superior works with others to pastor, animate and help the community in reflecting on their shared apostolic life.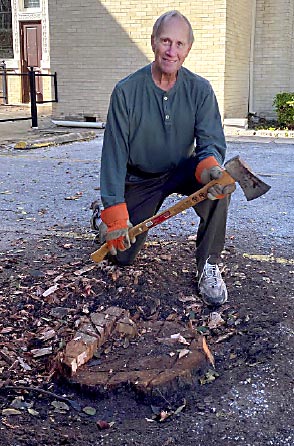 Our Own Axeman:  Kudos to Fr. Alton Carr, who still yields an axe like a rugged Frontiersman at the age of 87! Fr. Alton singlehandedly cleared out a pecan tree stump in the parking lot of St. Gerard Majella Parish in San Antonio, inspiring – and amazing – his younger confreres in the community.
TMAC Check-In: The last portion of the North American Conference formation program is called "Transition to Ministry and Apostolic Community." Twice a year, confreres who are in their first years of full-time ministry come together for prayer, fellowship and presentations applicable to community life and ministry. Because of the pandemic, the May and November 2020 sessions were cancelled. Since it has been almost a year and a half since the group met, co-director Bob Wojtek of the Baltimore Province, and Pete Schavitz of the Denver Province set up a Zoom meeting with participants living in five different time zones across the North American Conference on November 17. The meeting itself was an opportunity to check in with each other, in light of all the things that are happening in our society and the Church. Presuming that the pandemic situation improves this year, the next first full week session will be held May 17-21, 2021 at the Redemptorist Retreat Center in Oconomowoc.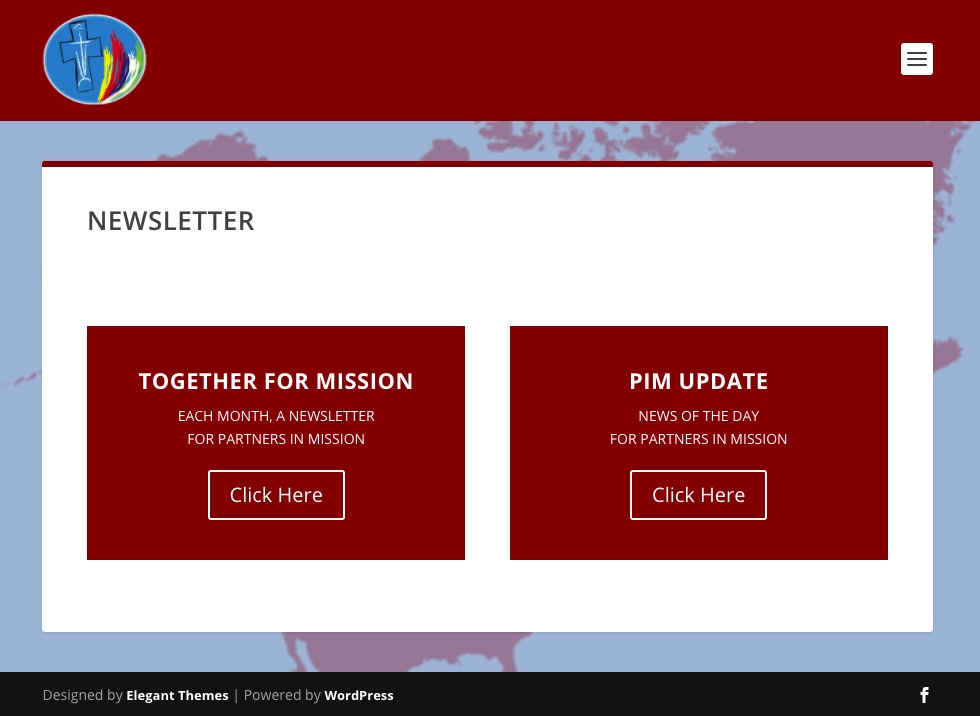 New Partners in Mission Website: Lay involvement in the mission of the Redemptorists has been important from the beginning of the Congregation. Over the centuries men and women have partnered with the professed Redemptorists to work together in various aspects of preaching and living the good news of Plentiful Redemption. This tradition continues today through an initiative called "Partners in Mission" which now has a new official North American Conference website at www.cssr.net. The site is a great resource for understanding this partnership of Redemptorists and laity. Important documents and workshops that explain the spirituality and history of this connection are available, as well as the newsletter that focuses on current topics that are being discussed and shared in the Conference. The "leader" tab at the top of the page is limited to those who need access to the formation material. This information is meant to help form Lay Missionaries of the Most Holy Redeemer, Redemptorist Associates, and other Partners in Mission (PIM). There is also material to help with the gatherings of Redemptorists and laity that strengthen the bonds of our family tie. These events are called Circle gatherings, which reflects the method that St. Clement used to improve the effectiveness of the mission. Anyone who needs access to this material for formation or Circle gatherings can contact us at: PIM@redemptorists-denver.org.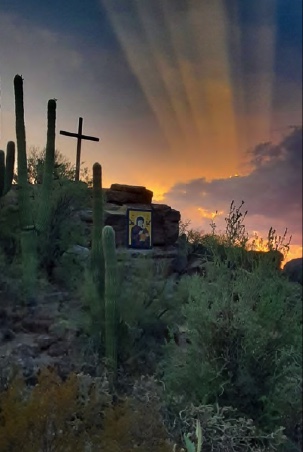 The Weary World Rejoices: Finding Hope, Joy & Purpose in the Desert of the Pandemic: Redemptorist Associates of Our Lady of the Desert in Tucson shared a Saturday morning of retreat on November 21 led by Anne Walsh through the medium of Zoom. Already in the desert, we explored how we are being led through the desert of the COVID-19 pandemic. We experienced our journey, accompanied by three Scriptural passages and three Redemptorist guides: St. Alphonsus, Blessed Methodius Dominic Trcka and Blessed Francis Xavier Seelos. With these guides, we encountered and were refreshed by the God who gives life to all, who waters our roots and feeds us with the manna of God's Word, of good companions and guides, of music and song, of cool breezes and welcome rain. It was a time of grace and renewal for all of us.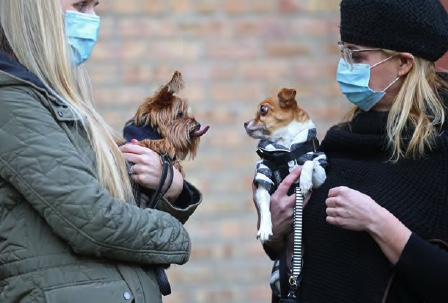 Annual Pet Blessing: Fr. Larry Sanders conducted the annual Pet Blessing last Fall at St. Michael in Old Town in Chicago. Novice Scott Partin snapped the photo here that appeared in the Chicago Tribune.
Special thanks to Kristine Stremel and DenverLink for providing these updates.

---
UPCOMING DATES
February 1: Presentation of the Lord
February 11: Our Lady of Lourdes
February 17: Ash Wednesday
February 21: First Sunday of Lent
March 25: Annunciation
March 28: Palm Sunday
March 28: St. John Neumann Birthday
April 1: Holy Thursday
April 2: Good Friday
April 3: Holy Saturday
April 4: Easter