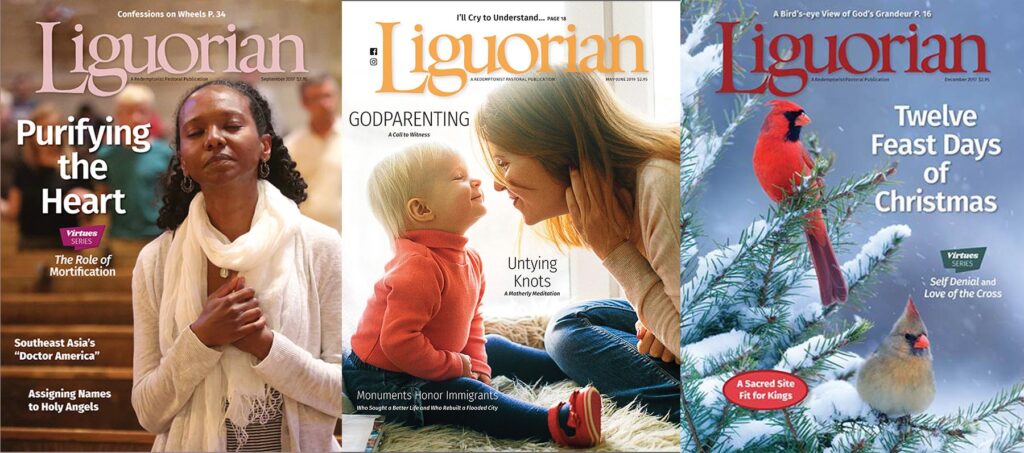 Liguorian Takes Home More Awards in 2019
"Topical, thoughtful, deeply engaging"
Once again the Redemptorists' Liguorian magazine has won numerous awards in multiple categories at the 2019 Catholic Press Awards including:
Best Guest Column/Commentary: First Place: "To Whom Shall We Go?" by Fr. Patrick Keyes, CSsR; October 2018; the Award judges called the article, "A well-timed and salient topic discussed from a perspective not always available in the press. Written with grace and clarity of thought in a well-structured response to a Church exigency."
Best Coverage – Ecumenical/Interfaith Issues: First Place: "Lighting the Way to Interfaith Peace," series by Carole St. Laurent-January 2018; "The Heart of the Mystery," [Just Live It column] by Barbara Hughes-March 2018; "Stories From the Field: Persevering for Peace," by Carole St. Laurent-November 2018. The Award judges Commented: "These well-written pieces highlight the importance of interfaith peace. Nice storytelling and a strong focus on how readers can promote interfaith peace in their day-to-day lives. Well done."
Magazine/Newsletter of the Year – National General Interest Magazines: Third Place: Liguorian, includes February, March, and April 2018 issues. Judges' Comments: "Liguorian is a delight to view. The layout and use of images, graphics, and textual elements are strong and pleasing to the eye. The magazine also includes a good variety of topical coverage and brief thoughtful pieces."
Best Layout or Article Column – National General Interest Magazine: First Place for "Irena's Jar" by Nancy B. Martel; May-June 2018 issue. Judges' comments for the article included: "A deeply engaging and moving piece with a layout that facilitates an easy flow through the story and images that add life and context."
Best Cover for Color – Large: Second Place: Liguorian Magazine, "Awash in the Joy of Conversion"; February 2018. Judges Comments: "The vivid colors and well-designed focal point made this cover pop. The overall layout was informative while not taking away from the image and its relationship to Lent."
_____________________
The Redemptorists are widely known for Liguorian magazine, begun in 1911 by a group of Redemptorist seminarians in Wisconsin. Since its founding, the Liguorian has been a cherished companion of Catholics. Reinforcing spiritual beliefs with inspiration and insight, Liguorian provides a fresh perspective on faith to give subscribers what they want most from a Catholic magazine: inspiring stories, thought-provoking columns, and indispensable insights into spiritual life for today's fast-paced world.
Liguori Publications publishes the Liguorian. It is a nonprofit company owned by the Redemptorists of the Denver Province. Liguori Publications has thousands of titles, hundreds of which are available as ebooks. Many of our publications are award winners. Liguori Publications produces resources for parishes and individuals "in every stage of faith and life." Those include print and digital books, catechetical and faith formation materials, pamphlets and church bulletins.
The purpose of the Catholic Press Awards is to acknowledge the outstanding work of its Publisher and Communication members as they strive to further the mission of the Church. On a daily basis they inform, inspire and educate readers keeping them connected to their faith, and telling the story of the Church. It is those contributions that are recognized through these awards.