Spring 2021 Denver Province Snapshots
---
Ordinations, Professions & Jubilarians: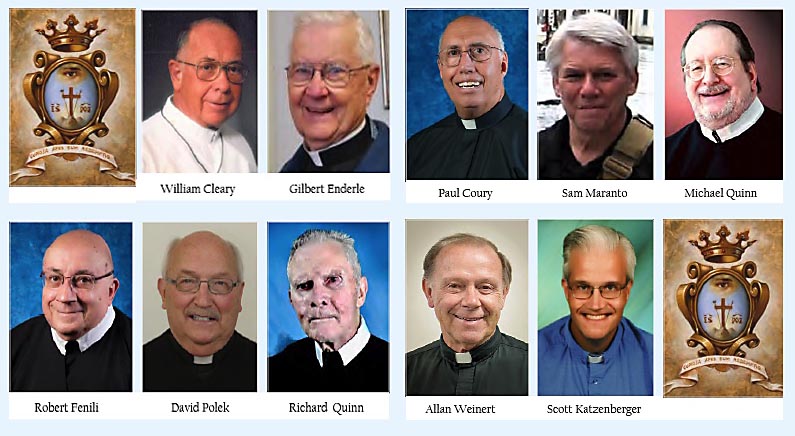 Celebrating 60 Years of Ordination: Rev. William Cleary, Rev. Gilbert Enderle, Rev. Robert Fenili, Rev. David Polek, Rev. Richard Quinn; Celebrating 50 Years of Ordination: Rev. Paul Coury, Rev. Sam Maranto, Rev. Michael Quinn, Rev. Allan Weinert; Celebrating 25Years of Ordination: Rev. Scott Katzenberger.
In Remembrance: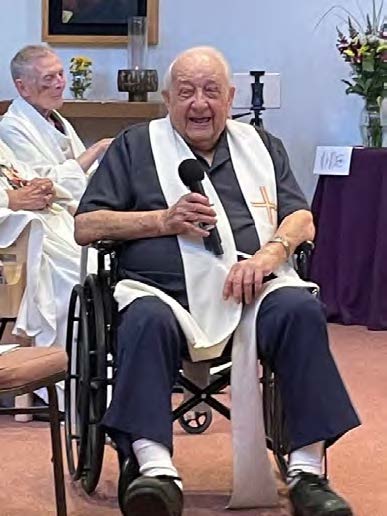 Fr. Albert (Al) Babin, C.Ss.R.:  a beloved leader who influenced generations of Redemptorist missionaries, died at Mercy Hospital in St. Louis at the age of 95 on July 4. The eldest member of the Denver Province, he celebrated his 70th jubilee of ordination to the priesthood this year. He leaves a legacy as a respected teacher, mentor and friend.
Albert Clarence Babin was born on November 13, 1926 in New Orleans. He professed temporary vows at DeSoto, MO on August 2, 1947 and perpetual vows at Pine City, MN on September 2, 1950. He was ordained to the priesthood at Immaculate Conception Seminary in Oconomowoc on June 26, 1952.
Fr. Al began his ministry in the Redemptorist formation system. He was appointed to the faculty at St. Joseph's College in Kirkwood, MO in 1954. During one memorable retreat day, he is remembered for telling the youngsters in a booming voice, "Some may hope to enter into this way of life by the back door. Gentlemen. There is no back door!" Fr. Gil Enderle, remembering Fr. Al, commented, "I admired him greatly; he was an excellent rector. He was always firm but fair. He lived by the old adage, 'If you keep the rule, the rule will keep you.' He was authentic; a genuine man of deep spirituality."
Fr. Al was named director of Holy Redeemer Seminary in Lacombe, LA in 1961. He also served on the faculty and was assigned local community superior. He was next named Novice Master and local community superior of Blessed John Neumann House in Clinton, IA from 1967-1968, and continued in those positions at Immaculate Conception Seminary in Oconomowoc from 1968-1972. In 1975, he was elected Vice Provincial Superior of the Vice Province of New Orleans. After serving two terms at the helm of the Vice Province, Fr. Al was named pastor and local community superior of St. Alphonsus Parish in New Orleans. Confreres called upon his leadership skills once again, electing him as  Ordinary Consultor for the 1987-1990 term. He also served as Vice Postulator for the Cause for Canonization of Blessed Francis Xavier Seelos from 1996 until 1999. In 2000, he was appointed local community superior of St. John Neumann House. In 2006, he officially retired and relocated to St. Clement Redemptorist Mission House in Liguori.
Fr. Al was a pillar of the St. Clement community. He continued to serve in leadership positions and provided help-out work in nearby parishes until his health no longer permitted. He was always readily available for spiritual direction, confession, and other ministries, until the time of his death. Generations of confreres will remember his beautiful voice, his gentle compassion and generosity, and his personal example of holiness.
Br. Thomas Wright, C.Ss.R.: Br. Thomas (Tom) Wright, C.Ss.R., an exceptional administrator who served as Treasurer of both Liguori Publications and the Denver Province, died while in the initial stages of treatment for pancreatic cancer in Whittier on April 25. Known for his financial expertise and strict adherence to proper protocols, he served his confreres with efficiency and generosity for more than five decades.
Thomas Fredrick Wright was born on April 5, 1946 in Chicago. He grew up in the shadows of St. Michael Parish and attended St. Michael School. After making his first profession of vows on August 2, 1966, he served as Assistant to the Registrar at Immaculate Conception College in Oconomowoc, and then at Holy Redeemer College in Waterford, WI.  Upon professing perpetual vows on March 15, 1971, he began a lengthy ministry in the financial arena: including as financial administrator at St. Joseph's Preparatory College in Edgerton, WI from 1972 to 1977; at St. Alphonsus Parish in Chicago for two years; and again in 1980, at Holy Redeemer College as Director of Financial Aid and Vice President of Plant Operations. Recognized for his financial acumen and ability to maintain confidentiality, Br. Tom was appointed Treasurer of Liguori Publications at Liguori Mission House in Liguori, a position he held from 1984 until 1995. Leadership delegated responsibility for supervising construction of St. Clement's Health Care Center to him in 1987. Upon completion of the new facility, he assisted with the transfer of elderly, infirm confreres from Oconomowoc with compassion and care. In 1995, Br. Tom was appointed Assistant Treasurer of the former St. Louis Province in Glenview, IL. When the Denver Province was formed in 1996, he remained in the Office of Financial Services and relocated to Denver, where he was named administrator of the local community. He was appointed Treasurer of the Denver Province in 2002, a position he retained until 2007. Br. Tom also served briefly as Administrator of Health Services at St. Clement's before returning to Denver as Assistant Treasurer in 2008. He was 65 years old when he joined the staff of St. Alphonsus Parish in New Orleans in 2011. Four years later, in his final assignment, Br. Tom joined the Evangelization Community at St. Mary of the Assumption Parish in Whittier, where he served as Business Manager until September of last year.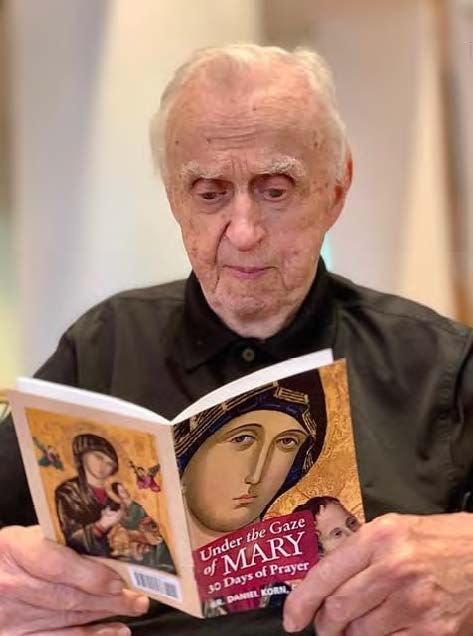 Br. Marvin Hamann, C.Ss.R.: Beloved Br. Marvin Hamann, C.Ss.R. died at the age of 92 at St. Clement Redemptorist Mission Community in Liguori on June 24. A gentle man with a ready smile, Br. Marvin faithfully served in financial positions at various ministry sites throughout the Denver Province for more than four decades. Born on January 9, 1930 in Detroit, he enlisted in the Army after high school and served as an infantryman in the Korean War. He easily adapted to a rigorous and disciplined routine, and learned that he could sleep anywhere— even under a howitzer.
After he was honorably discharged from the military, he began a career in banking. A decade later, he felt called to religious life. He made his first profession of vows as a Redemptorist on August 2, 1963 and was appointed to the staff at St. Joseph's Preparatory College in Edgerton, WI. Leadership was so impressed with his work ethic that he was appointed to the Liguori Publications Post Office. He was serving as a clerk when he professed perpetual vows on August 2, 1967, and soon was named Postmaster, a key position for Liguori Publications during the organization's heyday.
Br. Marvin was assigned to the Provincial Administration staff at the Eucharistic Heart Provincial Residence in Chicago in 1970. A year later, he joined the staff at Villa Redeemer in Glenview, IL. He returned to St. Josephs' Preparatory College in 1973 to assist with the Co-Redemptorist Association for the next four years.
Br. Marvin was assigned to the financial office at Holy Redeemer College in Waterford, WI from 1977 to 1980, when he was appointed to the financial office at St. Joseph's Parish in Denver. After two years, he transferred to a similar position at Our Lady of Perpetual Help Redemptorist Parish in Kansas City, where he served until 1987. He was assigned to the health care center at Immaculate Conception College in Oconomowoc, and transferred to the newly built St. Clement's Health Care Center in Liguori, where he served until 2000.
Br. Marvin was serving in the financial office at St. Joseph Parish in Wichita, KS when illness struck in 2005. After a few months of recuperation, he joined the financial office at St. John Neumann House in St. Louis. After two years, Br. Marvin officially retired. He joined the Liguori Mission House community in 2007, where he was known for his conservative views, long daily walks and eagerness to remain useful despite his physical limitations. Declining health necessitated his relocation to St. Clement's in 2015, where he embraced a ministry of prayer.
Vocations: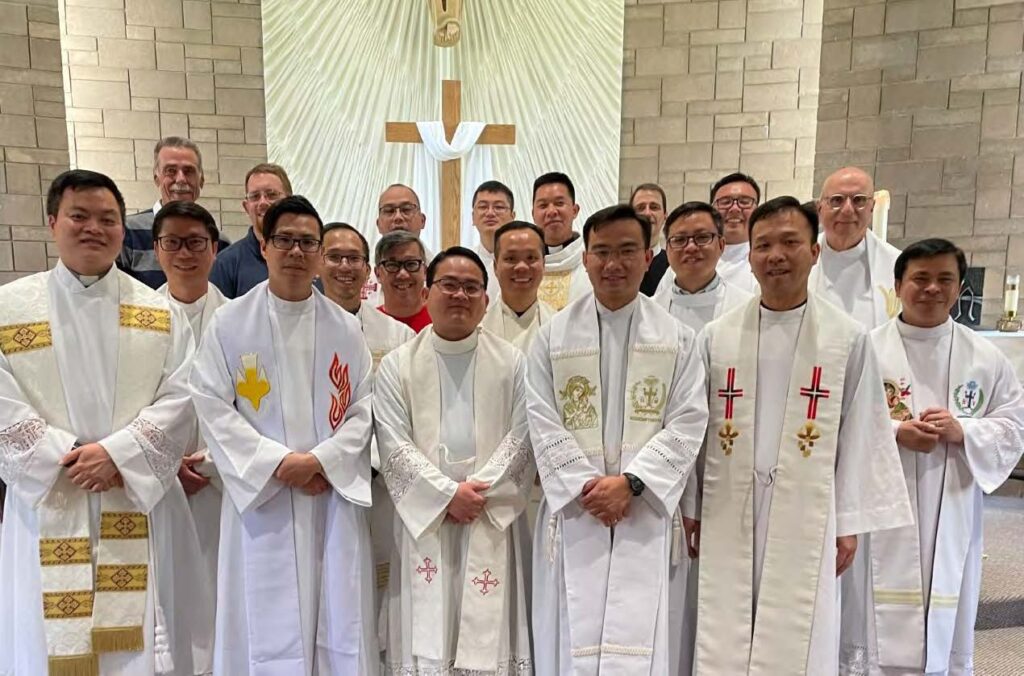 Transition to Ministry & Apostolic Community: The last phase of Redemptorist formation in the North American Conference is Transition to Ministry and Apostolic Community (TMAC), specifically for men in their first five years of full-time ministry after final profession or ordination. The latest session of the TMAC program was held at San Alfonso Retreat House in Long Branch, NJ. A total of 19 confreres participated, including Fr. Pete Schavitz and Fr. Bob Wojtek, co-directors of the program, and Fr. Thomas Ha of the Extra-Patriam Vice Province, who assists them.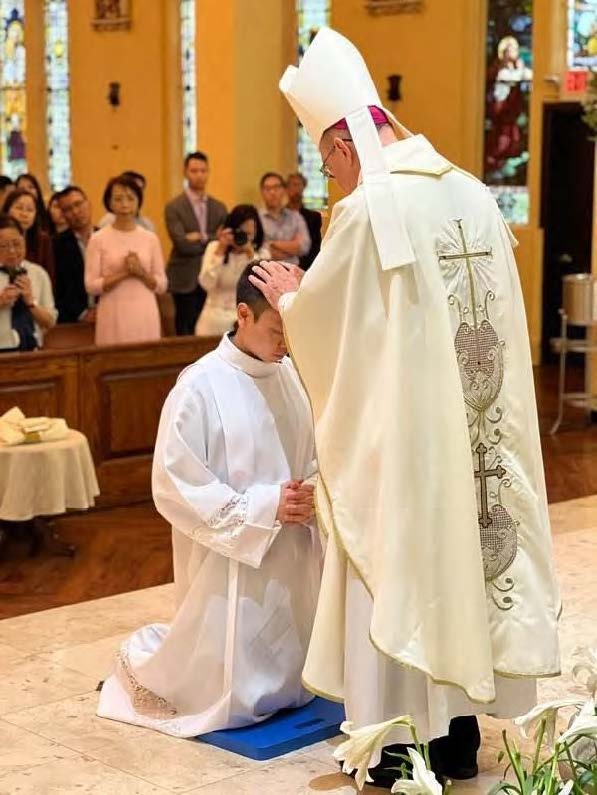 Thien Hoang Ordained to the Diaconate:  Family, friends and confreres celebrated Thien Hoang's ordination to the diaconate at St. Gerard Church in San Antonio on April 30. Redemptorist Auxiliary Bishop Bruce Lewandowski of Baltimore presided, with concelebrants Provincial Superior Stephen Rehrauer, several confreres, and Thien's father, a newly ordained deacon serving in Austin, TX.
Graduation: Congratulations to our own Thien Hoang and Ivan Dzhur of the Province of Canada, who graduated from Oblate School of Theology in San Antonio on May 6 of this year.
Top Story:

---
Care of the Environment

A group of 25 Redemptorists, Partners in Mission (PIM) and friends throughout the North American Conference met online in May of this year to discuss raising environmental consciousness and share concrete ways to address the climate crisis. The event was hosted by Fr. Cristian Bueno, chair of the Commission for Social Ministry, Justice, Peace and Integration of Creation (SM-JPIC) in Rome," "The climate crisis is real. The clock is ticking. If we don't address it and save our common home, nothing else will matter," explained Fr. Francis Gargani of the Baltimore Province, who coordinated the meeting in North America. After a powerful address by Father General Michael Brehl, participants shared initiatives in which they are already participating. In addition to common thermostat control, water conservation and recycling efforts, initial suggestions include reducing energy use by at least 20 percent within the next year or two, and reviewing the investment portfolio with a social conscience. Participants followed up by sharing helpful resources available from various agencies throughout the North American Conference. "Our challenge is to bring enthusiasm to our local communities to make real lifestyle changes," Fr. Francis said. Fr. Cristian and the SM-JPIC have also drafted a proposal on the Congregation's response to Ladauto Si and the seven-year platform for parishes, dioceses and religious orders to implement Ladauto Si. Plans are to refine that document during the next few years, and issue it as an official statement at the next General Chapter.
---
And More!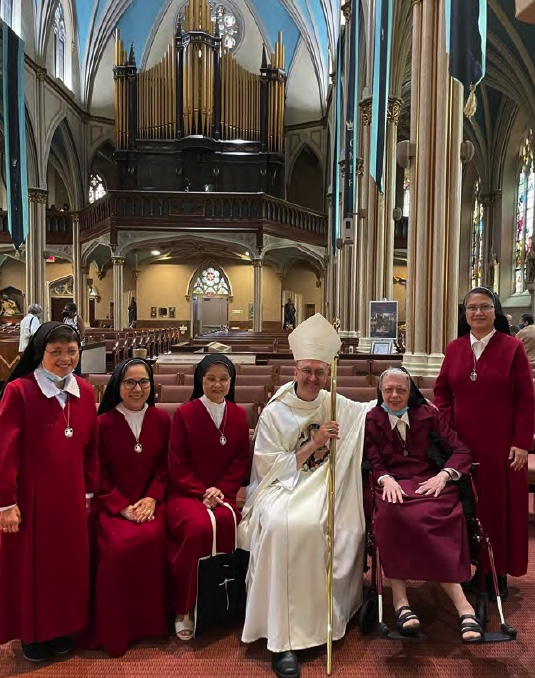 Redemptoristines Host Perpetual Help Novena: After a two-year hiatus from the COVID-19 pandemic, the Redemptorists were able to offer a public novena to Our Mother of Perpetual Help in their chapel at St. Alphonsus Rock Church. Archbishop Mitchell Rozanski of St. Louis celebrated Mass the first night. Redemptorist Lay Associates and the Knights of Columbus also provided support for the Novena. Each evening, one an Associates led the rosary, followed by the celebration of the Holy Mass. Redemptorists from St. Clement's and St. Alphonsus "Rock" Church showed themselves to be great preachers and devotees of the Blessed Mother. The entrance procession, scripture readings and recessional procession were taken care of by the Associates. On Sunday, June 26, the feast day Mass was held at St. Alphonsus Rock Church with Bishop Bruce Lewandowski of Baltimore presiding.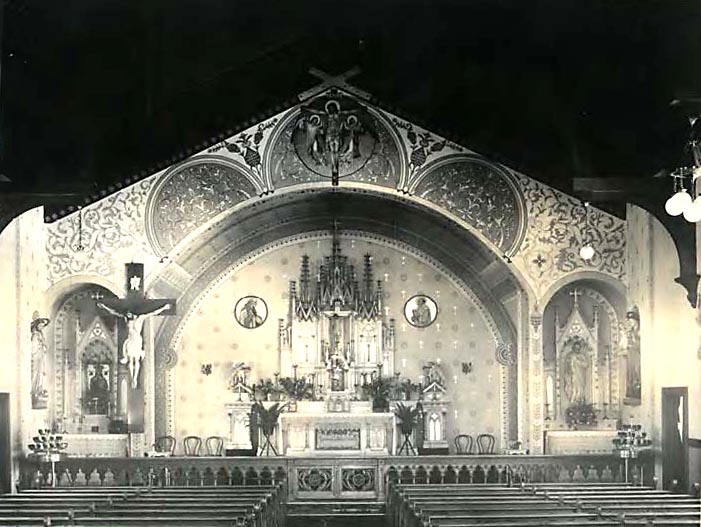 Milestone Celebration at Whittier: In March of 1922, the Redemptorists left Our Lady of Perpetual Help Parish in Downey, CA and began to serve at St. Mary's Assumption Parish in Whittier. The Vincentians had served the parish for 29 years when Bishop John Cantwell of the Monterrey-Los Angeles Diocese asked the Redemptorists to begin serving the parish. One hundred years later, we believe it is something to celebrate. We will celebrate 100 years at St. Mary's Assumption Parish at 5:00 pm on August 13. All Redemptorists of the Denver Province are invited to join us for the celebration, especially those who have served at the parish. Please share any historical stories or pictures of St. Mary's Assumption with Fr. Patrick Keyes at patrickcssr@gmail.com.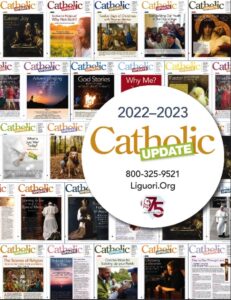 Liguori's 2022-23 Catalog is Now Out! You can view our catalog online and then call to place an order. The catalog is filled with stories of our rich history and hundreds of products that have been serving the needs of Catholics and the faithful since 1947.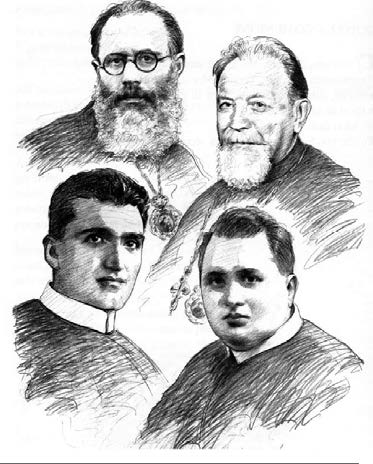 Feast Day of Ukrainian Martyrs: On June 28 we remembered the Redemptorist Martyrs of Ukraine who died for their faith during the Soviet persecution from 1939 to 1989. As we celebrate Blessed Nicholas Charnetsky, Blessed Vasyl Velychkovsky, Blessed Zenon Kowalyk, Blessed Ivan Ziatyk and the other 21 martyrs beatified by St. John Paul II in 2001, we remain in solidarity with them and the countless others who died for their faith. We trust that they are joining us in our prayer for lasting peace in Ukraine.
Snapshots adapted from Denver Link; special thanks to Kristine Stremel.

---
UPCOMING DATES
August 15: Assumption
August 22: Queenship
September 8: Birth of Mary
September 15: Our Lady of Sorrows
September 27: Birthday of St. Alphonsus Liguori
October 5: Bl. Seelos Feast Day
October 7: Our Lady of the Rosary
October 16: St. Gerard Feast Day