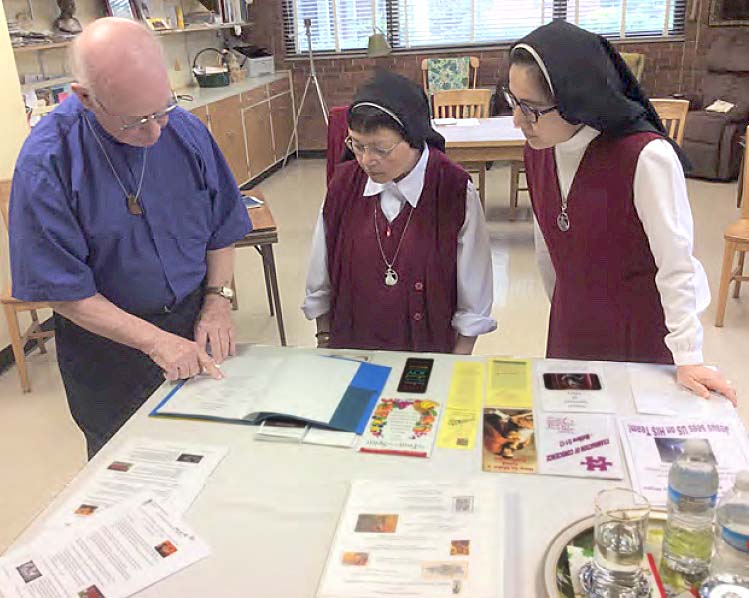 Revitalizing Our Confirmation Commitment
An Ounce of Prevention Is Worth A Pound of Cure
Fr. John Phelps joined the Redemptoristines in Liguori for a Day of Reflection on "The Revitalization of Our Confirmation Commitment" on April 25— the 299th Anniversary of the Revelation of the Redemptoristine Rule, and the 50 year anniversary of Fr. John's and Sr. Ann Marie's prayer partnership! The gathering also celebrated the vital importance two mutually supportive charisms have for each other: the Redemptorist charism of solidarity in mission for a wounded world, supported by Redemptoristine contemplative prayer, the foundation of the mission and energy for healing a wounded world.
Fr. John's presentation focused on the nine fruits of the Holy Spirit. "Revitalization" is a nine-month process that fosters partnership in formation for those to be confirmed. The Blessed Mother serves as the director of the baptized to be confirmed. Sponsors, parents, and mentors are trained to engage young people, who are formed in the public-school system to prevent dropout after Confirmation. A staggering 80% stop actively participating in their Catholic faith within five years of Confirmation. Many join the "nones," the fastest growing group of religious identification in the United States. By training sponsors, parents and mentors, the adults receive formation on the sacrament that shapes their understanding of Eucharist, Reconciliation and living the moral life. The hashtag for the effort is #iamchosentobesent.
As one Sister reflected, "An ounce of prevention is worth a pound of cure. Life Directions is like that. It seeks to prevent the violence caused by difficult family situations, loss of face-time with elders, and a lack of neighborhood role models. Their ounce of prevention is to find mentors to inspire dynamic transformation through forgiveness. As Redemptoristine nuns, we do our part, hidden in the background. Our ounce of prevention is the contemplative dimension. Contemplative prayer provides the necessary foundation for healing our wounded world. It's this contemplative stance that holds the world in balance."


Two ounces of prevention are stronger still!
As he was leaving, Fr. John requested the prayer support of the Redemptoristines. "Pray that our work will have an 80% success rate among public high school students. Pray that Revitalization of Our Confirmation Commitment will meet the challenge the Archbishop of Detroit and his Auxiliary Bishop, Donald Hanchon, gave to me. In the spirit of Unleash The Gospel in Detroit and Renew My Church in Chicago, I am asking the Redemptoristines to pray for this work to come to fruition, especially as we focus on African and Hispanic American youth and young adults. Pray we find the resources for this urgent need," he said.
One week later, Fr. John was surprised to receive an unexpected call from the Community Foundation for Southeast Michigan. The foundation asked Life Directions to apply for a multiyear grant to do systemic change in public schools as it relates to social emotional learning.
---
Submitted by Van Bensett, Life Directions Project Director in Chicago