Making Her Known
In 2016 Redemptorists worldwide celebrated the 150th anniversary of receiving the miraculous Icon of Our Lady of Perpetual Help with the Holy Father's mandate to "make her known." That work continues today even in the midst of a pandemic.
By Gary Ziuraitis, C.Ss.R
Here at Our Lady of Perpetual Help Redemptorist Parish in Kansas City – the only Redemptorist parish named for her west of the Mississippi – I was looking for some way to renew our efforts to the papal mandate, especially since the pandemic has greatly reduced our Tuesday novena crowd, which typically exceeds 100 people. I also wanted something highly visible to a passersby, either on foot or in a car (and to the city tour bus guides that go back and forth on Broadway). Another driving force was to have a rallying point for our people as we re-opened from the pandemic and approached her patronal feast day. I also wanted this project to express my personal thanksgiving to Our Lady for getting me through successful cancer treatment and a return to health, and the protection of our apostolic community.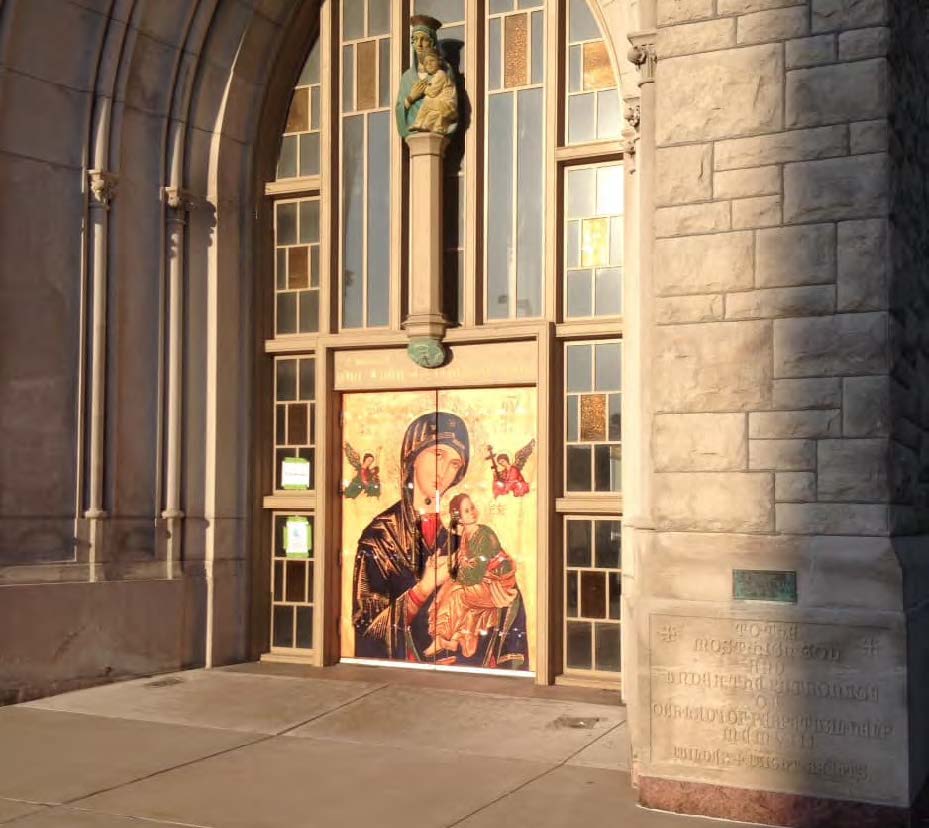 The church and rectory face Broadway Boulevard – a busy connector between downtown, the Westport entertainment area and the Country Club Plaza shopping and restaurant center. A circle drive with a garden in the middle sits in front of the rectory and is visible to the street, but that was already taken with a statue of the Sacred Heart donated by a parishioner many years ago.
Browsing Facebook one day, I noticed that our Redemptorist church in Belfast, Northern Ireland – commonly called Clonard – had draped their front doors with an image of Our Lady of Perpetual Help during their special novena services. It appeared, however, that this closed off the doors. We needed to keep our doors in use. I enlisted the help of a parishioner who does a lot of outdoor advertising and asked him if he could come up with a material that would be weather resistant and be able to be attached to our front doors in a way they could still be used.
The Perpetual Help image was placed on 3M Controltac, which is most commonly used as vehicle wrap. It's applied in similar fashion as a 'Big Sticker,' using a squeegee to minimize air bubbles and brushed over with a heat gun so the adhesive really holds. With the ink and material quality used on this wrap, the door shouldn't need to be replaced due to anything other than manual/ man-made wear and tear for two to four years. Another important factor is that the wrap should not damage the door to which it was applied.
The Perpetual Help image is particularly striking during the evening sunset, as it deepens and intensifies the gold in the icon. I also requested a return of the traveling Missionary Icon that was so much the centerpiece of our Denver Province celebrations in 2016. The Missionary Icon is enthroned inside our Church at Our Lady's altar for veneration and prayer during this period leading up to the celebration of our patronal feast day, June 27. Let's continue to Make Her Known!