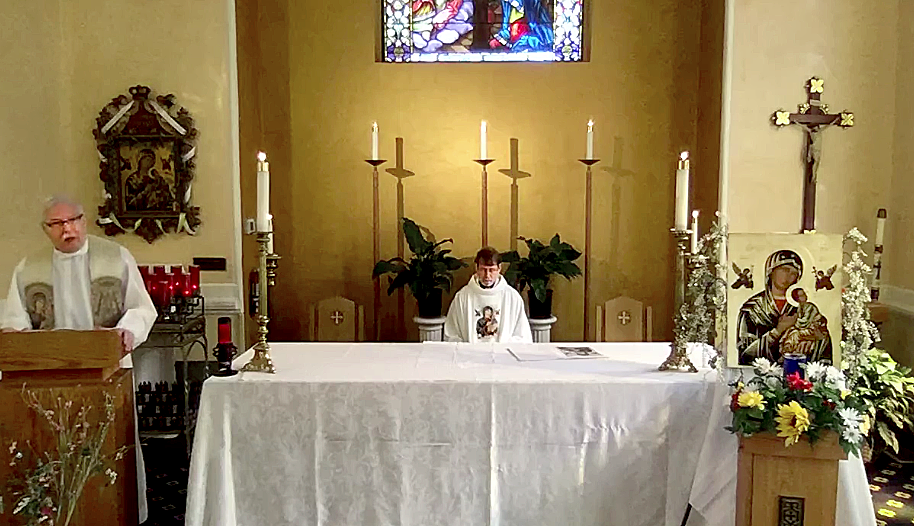 Our Mother of Perpetual Help Feast Online
The Redemptorists remain committed to serving and strengthening our spiritual ties with you which are now more important than ever.
June 27 marked the Feast of Our Mother of Perpetual Help. This year's commemorations were different. In the lead-up to the feast the Redemptorists offered their annual novena on our world-wide Our Mother of Perpetual Help Facebook page (PrayForUsMary). In addition, for the first time, the Redemptorists live streamed a rosary on the Thursday before the feast day, Novena prayers the day before the feast and a Mass from the Redemptorist's St. Michael Parish in Chicago on the morning of the OMPH feast day. In this way, thousands of devotees to Our Mother of Perpetual Help were able to join the Redemptorist family online.
These online devotions are part of our continuing efforts during the Coronavirus to strengthened our online presence which also includes offering a resource page that lists a number of online Masses, prayers and traditional devotions.
These resources are meant to help those who are struggling to find hope and strength in this difficult and stressful time, and to enable our Catholic community to continue to pray for those affected by the Coronavirus—as well as to worship together as a community in solidarity in the face of this pandemic.
The Redemptorists are known for their devotion to Our Mother of Perpetual Help. The Redemptorist Congregation of priest and brothers are the only religious order currently entrusted by the Holy See to protect and propagate a Marian religious work of art, the Icon of Our Mother of Perpetual Help.
In addition to our OMPH Mass in Chicago, the Redemptorists' St. Gerard Majella Parish in Baton Rouge, St. Alphonsus Parish in Brooklyn Center and St. Mary's Assumption Church in New Orleans shared the novena on Facebook. Participants in New Orleans were invited to bring their own icons to church for a special blessing at the feast day Mass celebration.
A feast day gathering was also held at St. Alphonsus "Rock" Church in St. Louis; and a Prayer Vigil, Standing for Racial Justice event, co-sponsored by the Peace & Justice Commission of the Archdiocese of St. Louis, was scheduled at noon.
Links to view OMPH Feast Day Devotions:
The Chicago Mass, rosary and novena services remain posted on our Facebook site and readily available to stream.