Spring 2021 Denver Province Snapshots
---
Ordinations, Professions & Jubilarians: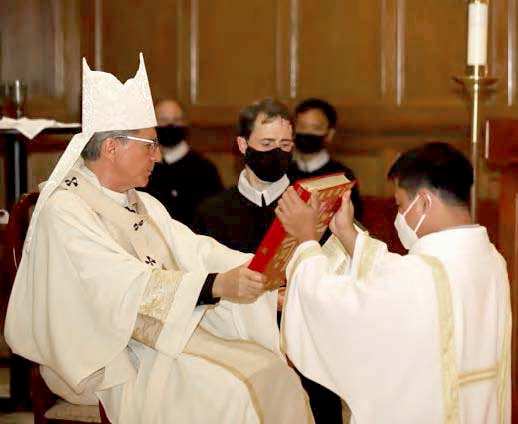 Ordination: Three Redemptorists Ordained as Deacons: More than 1,500 people tuned in to witness Archbishop Gustavo García-Siller, M.Sp.S., of San Antonio ordain Redemptorists Song You, Huan Le and Huyen Nguyen to the Order of Deacon on Saturday, January 23. Confreres of the Baltimore Province arrived in San Antonio earlier in the week for Song You's profession of perpetual vows on Friday, January 22. Several confreres of the Extra-Patriam Vice Province joined their Redemptorist confreres at St. Gerard Catholic Church to participate in the ordination ceremony and Mass celebration.
In Remembrance: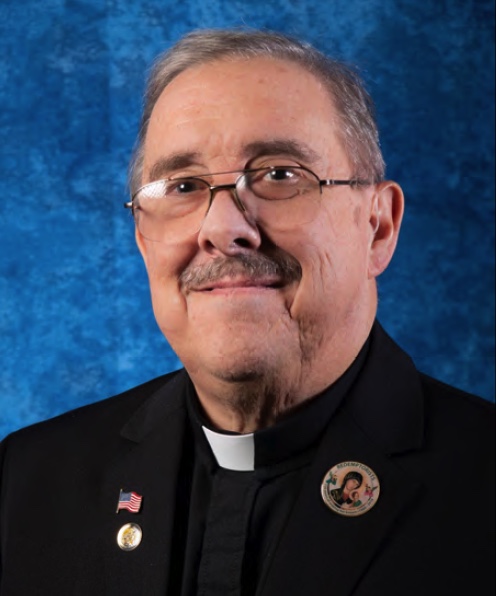 Fr. Eugene Roy Harrison, C.Ss.R.: Fr. Eugene Roy Harrison, a proud Navy veteran who was particularly effective in ministering to those who were ill or had lost a loved one, died on February 2 at St. Luke's Hospice Care Center in Kansas City. He was 62. Born on June 21, 1958 in Richland, WA., the elder brother of two sisters, he was a disciplined, self-reliant caretaker who remained devoted to his family throughout his life. He enlisted in the US Navy after graduation and attained the rank of Second Class Petty Officer (E-5). An avid hunter and fisherman, Eugene enjoyed time in the great outdoors. He was a perpetual student with many interests, including history and archaeology.
He professed temporary vows on August 15, 1996 and perpetual vows on October 15, 2000. He was ordained to the priesthood at St. Alphonsus Parish in Grand Rapids by Bishop Robert Rose on July 1, 2001. Although Fr. Eugene suffered chronic pain from several medical issues, he was willing to serve where he was needed. He learned the ropes of parish ministry at St. Alphonsus Parish in Grand Rapids. He served in New Orleans as associate pastor at St. Alphonsus Parish in 2008. Fr. Eugene was last assigned to Our Lady of Perpetual Help Redemptorist Church in Kansas City in 2015.
He is remembered for his warm and thoughtful homilies, and the depth of his care for others. "He was a trusted and reliable collaborator in our various pastoral ministries. Although he was never an officially appointed associate pastor, he certainly fulfilled the position by participating in daily and weekend confessions, liturgies, daily duty and as a monthly celebrant at the African-American church of St. Monica's and at Our Lady of Sorrows," said Fr. Gary Ziuraitis, pastor. May Fr. Eugene rest in the eternal peace of the Redeemer.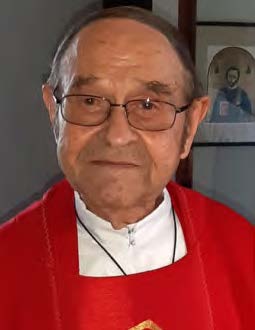 Fr. Richard William Thiele, C.Ss.R.: Fr. Richard William Thiele, a dedicated Redemptorist missionary who loved to venture into unchartered territory and served his entire Redemptorist life in the foreign missions, died on February 15 in Nigeria. Born in Chicago on September 17, 1927, he professed temporary vows on August 2, 1949 and perpetual vows on September 2, 1952. He was ordained to the priesthood on June 29, 1954. After second novitiate at Pine City, MN, newly ordained Fr. Richard set sail for Thailand in 1955. He ministered in that country for 37 years, and eventually joined the Vice Province of Thailand. Fr. Richard served as an itinerant preacher and in parish and retreat ministry. He was the first to reach out to minister to about 6,000 lepers and 35,000 refugees living in and near Khon Kaen in the 1970s. Fr. Richard also influenced many Redemptorists during the dozen years he served in formation ministry.
Always willing to serve, Fr. Richard responded to a need in the formation program in Nigeria in 1992. He was welcomed as novice director, a position he held until 2007. He continued as a spiritual director to the students at Redeemer House in Ibadan until his death. May his soul, and the souls of all the faithful departed, through the mercy of God, rest in peace.
Vocations: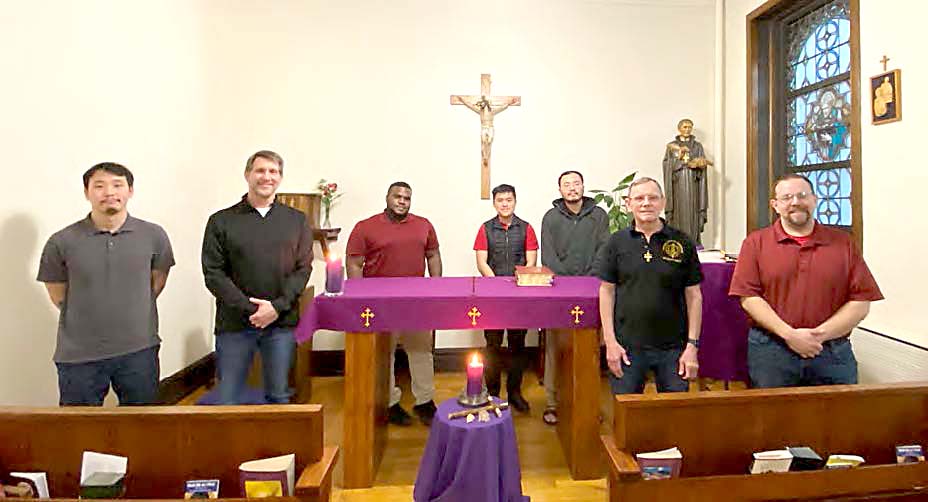 Pre-Novitiate Formation Community: The Redemptorist Pre-Novitiate Program residence at Immaculate Conception Parish in the Bronx serves students for the Baltimore and Denver provinces. It is also open to other Units of the Congregation. The program provides an environment for students to discern their calling to religious life, with an emphasis placed on the Congregation of the Most Holy Redeemer. The 14 members in the community— three priests assigned to the parish, two studying from other Units, the formation staff and the students— represent eight different countries and cultures: India, Ireland, South Korea, St. Lucia, Thailand, Trinidad, Vietnam, and the USA. We share our daily life together with prayer, the Eucharist, meals and recreation. Postulants study philosophy at St. John's University. Due to the COVID-19 pandemic, most of their classes are presently online. They would normally be involved with a variety of apostolic ministries, including Youth Group, Children's Liturgy of the Word, Religious Education, and a food bank and a soup kitchen for the homeless and needy in the area. They also help with the parish Youth Group and Religious Education program – both presently online. This year, four postulants in the Pre-Novitiate Program are studying for the Baltimore Province: Andrew Jones, McQuain Clovis, Tran Do and Zachary Ryan. Two postulants are studying for the Denver Province: John Thien Nguyen and Won Lee. 
---
Witnesses of the Redeemer 

For the very first time, Partners in Ministry (PIM) are exercising solidarity with the worldwide Congregation and participating in discussions about mission and ministry in preparation for the upcoming General Chapter. "Our lay partners are increasingly essential to our ministries worldwide," said Provincial Superior Stephen Rehrauer. "We need and appreciate their input to help guide decisions about ministry priorities and fulfilling our mission in the Denver Province." A diverse group of 31 confreres and PIM watched an inspiring video showcasing issues being addressed worldwide and participated in a ZOOM discussion led by Fr. Tom Santa earlier this week. He was impressed with the depth of commitment, talent and openness to the Spirit expressed during the hour-long session. Fr. Greg May, who has spearheaded the PIM initiative in the Denver Province, said that engaging the laity with the charism enables the Redemptorists to have more impact in the world. Fr. Dick Mevissen, a senior presence in the Oconomowoc community who also is involved in PIM, agrees. "There are so many Redemptorists doing extraordinary ministry all over the world, and there is great ministry underway right here in the Denver Province," he said. "We may not be able to solve many of the major problems in the world, but I hope that we can come to the realization that we are all connected, and that we are all called to work together."
---
And More!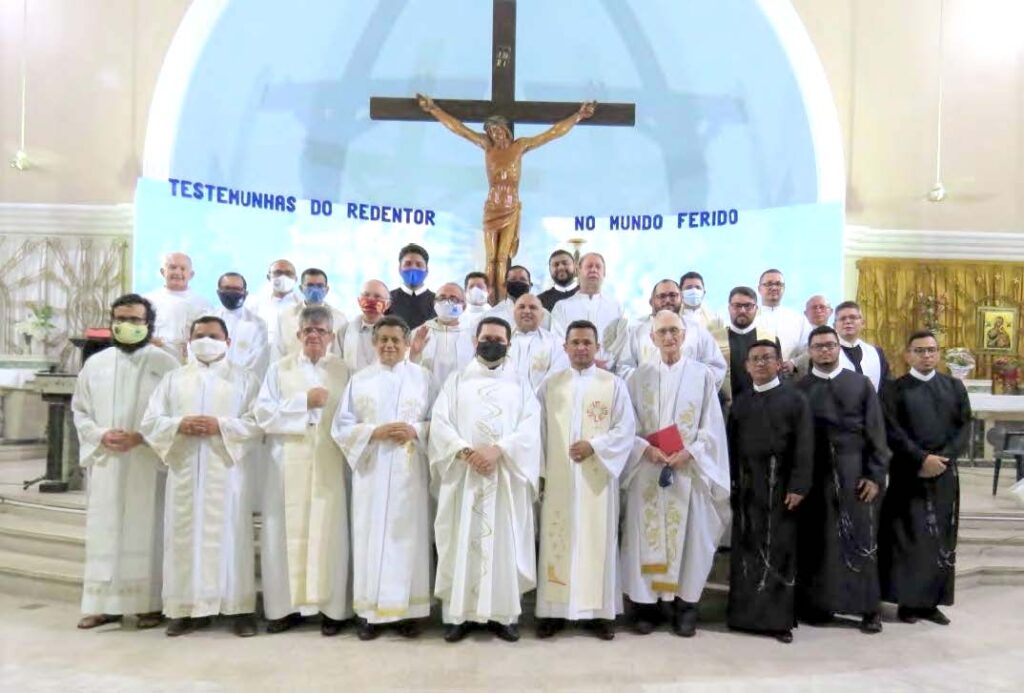 In Solidarity with the Missions: Although uncertainty about safety protocols remains an issue, arch/dioceses are expressing interest in hosting Redemptorist foreign mission appeals this year. Bobby Borges, Donor Relations representative, has already received requests from across the country: Cleveland, Santa Rosa, Springfield, San
Antonio, Houston, Des Moines and Green Bay. Bobby has asked preachers to carefully consider their ability to participate: have they received a vaccine; do they have any health issues that may present issues without it; and can they safely drive to a location to minimize air travel. The Denver Province remains committed to providing assistance to confreres in the Vice Province of Manaus (pictured here) and the Vice Province of Nigeria.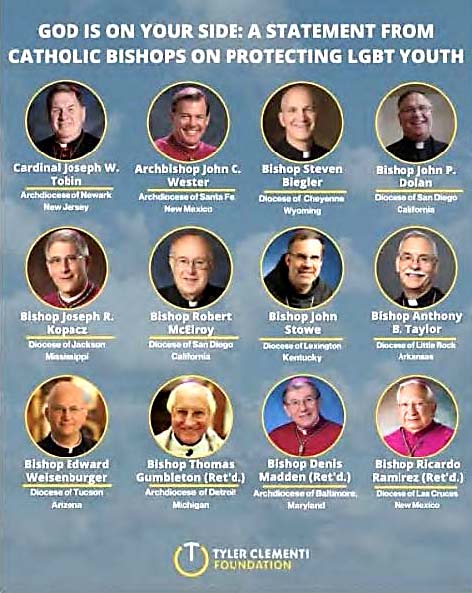 Historic Statement of Support: Our very own Cardinal Joseph Tobin was one of twelve U.S. Roman Catholic Bishops who signed a ground-breaking statement, "God Is On Our Side: Protecting our LGBT Youth." Sponsored by the Tyler Clementi Foundation, this historic statement is the first time a group of U.S. Bishops have officially stood up for at-risk Gay, Lesbian, Bisexual and Transsexual youth in this country. The Bishops take the opportunity "to say to our LGBT friends, especially young people, that we stand with you and oppose any form of violence, bullying or harassment directed at you. Most of all, know that God created you, God loves you, and God is on your side." In the statement, the Bishops recognize that LGBT youth need to be protected because they attempt suicide at much higher rates than their straight counterparts, are often homeless because of families who reject them, are rejected, bullied, harassed, and the target of violent acts at alarming rates, especially LGBT youth of color.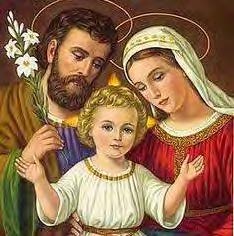 The Year of St. Joseph: Pope Francis proclaimed a "Year of St. Joseph" on the special occasion of the 150th anniversary of the proclamation of St. Joseph as the patron saint of the Universal Church. The "Year of St. Joseph" began on December 8, 2020 and will continue until December 8, 2021. In his Apostolic Letter, Patris Corde (With a Father's Heart), Pope Francis highlights the different virtues of St. Joseph in the role of a father. The Holy Father describes St. Joseph as a father who followed and obeyed the will of God. He was a father who showed his courage and protected his family members, especially during a difficult time. St. Joseph treasured the joy and dignity of human labor, and was humble in all his works and services.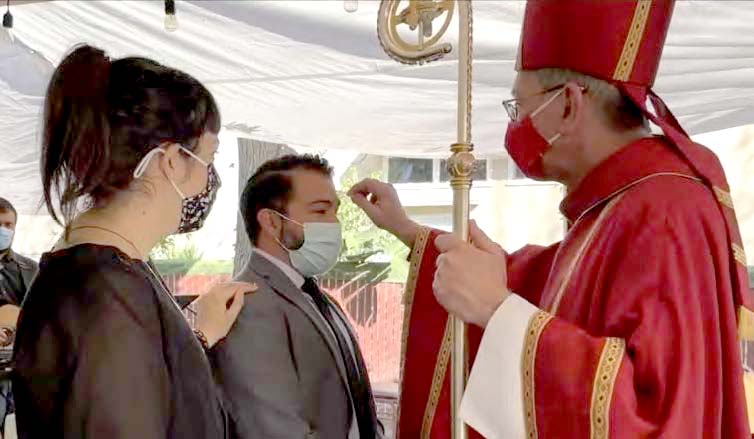 An Outdoor Confirmation: St. Mary of the Assumption Parish in Whittier recently welcomed Bishop Marc Trudeau, Regional Bishop of the Archdiocese of Los Angeles, to preside at their Confirmation ceremony. Special thanks to Fr. Patrick Keyes, pastor, for sharing photos.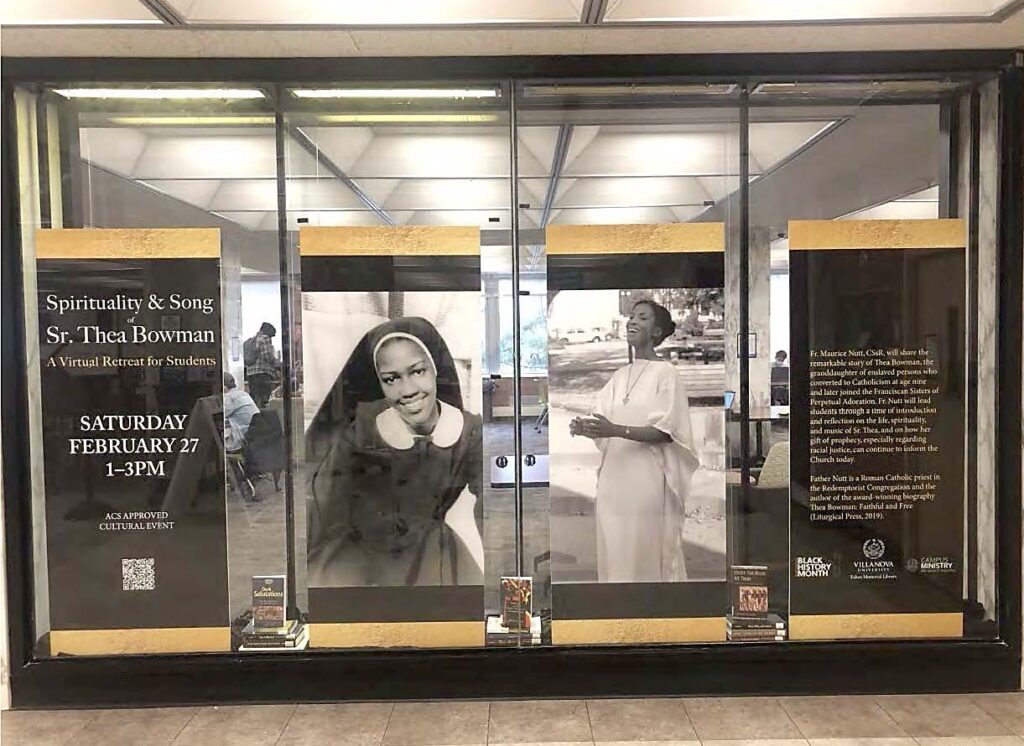 Celebrating Black History Month: Redemptorist Fr. Maurice Nutt spoke about his mentor – Servant of God Sr. Thea Bowman, FSPA – during celebrations for Black History Month at Villanova University on February 27. The event titled "The Spirituality & Song of Sr. Thea Bowman," was a two-hour virtual retreat featuring a Gospel Choir. Fr. Nutt also gave a talk on Sr. Thea at the University of Notre Dame on February 24. Fr. Maurice considers it an honor to speak about Sr. Thea's life, legacy and path to sainthood, and is grateful for these opportunities to discuss how Sr. Thea's gift of prophecy, especially regarding racial justice, can continue to inform the Church.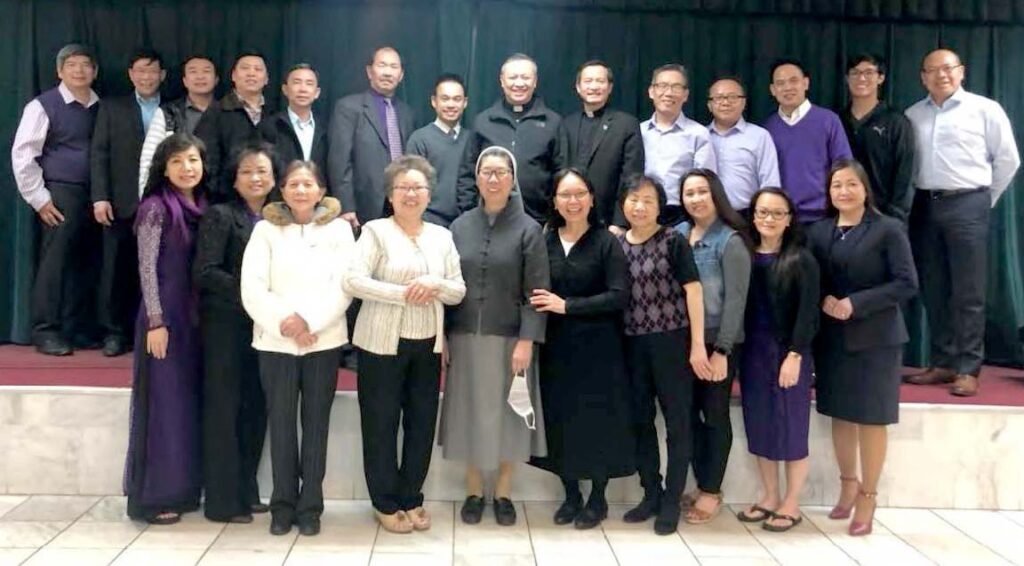 Holy Martyrs Lenten Parish Mission: The Covid-19 pandemic has impacted most aspects of daily activities. Everything is limited; even the capacity of the Church to hold services and events. However, during Lent this year—while all kept safe social distances and wore masks—Holy Martyrs Catholic Church in Kansas City was able to welcome Fr. Francis Xavier Nguyen Thanh Binh, SVD to preach a parish mission on March 5-7. Fr. Francis is also the General Chaplain of the Vietnamese Eucharist Youth Movement in the United States (VEYM-USA). He was joined by Dr. Duong Hoang, Ph.D., president of the National Executive Committee of the VEYM-USA.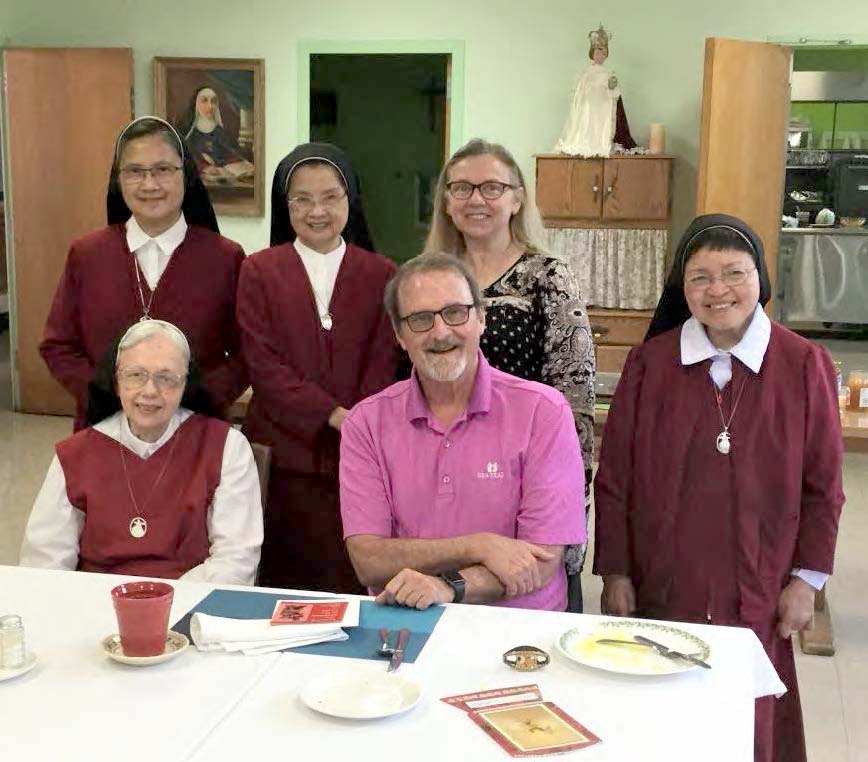 Sisters Week: Redemptoristine community in Liguori celebrated National Catholic Sisters Week, March 8-14. Please join us in thanking them all for dedicating their lives to prayer – for us and for the whole world.
Snapshots adapted from Denver Link; special thanks to Kristine Stremel.

---
UPCOMING DATES
May 13: Ascension
May 13: Our Lady of Fatima
June 12: Immaculate Heart of Mary
June 27: Feast of Our Mother of Perpetual Help
June 28: Ukranian Martyrs Feast Day
July 16: Our Lady of Mt. Carmel