Fall 2020 Denver Province Snapshots
---
Ordinations, Professions & Jubilarians: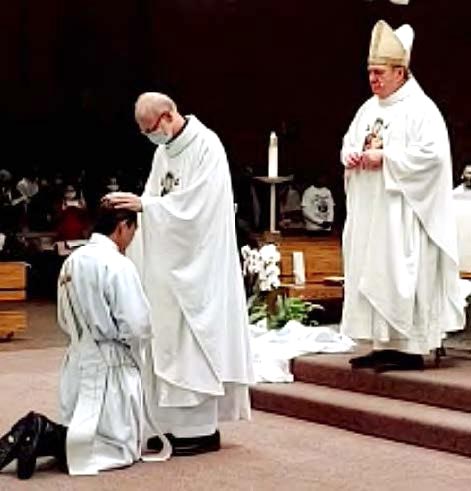 Ordination: Fr. Huy Vu—Redemptorist Cardinal Joseph Tobin presided at the ordination of Fr. Huy Vu, on Sunday, October 4 at St. Alphonsus Church in Brooklyn Center.
First Profession of Vows: Steven James Urban, C.Ss.R., and Jose Antonio Montoya Guerrero, C.Ss.R., made their first profession of vows on Sunday, July 19 at St. Gerard Church in Lima, Ohio.
Congratulations to Redemptorist Ordination Jubilarians: 60 years: Fr. Thomas Fransiscus, Fr. John Gouger, Fr. Gerard LaPorte, Fr. Rudolph Papes, Fr. James Shea; 50 years: Fr. Pete Schavitz, Fr. Richard Thibodeau.
In Remembrance: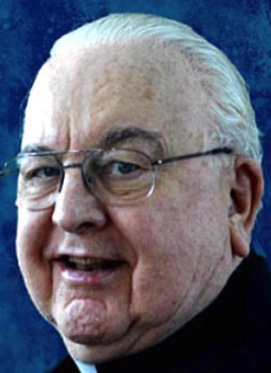 Fr. John (Jack) Willett, C.Ss.R.: Please pray for the repose of the soul of beloved Fr. John (Jack) Willett, C.Ss.R., who died on August 15, 2020 at St. Clement Redemptorist Mission Community in Liguori. He was 84 and had recently been placed in hospice care.
Born on October 18, 1935 in Sault Sainte Marie, MI, Fr. Jack made his first profession of vows on August 2, 1956 and professed perpetual vows on September 2, 1959. He was ordained to the priesthood on June 29, 1961.
A popular confrere who was widely respected and admired, Fr. Jack influenced generations of Redemptorist confreres during the 20 years he was involved in formation ministry. He served on the faculty and coached soccer and basketball at St. Joseph's Preparatory College in Edgerton, WI (1964-1975) and continued mentoring students at Holy Redeemer College in Waterford, WI (1978-1984). In his later years, he was missioned to Nigeria to serve as director of Redeemer House in Bodija, Ibadan (1997-1984).
Fr. Jack also served for six years on the Mission Preaching team based in Grand Rapids, MI, and devoted more than two decades to parish ministry. He served as pastor of St. Alphonsus Parish in Chicago, IL and St. Joseph Parish in Wichita, KS, and administered Our Lady of Sorrows Parish with Fr. Ed Morgan during his senior ministry years at Our Lady of Perpetual Help Redemptorist Parish in Kansas City, MO. Fr. Jack retired from public ministry in 2014, when health issues necessitated his move to St. Clement's in Liguori. May Fr. Jack rest in the eternal peace of the Redeemer.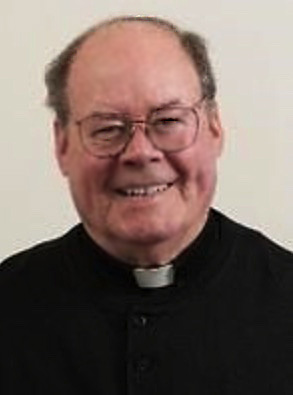 Rev. Warren Drinkwater, C.Ss.R.: Rev. Warren Drinkwater, C.Ss.R., a Redemptorist missionary who relished the years he spent preaching at parishes around the country, died on August 31 at the St. Clement Redemptorist Mission House in Liguori, MO.
Father spent the first decade of his priesthood serving at: Blessed Virgin Mary of the Holy Rosary Parish in Houma, LA; Immaculate Heart of Mary Parish in Crowley, LA; and St. Leo Parish in Versailles, KY. A few years after he joined the faculty of Redemptorist High School in Baton Rouge, LA, he helped to integrate the State Industrial School for Colored Youth (now the Louisiana Training Institute).
Father was an engaging speaker— a natural for the preaching ministry. After three years in Chicago, he returned to the South and devoted the next 34 years to preaching parish missions and promoting Liguorian Magazine throughout the country.
He regaled the Redemptorists he was stationed with— at Lacombe, New Orleans and Biloxi— with tales of his adventures on the road. Many remember his 15 minutes of fame during the aftermath of Hurricane Katrina. A news broadcast featuring panoramic scenes of the Mississippi Coastline littered with debris caught him wading in the Gulf of Mexico, improvising a bath. He retired in 2006 but remained in Biloxi until 2015, when health issues necessitated his move to St. Clement's. He died peacefully after the appearance of a very aggressive form of bone cancer. Fr. Warren was well liked and deeply respected by all those who had the privilege of knowing him. May Fr. Warren rest in the eternal peace of the Redeemer.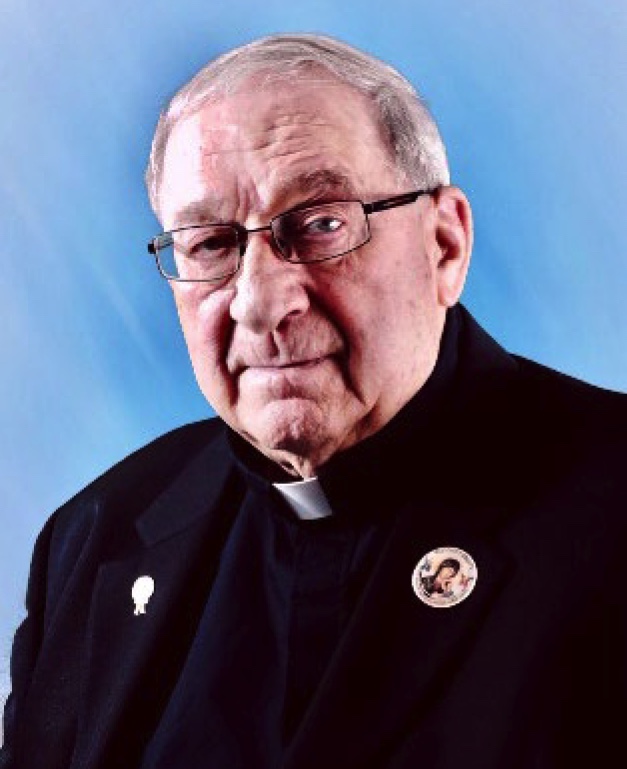 Fr. Joseph Stenger, C.Ss.R.: Please pray for the repose of the soul of beloved Fr. Joseph Stenger, C.Ss.R., who died on September 2, 2020 at St. Clement Redemptorist Mission Community in Liguori. He was 88 and had recently been placed in hospice care.
Born on September 16, 1931 in Glennonville, MO, Fr. Joe made his first profession of vows on August 2, 1952 and professed perpetual vows on September 2, 1955. He was ordained to the priesthood on July 2, 1957.
Newly ordained Fr. Joe was missioned to serve the poor and abandoned in the Amazon Region of Brazil. His first assignments at parishes in Belém and Teresina revealed his tireless work ethic, strong leadership skills and genuine concern for the people he served, as well as for his confreres. Within his first 10 years of ministry, he was elected Consultor of the Vice Provincial Council. He served three terms as Vice Provincial Superior – from 1975 to 1984 – while ministering at parishes in Manaus, Coari and Manacapuru. He also served as Vicar General of the Prelacy of Coari. When his term at the helm of the Vice Province of Manus ended, he remained in Manacapuru. He returned to Manaus as pastor of Our Lady of Aparecida Parish in 2001. During his 42 years of service, Fr. Joe touched countless lives and contributed greatly to the development of the Vice Province of Manaus. He was 72 when he returned to the USA in 2003.
Fr. Joe joined the community at St. Alphonsus Parish in Minneapolis, where he quickly learned Spanish and started ministry to the growing Hispanic community. He considered caring for the sick and suffering paramount: he was always available for hospital and nursing home visits, and presided at many funerals. Although he retired in 2007, the community was delighted that he remained in Minneapolis until 2015. He transferred to Liguori Mission House, but health issues necessitated his move to St. Clement's within the year. He was warmly welcomed, and appreciated as a joyful, positive presence in community.
Widely respected and admired as a true Son of St. Alphonsus, Fr. Joe ranks among the legendary giants in the Denver Province. May he rest in the eternal peace of the Redeemer.
---
Talking a Stand at St. Alphonsus Liguori "Rock" Church 

St. Alphonsus Liguori "Rock" Church in St. Louis, the largest ministry devoted to African-Americans in the Denver Province. After hosting a successful rally against racism in June, the parish followed up with a Pastoral Statement on Racism. "Parishioners actually put the statement together. It comes from their hearts – they know what they would like to see changed," explained Fr. Benden, C.Ss.R., pastor of St. Alphonsus. The "Rock" Church was one of the very first to respond to injustices suffered by African-Americans. Back in 1947, Fr. James Higgins ended segregation at the all-white parish with a grandiose gesture: he led a procession of African-American Catholics from St. Clement's Chapel right into the "Rock" Church. Through the tumultuous 1960s and 1970s, the "Rock" Church was at the forefront of the Civil Rights movement. "I'm very encouraged that the "Rock" is responding again in one of the clearest voices of the Catholic community," said Provincial Superior Stephen Rehrauer. "The Redemptorist charism is reaching out and giving hope to the abandoned. We are reminding society that the African-American community is still abandoned in many ways, and the faithful need to challenge structures that continue to impede progress." Fr. Benden hopes to generate some enthusiasm for African-American ministry within the ranks of the younger Redemptorists, and encourages his confreres to join the cause. "We can't do this alone. We need other people–particularly white people–to join us in awakening a global consciousness that we are all created equal. When we work against injustices against one group, we elevate our entire society. When we start living what we say we believe, plentiful redemption will be visibly real."
---
And More!
Mission Appeals: Like most other ministries, the 2020 Foreign Mission Appeals effort has gone online. The Denver Province hopes to raise funds for the missions using a global crowdfunding network powered by Pope Francis' Pontifical Mission Societies. Visit https://www.missio.org/project/18650?localization=EN to see the posts created to raise funds for the Vice Province of Manaus.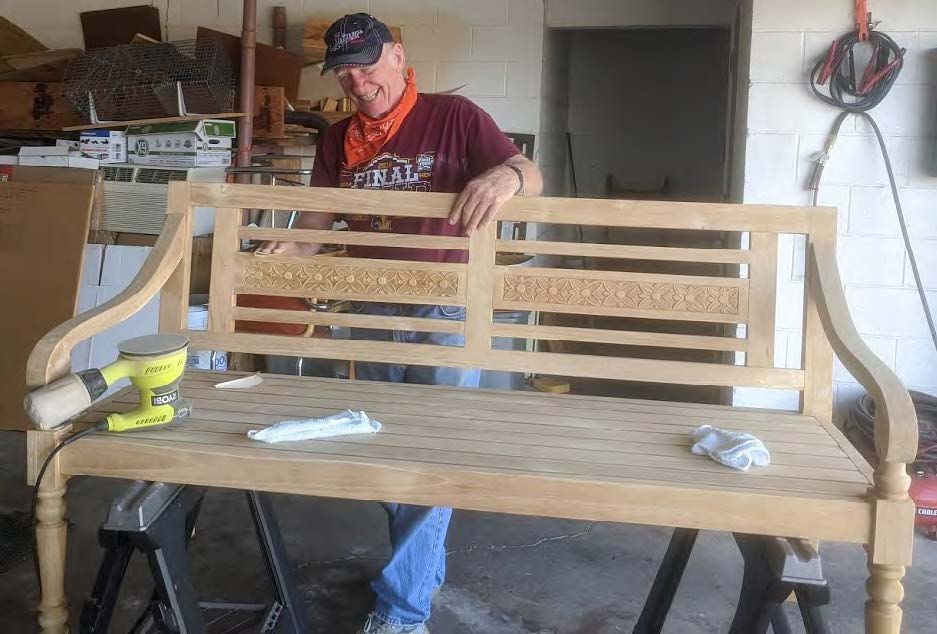 Sprucing Up during Shutdown: Since the Redemptorist Renewal Center in Tucson closed in May, Fr. Jim Shea, C.Ss.R., has been hard at work refurbishing the benches scattered around the property to their original pristine cherry wood beauty. Pedro Rosales, plant and maintenance manager, explained that Fr. Jim disassembled the benches, straightened the planks, patched the cracks, and reassembled them. Then he stripped the old paint, sanded and painted them with three coats of varnish. "That's a lot of work!" he said. Many church groups and organizations have cancelled their programs through the fall and winter due to the COVID-19 outbreak.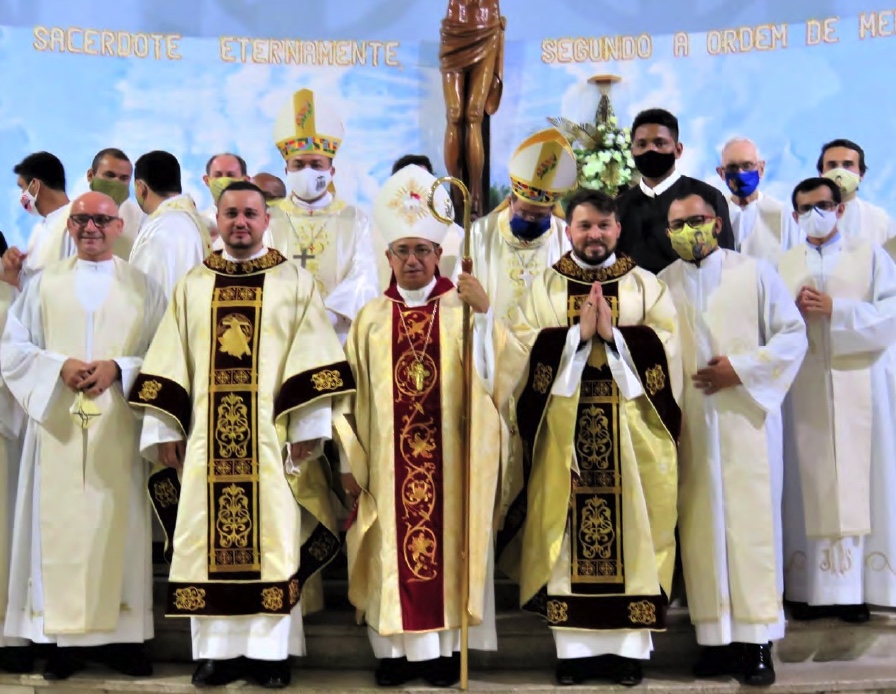 Two Redemptorist Priests Ordained in Manaus: The Feast of the Most Holy Redeemer was celebrated with the ordination to the priesthood of two Redemptorists for the Vice Province of Manaus. Family and friends joined confreres to celebrate the ordinations of Deacon José Luiz dos Santos Damasceno (Luiz) and Deacon Sandro Afonso Duda at Our Lady of Aparecida Church in Manaus on July 18. Luiz was born in Cruzeiro o Sul in the State of Acre, Brazil on November 17, 1985. The youngest of seven brothers, Luiz was joined by his mother, Maria dos Santos Damasceno, in the entrance procession. Sandro was born on October 2, 1986 in Arapiraca, State of Alagoas, Brazil. His parents, Margarida Jascinto da Silva and José Duda Sobrinho, were represented by a family friend at the ordination. Redemptorist Bishop Zenildo Luis Pereira da Silva of the Prelacy of Borba presided at the ordination Mass. The newly ordained priests are currently serving in the Redemptorists' parish in Manacapuru, Amazonas. — Tom (Miguel) McIntosh, C.Ss.R.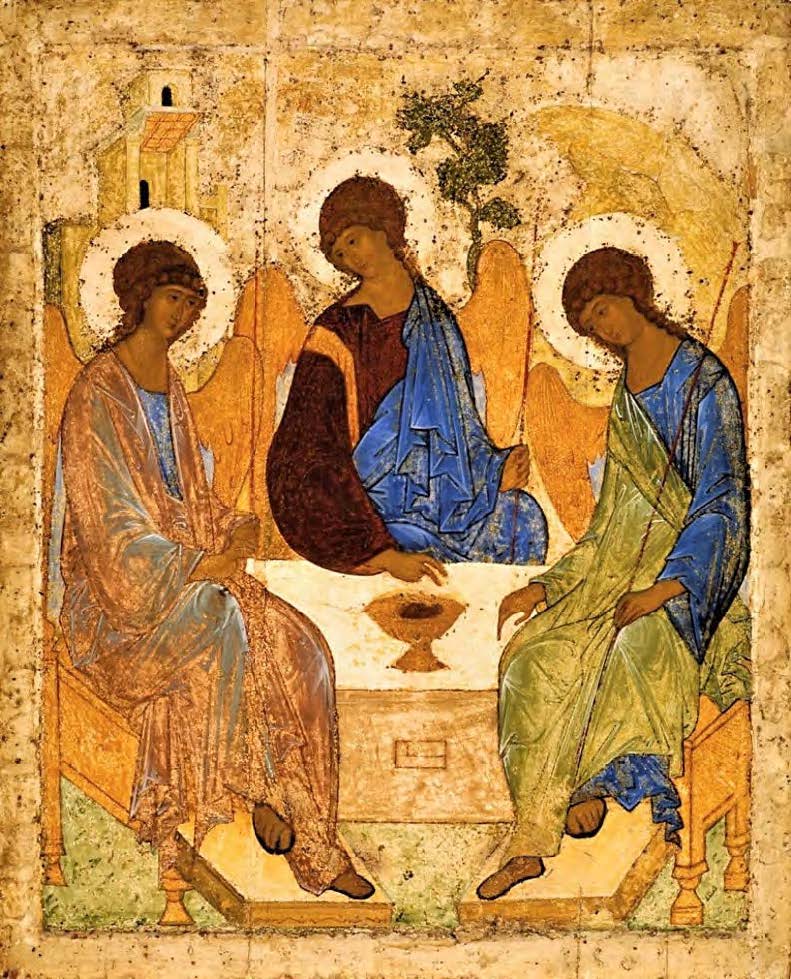 Entering the Mystical Union: Br. Dan Korn presented a contemplative retreat focused on union with the Holy Trinity as our authentic way of life at the Redemptorist Retreat Center in Oconomowoc on July 27-August 2. A total of 23 religious men and women from around the world participated in the retreat. During the retreat Br. Dan unlocked the theological meaning of the famous 15th Century Icon of the Holy Trinity by Russian painter Andrei Rublev. "This beautiful Icon is not only three angelic figures sitting at a table eating; it is a vision that expresses the mystical relationship of the Holy Trinity, and the Holy Trinity's relationship with us," he explained. "The iconographer uses the story of the three visitors that appear to Abraham (Genesis 18:1-8) as a template to express the Trinity. In order to read this Icon, we must pray with our eyes. The Icon shows us the powerful splendor of light coming from God. That wonderful light expresses the powerful energy on Mount Sinai and at the Resurrection of Jesus Christ. We are all invited to live in that energy." Br. Dan concluded his retreat by offering the model of St. Hildegard of Bingen (1098-1179), Doctor of the Church, who was called the Mystic of Cosmic Science. He sent retreatants home with a quote from Dame Julian Norwich: "We are enclosed in the Father; and we are enclosed in the Son; and we are enclosed in the Holy Ghost… In other words, we are always safe in our turbulent and wounded world" he said.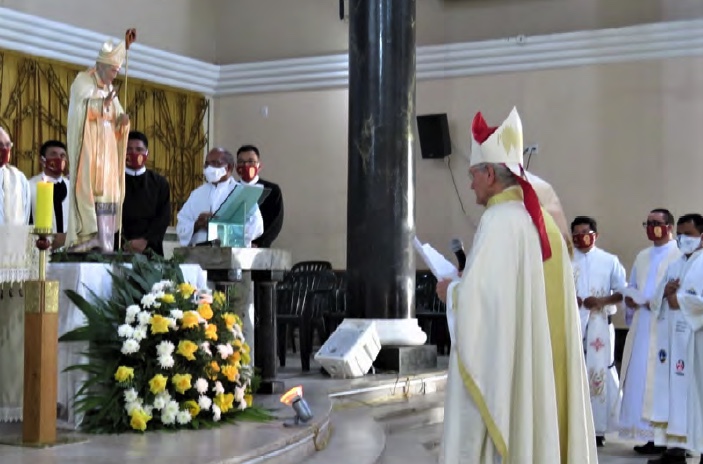 Celebrating St. Alphonsus in Brazil: On the first day of August, the Vice Province of Manaus celebrated the feast of our founder, St. Alphonsus: Bishop and Doctor of the Church. Archbishop Leonardo Steiner of Manaus cordially accepted our invitation to preside at the liturgy. It was the first time Archbishop Steiner traveled to Our Lady of Aparecida Parish to celebrate with the Redemptorists.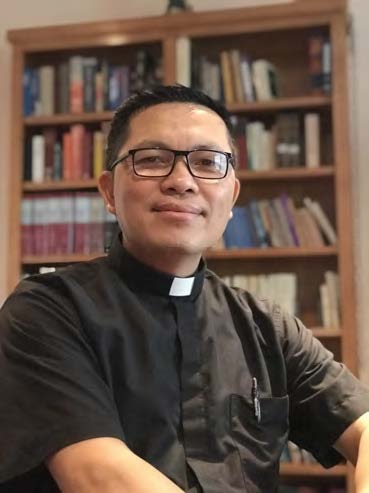 Spiritual Anonymous Group: The Coronavirus Pandemic is taking an emotional toll, especially on those already living with an anxiety disorder. Constant media attention triggers fears around our physical health, financial stability and safety, and can lead to depression, anger and feelings of hopelessness. As pastor of St. Gerard Church in Baton Rouge, Fr. Tat Hoang has seen how our current circumstances foster depression, feed addictions and have even resulted in suicide. He started a spiritual lifeline in the form of a Spiritual Anonymous Group for those struggling with despair, anger and feeling spiritually disconnected. "I simply believe that God will bless those who cry out for help," he said. Fr. Tat promises a sacred, safe environment where confidentiality will be respected. He will facilitate the meetings, which will be held on Wednesday evenings in the parish hall. Fr. Tat invites anyone who is in need of a spiritual lifeline to join him. For more information, contact the parish office at 225.355.2553.
New Redemptorist Bishop: Congratulations to Bishop Bruce Lewandowski, our new Redemptorist bishop! He was ordained auxiliary bishop of the Archdiocese of Baltimore earlier this week. We wish him every blessing in his new ministry.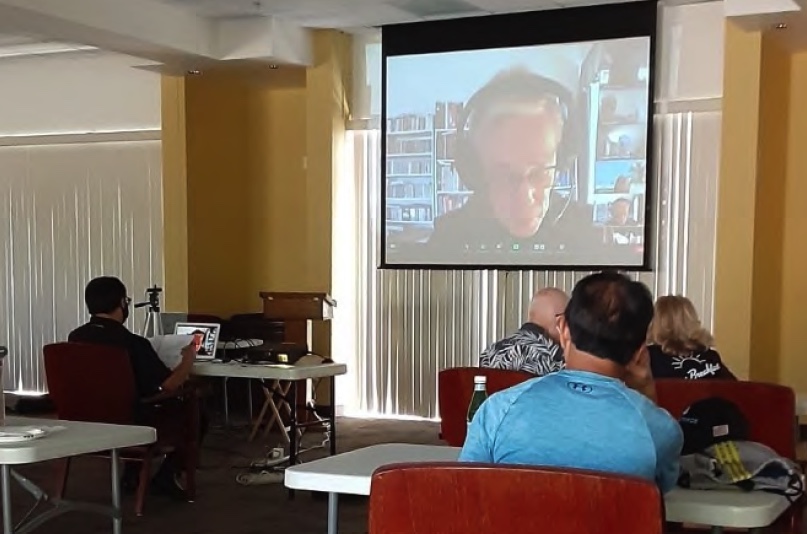 Half-Day Retreats Online: One of the new ministries at the Redemptorist Renewal Center (RRC) in Tucson this year is the Half-Day Retreat on the first Saturday of every month. Last Saturday, the RRC was privileged to welcome Fr. Michael Guinan, OFM (left), a Professor Emeritus of the Old Testament at the Franciscan School of Theology, as our guest speaker. He helped retreatants understand that psalms are prayed out of real everyday experiences. "When things are going well, the psalmist praises God; when they are going badly, they cry out in lament!" Fr. Guinan said. He noted the difference between thanking God and praising God: We thank God for the things He's done for us and given to us. Praising the Lord is even higher and more meaningful. We praise God for who He is and what He's done, apart from what He's done only for us. Fr. Guinan encouraged retreatants not only to thank God for their blessings, but also to praise God for all the giftedness of life. Redemptorist confreres and friends are invited to experience these monthly Half-Day Retreats in person or now via Zoom. Please contact the RRC office at 520.744.3400 for information or to register for an upcoming Half-Day Retreat.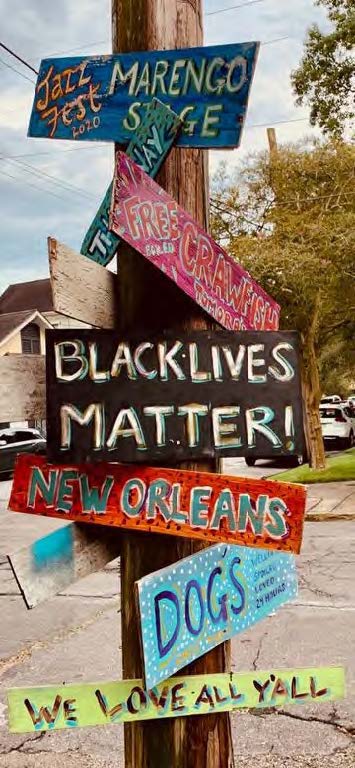 Webinar on Racism: America's Original Sin: Dozens of confreres participated in the Secretariat of Apostolic Life's Webinar on Racism, a thought-provoking presentation by Kathy McGinnis, executive director of the Institute for Peace and Justice in St. Louis. The presentation sparked discussions about racism in communities throughout the Denver Province, and made it clear that racism must be addressed before we can begin to heal our wounded world. Kathy introduced herself by sharing a few powerful personal experiences. She grew up in all-white, Catholic St. Louis. She married and moved to Memphis with her husband, Jim. She was teaching middle school and Jim was serving in the National Guard in 1968, when Martin Luther King was assassinated. When Jim wrote a letter-to- the-editor praising King, the result was his prompt dismissal, death threats, and a real awakening to the depth and cost of racism in the USA. Racism became an everyday issue when they adopted their youngest – a biracial child of black and Native American descent. The couple joined the St. Alphonsus "Rock" Parish in the 1990s. They were impressed with the extraordinary preaching, and overwhelmed by how they were embraced by the parish community. The Apostolic Life Secretariat plans to host more online discussions about racism. Meanwhile, confreres are encouraged to take the time to connect with their brothers and engage in meaningful discussions about racism.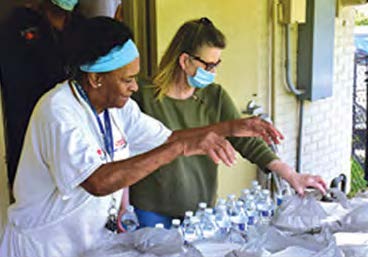 Feeding the Soul: As students and their families picked up a savory dinner of spaghetti and meatballs, paired with green beans and a roll in the parish hall at St. Gerard Church in Baton Rouge, "Mama" Seaball Thomas stood proud, a smile sweeping across her face as she assisted handing out each meal. Five days later, she was back in the same spot, only on this sun-splashed afternoon that offered a tiny hint of fall, she was distributing one of her soul food specialties: red beans and rice and smothered chicken. The former owner of Momma's Silver Moon Café which buttressed the LSU campus, Thomas is the chef and one of the organizers of the fledgling Community Feeding Program at St. Gerard. The program serves free meals on Mondays to the families of Redemptorist St. Gerard School students, and on Fridays meals are offered to the neighbors in the impoverished north Baton Rouge area. "We are serving the nutrition of love at St. Gerard," Fr. Tat Hoang, pastor, said as he watched.
—Special thanks for this article to Richard Meek, The Catholic Commentator
Snapshots adapted from Denver Link; special thanks to Kristine Stremel.

---
UPCOMING DATES
November 1: All Saints Day
November 2: All Souls Day
November 9: Foundation of CSSR
November 11: Memorial of CSSR Spanish Martyrs
November 21: Presentation of the Blessed Virgin Mary
December 8: Immaculate Conception
December 12: Our Lady of Guadalupe
December 25: Christmas
January 1: Solemnity of Mary
January 5: St. Neumann Feast Day
January 6: Epiphany
January 11: Bl. Seelos Birthday
January 24: Our Lady Queen of Peace