Spring 2021 Denver Province Snapshots
---
Ordinations, Professions & Jubilarians: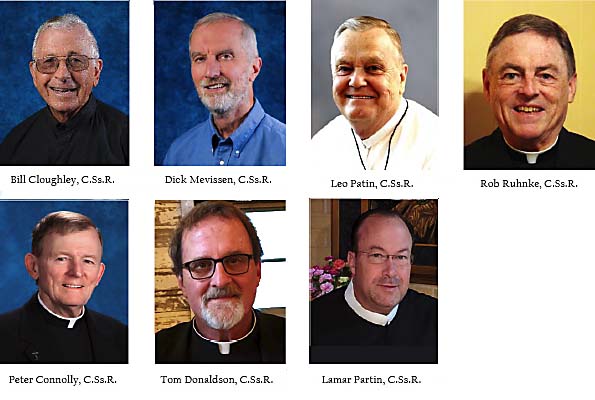 Celebrating 60 Years of Profession: Br. William Cloughley, Rev. Richard Mevissen, Br. Leo Patin, Rev. Robert Ruhnke; Celebrating 50 Years of Profession: Rev. Peter Connolly, Rev. Thomas Donaldson; Celebrating 25 Years of Profession: Rev. Lamar Partin
Celebrating 55 Years: Bishop Emeritus Gutemberg Freire Régis and Fr. Thomas (Miguel) recently celebrated 55 years of ordination. These two confreres are serving in the Vice Province of Manaus in Brazil. They and their two remaining classmates—Fr. Dick Mevissen and Fr. Rob Ruhnke—were ordained at Immaculate Conception Seminary in Oconomowoc on June 22, 1966.
Frater Thien Hoang Professes Perpetual Vows: Congratulations to Frater Thien Hoang, who professed perpetual vows as a Redemptorist missionary of the Denver Province during the Chapter last Thursday, September 16. Family and friends joined confreres at the St. John Paul II Chapel on the beautiful Mundelein Seminary campus in Illinois for the ceremony.
In Remembrance: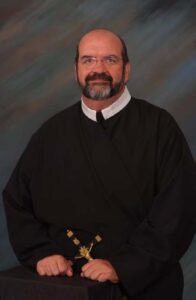 Rev. Anthony Judge, C.Ss.R.: Beloved Fr. Anthony (Tony) Judge, who embodied the Redemptorist charism and dedicated his ministry to the poor and the immigrant, died unexpectedly on August 5, 2021 in Minneapolis. Known for his generous and compassionate spirit, Fr. Tony was an exceptional missionary preacher and a leader in Hispanic Ministry in the Denver Province. He was born on September 25, 1952 in St. Louis to Lawrence and Margaret Powers Judge. Tony entered novitiate in 1972 and professed temporary vows on August 5, 1973. He graduated from Holy Redeemer College in Waterford, WI in May of 1976, made second novitiate, and professed perpetual vows on August 21, 1976. He was ordained to the priesthood by Redemptorist Bishop Gutemberg Freire Régis of Brazil on May 31, 1979.
Newly ordained Fr. Tony's first mission was to the Vice-Province of Manaus in the Amazon Region of Brazil. He embraced the people and the culture, and learned to speak Brazilian Portuguese exceptionally well. He served as a parish priest at Our Lady of Grace Church in Codajás, Amazonas from 1980 to 1985, and as pastor and local superior of St. Ann/St. Sebastian Parish in Coari from 1985 to 1990. He formed life-long friendships and enjoyed many adventures ministering to people living in the towns and villages along the Rio Solimões (Amazon River). After 10 years he returned to the United States, and quickly learned Spanish so that he could provide pastoral care to Hispanics and newly arrived immigrants in the language in which they speak to God. He ministered to the Spanish-speaking as a parish priest at Our Lady of Peace Parish in Greeley, CO from 1990 to 1992. He was appointed pastor and local superior of St. Joseph Parish, which served a large Hispanic community in Denver, in 1992.
While Fr. Tony was serving as bilingual coordinator of the Redemptorist Hispanic Ministry at Holy Redeemer in Oakland in 2000, he and Fr. John Fahey Guerra were investigating dioceses throughout the country for a Redemptorist Hispanic Initiative. They settled on the Diocese of Dodge City, Kansas and started a ministry in Liberal in 2001. Fr. Tony served as superior of the community involved in the new venture, which was founded primarily for the evangelization of Hispanic migrants in the rural area. The team successfully concluded that initiative in 2008.
Fr. Tony joined the Redemptorist Mission Team in Chicago as an itinerant mission preacher in 2008, and was appointed director of the Mission Team in 2011. "He deeply touched people through his preaching," said Fr. Maurice Nutt, who knew him since his childhood and was a partner on the mission team. "His preaching was always Christ-centered and yet related to human experiences. Like St. Alphonsus talking about being pazzo – crazy – in love with Christ, Tony's preaching drew people to a greater love of Christ."
Four years later, Fr. Tony was assigned associate pastor of St. Alphonsus Parish, the large multicultural parish he was serving at the time of his death. Confreres agree with Fr. Bill Peterson: Fr. Tony was the heart and soul of Hispanic Ministry at the parish.
Eternal rest grant unto him, O Lord, and may perpetual light shine upon him. May he rest in peace.
Vocations:

Preparing for Final Vows: Four confreres – Brian Vacarro, Royce Thomas and AJ Riviere (Baltimore Province) and Thien Hoang (Denver Province) – completed the Preparation for Final Vows program (Second Novitiate) at Notre Dame Retreat House in Canandaigua, NY this week. The program provides an opportunity for the candidates to look back over their experience of Redemptorist life and ask themselves if they are ready to commit to it for the rest of their lives through the vow and oath of perseverance. Together, we look at the gap between vision and reality in our religious life and discuss what steps can be taken to narrow that gap in our daily lives. Participants enjoyed a balance between prayer, study, manual labor and rest. Themes discussed included holiness and Alphonsian Prayer, as well as the Redemptorist charism, mission, spirituality, preaching, spiritual direction and community life. The vows of poverty, chastity, obedience and perseverance also were reviewed. After the four-week program, the participants will make an eight-day directed retreat. — Dennis J. Billy, C.Ss.R.
Other Stories:
---
Celebrating Freedom

St. Alphonsus "Rock" Parish in St. Louis celebrated Juneteenth, commemorating the official ending of slavery in the United States, with the liturgy and an ice cream social in the rectory yard. Fr. Rodney Olive of the Baltimore Province, associate pastor, presided at a joyful Mass celebration. "We celebrate Juneteenth as a critical moment in the African-American struggle for freedom from slavery as well as the enduring structures of racism," said Fr. Steve Benden, pastor.
---
And More!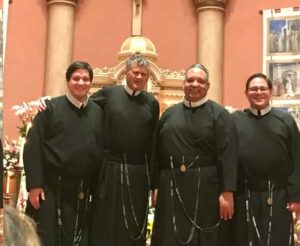 Novena to Good St. Anne: Redemptorists Fr. Aaron Meszaros, Fr. Patrick Keyes, Fr. Maurice Nutt and Fr. Kevin Zubel maintained a long-standing tradition and preached the Novena to Good St. Anne at St. Anne of the Sunset Church in the Inner Sunset District of San Francisco last month. Despite lingering concerns about the pandemic, the Redemptorists were warmly welcomed by the parish community.
Manaus Celebrates Feast Day Ordinations: The Vice Province of Manaus commemorated a double feast on August 1 –the celebration of our founder St. Alphonsus, and the priestly ordination of Deacon Davi Miguel da Silva Plácido and Deacon Robson Bezerra de Souza. Archbishop Leonardo Steiner of Manaus presided at both celebrations, which took place at Our Lady of Aparecida Shrine Church in Manaus.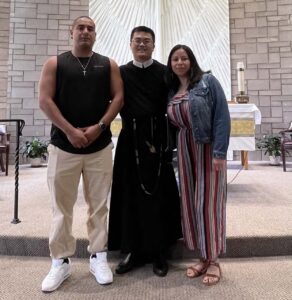 Young Adult Retreat: The Young Adult Ministry at St. Alphonsus Parish in Minneapolis seized the opportunity to attend the Young Adult Retreat, "Faith, Hope and Love in Pandemic Times," hosted by some of the confreres and lay ministers of the Baltimore Province in West End, NJ. This was the beginning of the revitalization of the Young Adult Ministry at St. Al's after months of quarantine and COVID restrictions. Fr. Quy Duong, C.Ss.R., accompanied Maribel Garcia and Carlos Flores, two leaders of the Young Adult Ministry, on this retreat. The retreat featured several talks presented by young adults from Immaculate Conception Parish in The Bronx and young adult ministers of the Baltimore Province. Topics included "loneliness to solitude," "hostility to hospitality," and "illusion to prayer." It was a good experience to see where young adults connected in their experiences of life and faith, especially during this time of pandemic.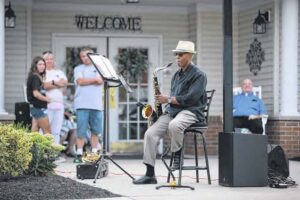 Br. Dan Hall Visits Elmcroft of Lima Senior Living Center: Br. Dan Hall (seated, at right) recently shared some encouraging words with those who gathered for a celebration of life at Elmcroft of Lima Senior Living Center in Lima, Ohio. Families and friends joined residents to honor the lives of 14 people who have died at the facility since the pandemic began. Br. Dan was happy to be back in Seattle to preach a Foreign Mission Appeal earlier this month. He enjoyed sharing a few of his experiences as a founding member of the Redemptorist foundation in Nigeria at Sacred Heart, where he professed perpetual vows as a Redemptorist missionary in 1980. He will be returning to Nigeria in October to represent the Denver Province at the Vice Province of Nigeria Chapter.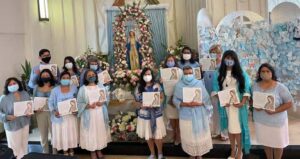 Novena in Time of Pandemic: St. Mary's of the Assumption Parish in Whittier celebrated a novena in preparation for the Feast of the Assumption. The novena was dedicated in prayer and petition for all those who have been affected by the coronavirus. Parishioners were given two paper face masks and directions on how to make the masks into Guardian Angels – those who have died during the pandemic; those who were sick but recovered; and our essential workers. Each night of the novena two people gave witness talks remembering members from those groups. We also had a procession of Angels, and the Angels were pinned to a board that was prepared to display them in the Church. We hope to make a permanent memorial with the Angels.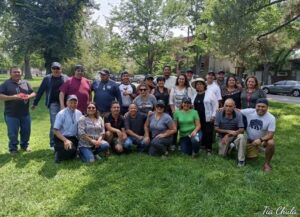 Thirtieth Anniversary of the Founding of Casa San Alfonso: This year marked the thirtieth anniversary of the founding of a Redemptorist youth initiative in Denver. The goal of the initiative was to enter the world of young people in an inner-city barrio who suffered from poverty, gang activity, the lure of drugs and a lack of opportunity; and to help them to see their goodness and dignity, while also learning the traditions of their Catholic faith. Fr. Mike McAndrew, Fr. Patrick Keyes, Br. Andy Miklusicak began Casa San Alfonso. The Casa, which was in operation from 1991 to 19916, was a house of welcome for Hispanic youth in Denver. Most young people coming to the house were men between the ages 16 to 25. The 30th anniversary was celebrated with a reunion on Sunday, August 1 at St. Joseph's Church in Denver. After the Mass at S. Joseph, there was a picnic at a small park near the church.
Collaboration with Mexico: The Province of Mexico officially joined the North American Conference at the beginning of this year. Fr. Jack Kingsbury, North American Conference Coordinator, the Baltimore Province and the Extra-Patriam Vice Province are now joining the Denver Province and the Province of Mexico nearly every month in online meetings. A committee composed of confreres from the Denver Province and the Province of Mexico also is strategizing ways to further develop the relationship, gain a greater understanding of their respective apostolic lives, and create a new shared identity. Fr. John, Br. Larry Luján and Fr. Quy Duong represent the Denver Province. Fr. Aaron Moreno, Fr. Carlos Flores and Fr. Joaquin Frausto represent the Province of Mexico.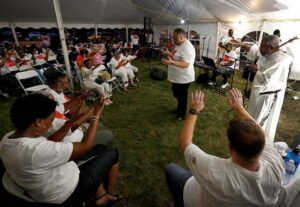 Renew My Church: A revival by our own Fr. Maurice Nutt brought together parishioners of three Chicago parishes to worship as one community for the first time. The Renew My Church unification process consolidated St. Columbanus, St. Dorothy and St. Clotilde parishes into St. Moses the Black Parish. A patron saint of Africa and the patron saint of nonviolence, St. Moses the Black is meant to serve as a guide and inspire the parish's mission going forward. "As we dreamed about what our ministries would be in the Greater Grand Crossing and the Chatham communities, and recognizing the amount of violence that continues to affect the Black community in Chicago, Moses the Black is a great patron for us and a great witness for how we can be living our lives of faith," said Fr. Matthew O'Donnell, pastor.
Snapshots adapted from Denver Link; special thanks to Kristine Stremel.

---
UPCOMING DATES
November 1: All Saints Day
November 2: All Souls Day
November 21: Presentation of the Blessed Virgin Mary
November 28: First Sunday of Advent
December 8: Immaculate Conception
December 12: Our Lady of Guadalupe
December 25: Christmas
January 5: St. John Neumann Feast Day
January 6: Epiphany
January 11: Bl. Seelos Birthday