Winter 2019 Denver Province Snapshots
---
Ordinations, Professions & Jubilarians: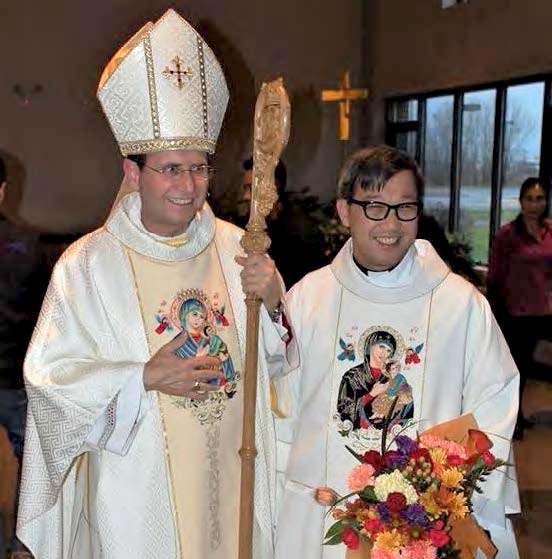 Congratulations, Deacon Chung! Redemptorist confreres and a large group of friends witnessed Chung Tran's ordination to the diaconate on November 4 at St. Gerard Majella Church in Brooklyn Park, MN. Auxiliary Bishop Andrew Cozzens of the Archdiocese of St. Paul & Minneapolis presided at the ordination ceremony and Mass with more than 20 concelebrants, including Provincial Superior Stephen Rehrauer and Provincial Vicar John Fahey Guerra, members of the
local St. Alphonsus community, and several confreres who traveled long distances to participate in the celebration. "It was a blessing to celebrate my ordination with the St. Gerard Parish community and so many of my Redemptorists brothers," newly ordained Deacon Chung said. "My parents and brothers had planned to attend, but my father suffered a severe stroke after my profession of perpetual vows in Tucson last month so I asked them to stay home to care for him. We are very grateful for the prayer support of the Redemptorists as we deal with my father's illness," Deacon Chung said.
Vocations: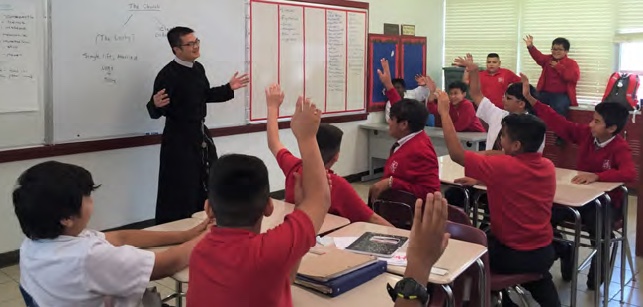 Vocation Awareness Week: Doing his part to promote religious vocations to the priesthood and religious life, Fr. Quy Duong is visiting all the students at Holy Ghost Catholic School in Houston during this week – National Vocation Awareness Week. Please, always do your part to promote vocations, and remember to pray for and talk about Redemptorist vocations this Sunday, November 11, World Day of Prayer for the Promotion of the Redemptorist Missionary Vocation.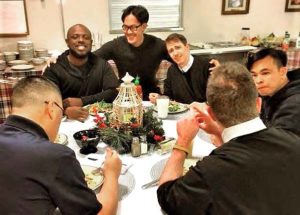 Making Merry in San Antonio: The Christmas spirit flourished at the Theology House over the holidays. Our international students had a great time decorating a real Christmas tree (mmmm…pine) and exchanging Secret Santa gifts before the main attraction: a scrumptious Christmas dinner and white elephant gift exchange. Special thanks to Thien Hoang for sharing this photo.
---
Merger Represents A New Beginning at Liguori: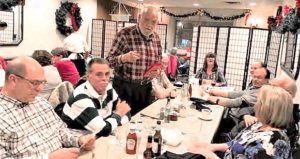 The new year will usher in major changes in Liguori, where confreres are preparing to consolidate communities. After 71 years as a residence for Redemptorist preachers and confreres working at Liguori Publications, Liguori Mission House was suppressed effective December 31, 2018. The Liguori Mission House community will officially merge with the St. Clement Health Care Center community, forming a new aging-in-place community with a new name and a new focus.
---
And More!
Redemptorist Leadership Begins New Term: The new year ushered in a new administrative term, but the Ordinary Provincial Council at the helm of The Redemptorists of the Denver Province for the 2019-2022 quadrennium remains intact: Provincial Superior Stephen Rehrauer, Provincial Vicar John Fahey Guerra and Provincial Consultor Laurence (Larry) Luján. Newly elected members of the Extraordinary Provincial Council include Fr. John Schmidt, Fr. Anthony Nguyen, Fr. Maurice Nutt and Fr. Aaron Meszaros.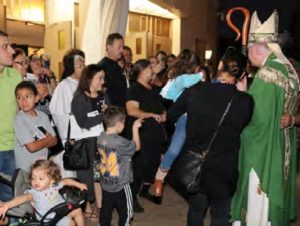 Celebrating 125 Years: St. Mary of the Assumption Church in Whittier celebrated 125 years as a parish on November 3. Archbishop José Goméz of Los Angeles celebrated the 5:00 PM Saturday Mass. Before and after the liturgy, everyone enjoyed festivities in the parking lot: food, games, music and fun.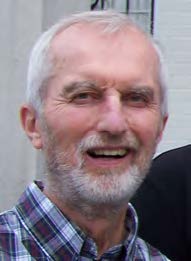 Questions from a Wounded Heart: Our own Fr. Dick Mevissen's reflections on questions asked by the separated, divorced or widowed are featured in "Questions from a Wounded Heart" on the website of Beginning Experience (BE), a Catholic-based ministry that strives to help those who are separated from their spouses, divorced or widowed find healing in the midst of almost overwhelming grief at the end of their relationships. Fr. Dick's association with BE dates back to 1982, when he began to serve as Associate Pastor at St. Gerard Parish in Kirkwood, MO. He made a BE weekend, and became a member of the St. Louis BE team. On BE weekends, he was available for Reconciliation services on Saturday evenings, and closing Masses on Sunday afternoons. As he subsequently moved about in Redemptorist ministry, he was a member of BE teams in Omaha, Tucson and Detroit. While he was serving as director of the Desert House of Prayer in the mid-1990s, he was asked to serve on the BE International Board of Directors as Spiritual Director, a position he continues to hold. Read Fr. Dick's reflections.

Alumni Retreat: Redemptorist Alumni have scheduled a retreat for March 25-27, 2019 at the Redemptorist Renewal enter in Tucson, Arizona.. This is not only a time to enjoy the desert beauty, it is a time for sharing, reflection and prayer as a group of dedicated men and women who have shared a history of life with the Redemptorists. The weather will be beautiful and the birds will sing you to sleep. Invite your alum friends and come join us. Fr. Paul Coury will be leading the retreat. For registration, please contact Peter Tran at pt@desertrenewal.org.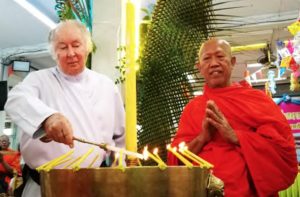 Making Merit: Fr. Joe Maier, C.Ss.R., and the abbot of Wat Sapan, a Buddhist temple in Bangkok, led a "Making Merit" or giving alms ceremony at Soonruamnamjai School during Khao Phansa, a period similar to Lent when Buddhist monks and novices practice a more ascetic life. Fr. Joe said the donations will go to the schools in the Klong Toey slum area for more than 1,500 poor children.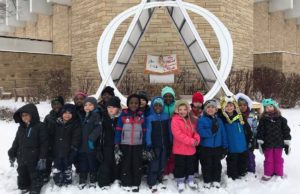 Unique New Program at St. Alphonsus: CCX Media visited St. Alphonsus Catholic School in Brooklyn Center, MN before Christmas to report on the implementation of a unique blended learning program developed by Fr. Nate Wills, CSC, a professor at the University of Notre Dame. The PreK-8 parochial school is one of five local schools chosen for the program, which fully integrates technology in the classroom. Students complete assignments online, enabling a computer program to assess accurate reading and math comprehension levels. Teachers use the data to create personalized learning plans that enable each student to complete work at the perfect level – catch up in difficult areas or work at advanced levels. The program is being implemented in two grades now, and will be implemented throughout the entire school next year.
Redemptorists Aid Victims of Fire in Brazil: Thousands of people are homeless and destitute after a raging fire destroyed at least 600 homes near Our Mother of Perpetual Help Parish in Manaus, Brazil on December 17. No deaths have been reported, but residents were forced to flee with nothing but the clothes on their backs. Fr. José Amarildo Luciano da Silva, Vice Provincial of the Vice Province of Manaus, is pastor of the parish. Working with limited resources, he is establishing the parish as an evacuation center. Please remember in prayer those impacted by the devastating fire. Financial contributions to help the local Redemptorist relief effort may be sent in care of the Denver Province at 1633 N. Cleveland Ave., Chicago, IL 60614, designate to Manaus Fire.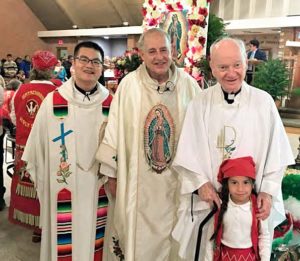 Our Lady of Guadalupe: Special thanks to Fr. Quy Duong for sharing a glimpse of the celebration for Our Lady of Guadalupe at Holy Ghost Church in Houston! Pictured are: Fr. Quy, Fr. Bill Bueche and Fr. Andy Meiners with a young Matachine dancer.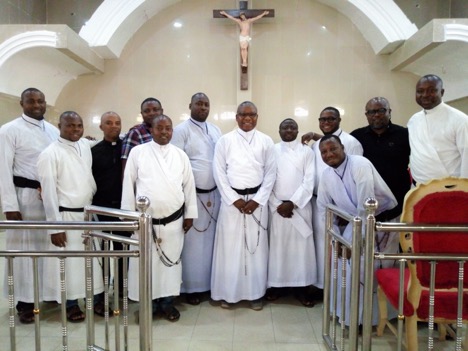 New Vice Province Government in Nigeria:  The new Vice Provincial Government for the Redemptorist Vice Province of Nigeria was installed in early January to lead the Vice Province for the next quadriennium. The installation ceremony took place at St. Fidelis community chapel and sanctuary fin Benin City Nigeria. Fr. Joterio Joachim Aghoghovwia Aghoja C.Ss.R was installed as the Vice Provincial Superior; and Fr. Jude Nkem Anyaegbu C.Ss.R as Vice Provincial Vicar 
---
UPCOMING DATES
February 2: Presentation of the Lord
February 11: Our Lady of Lourdes
March 6: Ash Wednesday
March 15: St. Hofbauer Feast Day
March 25: Annunciation
March 28: St. Neumann Birthday
April 6: St. Majella Birthday
April 14: Palm Sunday
April 21 Easter
April 26: Our Lady of Good Council