Spring 2019 Denver Province Snapshots
---
Ordinations, Professions & Jubilarians: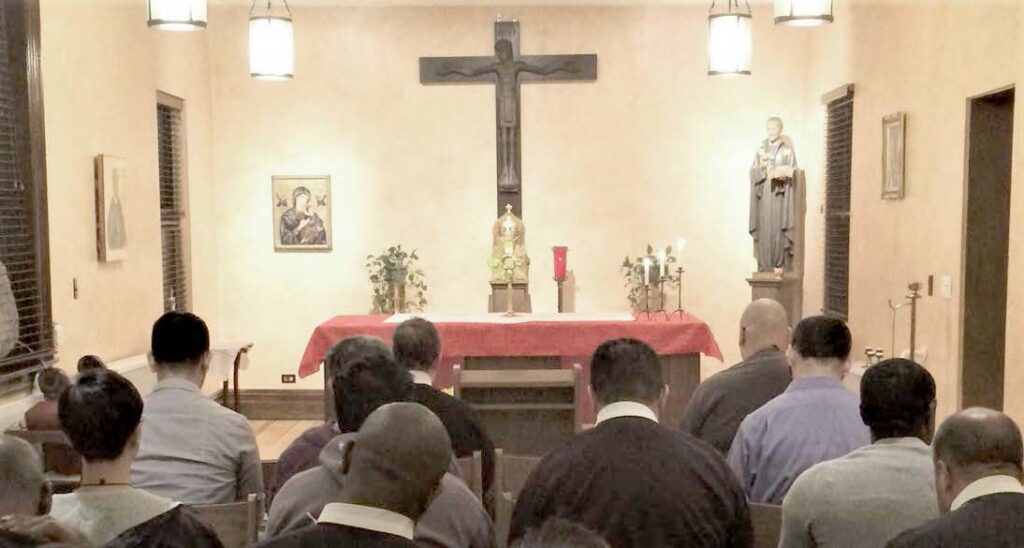 Update on Pre-Novitiate Program: The St. Alphonsus Formation Pre-Novitiate Program serves students for the Baltimore and Denver provinces. The program provides an environment for students to discern their calling to the religious life, with an emphasis placed on the Congregation of the Most Holy Redeemer. Students attend St. John's University or Hostos Community College and are involved with a variety of apostolic ministries, including Youth Group, Children's Liturgy of the Word, Religious Education and a Soup Kitchen for the homeless in the area. They also share in the daily life of the Redemptorists in the Bronx community, participating in prayer, the Eucharist, meals and recreation. This year, five students in the Pre-Novitiate Program are studying for the Denver Province: José Montoya (2nd year), Steven Urban (2nd year), Scott Partin (1st year), Won Lee (1st year) and Brandon Biagioli (1st year).
Redemptorist to be Ordained Auxiliary Bishop in Canada: The episcopal ordination of the Most Rev. Guy Desrochers of the Sainte-Anne-de-Beaupré Province as Auxiliary Bishop of the Diocese of Alexandria-Cornwall was held at St. Finnan's Cathedral in Alexandria, Ontario on February 22. The Most Rev. Terrence Prendergast, S.J., Bishop of Alexandria-Cornwall and Archbishop of Ottawa, presided as the principal ordaining Bishop. Redemptorist Archbishop Gerard Pettipas of Grouard-McLennan and His Eminence Gérald Cyprien Cardinal Lacroix, Archbishop of Québec and Primate of Canada, were co-consecrators. The Most Rev. Luigi Bonazzi, Apostolic Nuncio to Canada, were present, along with more than 20 other Canadian Bishops. We join his proud Redemptorist confreres in the Sainte-Anne-de- Beaupré Province, throughout the North American Conference and beyond, in offering congratulations to our newest Redemptorist Bishop in Canada!
In Remembrance: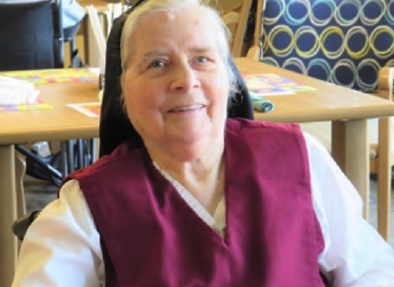 Sister Alice Haslag: Beloved Sr. Alice Haslag, a compassionate and deeply prayerful Redemptoristine who brought many talents to her community in Liguori, died on January 29 at St. Andrew's at Francis Place in Eureka, MO. She was 93. Practical and hard-working, Alice Gertrude Haslag was born in Loose Creek, MO. Blessed with an aptitude for the sciences, Alice earned a physical therapy degree from St. Louis University and a doctorate in physiology from St. Louis School of Medicine. She entered the Sisters of St. Mary in St. Louis and professed vows on June 5, 1946. Although she enjoyed ministering to patients at Desloge Hospital and teaching physiology at St. Louis School of Medicine, she felt a call to contemplative life. While on a sabbatical renewal program after Vatican II, she discussed her yearning with Fr. Raymond Miller, C.Ss.R, who arranged an introduction to the Redemptoristine Nuns in Liguori. Sr. Alice was a quiet presence in the monastery, reflecting her deep spirit of prayer. The Redemptoristines welcomed her extensive medical knowledge, and she was chosen as one of the foundresses when the South African foundation was created in 1991. Sr. Alice served her community as a formator, seamstress and infirmarian. She is remembered as a woman of great compassion, be it for the oppressed living under South African apartheid, her medical patients, or her own Sisters in community who were suffering.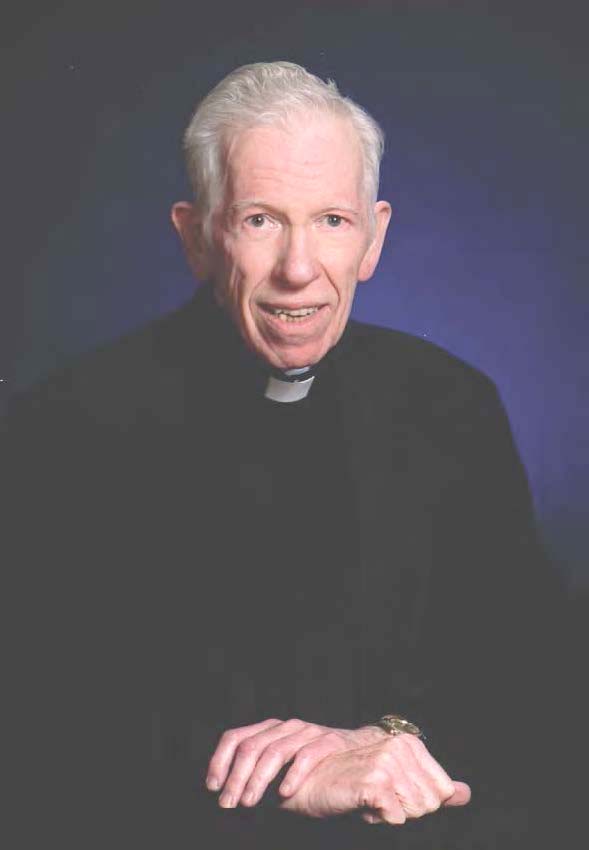 Fr. Edward Morgan, C.Ss.R.: Fr. Edward Morgan, a kind and reserved Redemptorist missionary who devoted nearly 50 years to pastoral ministry, died on March 15 at Mary Queen & Mother Center in St. Louis. He was a beloved pastor who served in parishes throughout the Denver Province, but left his greatest legacy in Kansas City, where he nurtured the Our Lady of Perpetual Help Redemptorist Parish community for 26 years spanning five decades. Edward Thomas Morgan was born in the midst of the Great Depression — on January 16, 1932 — in Detroit. He studied at Detroit's Society of Arts and Crafts for two years before he enlisted in the U.S. Air Force. He served as an aerial photographer on reconnaissance flights over enemy territory during the Korean War. He professed first vows on August 2, 1959 and perpetual vows on September 2, 1962. Fr. Ed was ordained to the priesthood at Immaculate Conception Seminary in Oconomowoc on July 2, 1964, and celebrated his first Solemn Mass at his home parish the following weekend. It was at Our Lady of Perpetual Help Redemptorist parish in Kansas City, with Sr. Rebecca Eichhorn, CSJ, that Fr. Ed organized a parish ministry outreach for the elderly and the needy. By the late 1980s the Social Services Center was providing diverse programs for seniors and the homebound. In addition to a food pantry and clothing closet, the center offered healthcare screenings, dental and nutritional services, rent and utility assistance and financial counseling, as well as addressing a wide variety of other personal concerns. A total of 45 volunteers were providing food to 225 households every week, prompting The Kansas City Star to dub the enterprise the "largest food pantry in town in the smallest space." Fr. Ed enjoyed the wide variety of people he encountered in five decades of ministry. He said that a religious vocation demands sacrifice, but it gave fulfillment and meaning to his life.
Vocations: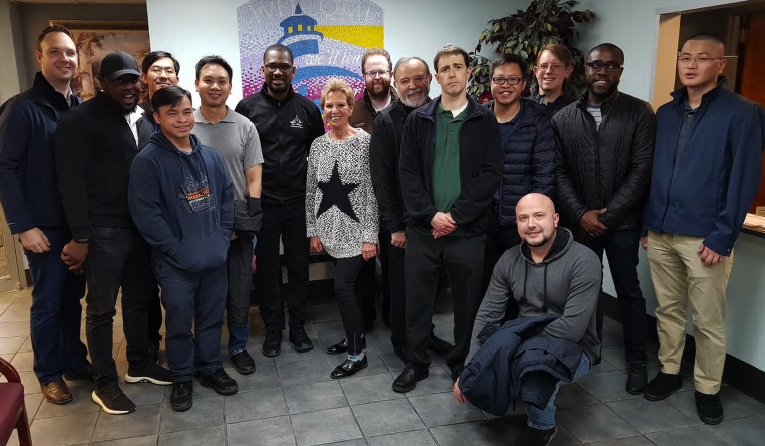 San Antonio Lighthouse: A Beacon of Hope: Redemptorist theology students recently visited a real beacon of hope: the San Antonio Lighthouse for the Blind and Visually Impaired. Established in 1933, the organization provides a range of training programs, educational opportunities and employment options that empower the visually impaired. In addition to operating the only educational program serving children from birth through age 14 in Texas, the agency provides independent living skills and offers scholarships and vocational assessment, technology training, and a variety of employment opportunities. "As Witnesses of the Redeemer, it is important for us to recognize the visually impaired in our midst who inspire us as they overcome their personal challenges," said Fr. Peter Hill, co-director of formation. "It is equally important to recognize this organization for providing the services that enable the visually impaired to live with dignity, leading productive and fulfilling lives."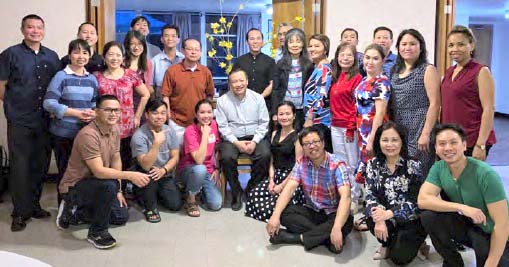 Celebrating the Lunar New Year: Special thanks to Thien Hoang (kneeling, far right) for sharing a photo of the North American Theologate ushering in the Year of the Pig with some very special guests – Fr. Francis Hau Pham (seated, center) and members of the Vietnamese Martyrs Church Choir. The more the merrier, especially for a traditional cultural celebration featuring authentic cuisine and music!
---
GRADUATION DAY!
We join Fr. Joe Maier in congratulating 485 recent Kindergarten graduates in Bangkok, Thailand! As their names were called, the little ones proudly marched across a massive stage to receive their diploma and a few words of wisdom and encouragement from Fr. Joe, who emphasized what an incredible accomplishment they have achieved. "They come to school at four years old, not knowing how to read or write. Three years later, they can write their own names and confidently enter the first grade," he said. "We instill the value of education. It is the key to success for these kids." Fr. Joe estimates that 50,000 kids have graduated from the schools he and Sr. Maria have established in the Slum District of Klong Toey during the past 46 years.
---
And More!
100 Anniversary of St. Joseph Mass League: This year marks the 100th anniversary of the St. Joseph Mass League, first launched in St. Louis by Redemptorist Fr. Christopher McEnniry, C.Ss.R. in 1919. The League began in the context of the "Great War" which had just ended and the world-wide influenza pandemic. Never had there been a time of greater need for prayer and healing. In the ensuing hundred years the Mass League has become an important and beloved aspect of Redemptorist spirituality. Fr. McEnniry conceived the League as a perpetual sharing of prayers and Masses.
Through the Mass League, people ask for our prayers in many of their circumstances:  marriage, birth of a child, sickness, death.  They ask for peace, protection, and faith for themselves or their children.  Since 1919 the St Joseph Mass League has been a way to connect to God's grace through the prayers and works of the Redemptorists. Through these Masses said at St. Clement, people enjoy the gifts the Eucharist offers.
We marked the 100th anniversary of the Mass League with a special novena of Masses that began on April 23 and ended on May 1, the Feast of St. Joseph the Worker. You can still enroll yourself or a loved one in the Mass League by clicking the annual or perpetual enrollments options at our St. Joseph Mass League site. Thank you for helping the St. Joseph Mass League flourish for another 100 years!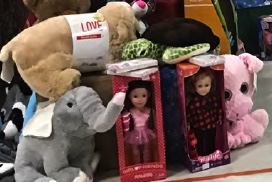 Sharing the Christmas Spirit: Christmas was a little merrier for approximately 1,000 children in Grand Rapids, thanks to the third annual North(east) Pole Christmas store sponsored by the Social Justice ministry at St. Alphonsus Parish. Hundreds of low-income families shopped for toys, bikes, electronics, books, games and other brand new gifts – all donated by generous local churches, businesses and individuals. Items were priced at 10% of retail value, and families were allowed to spend $15 in the store for $150 worth of merchandise!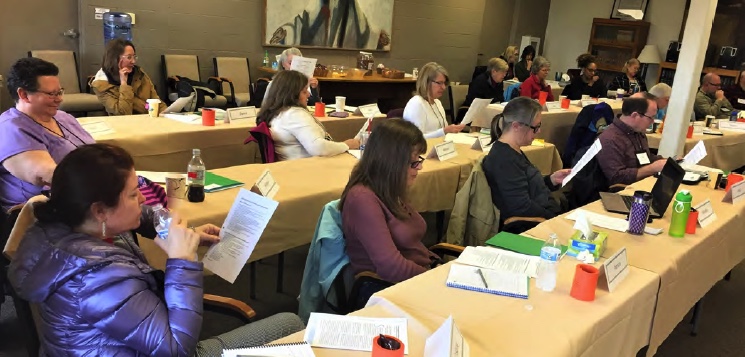 Spiritual Direction School Begins New Session: The 2019 session of the Hesychia School of Spiritual Direction has begun this winter at the Redemptorist Renewal Center in Tucson. This year's capacity class numbers 21 students, who hail from every area of the country and represent three religious traditions — Christianity, Judaism and Buddhism — and more than seven Christian denominations. It is truly a joyful time as the Redemptorist tradition of spiritual direction finds a universal relevance for so many seekers.
Happy Anniversary! Superior General Michael Brehl and the staff and students of the Alphonsian Academy in Rome welcomed Pope Francis on February 9, the 70th anniversary of the institute.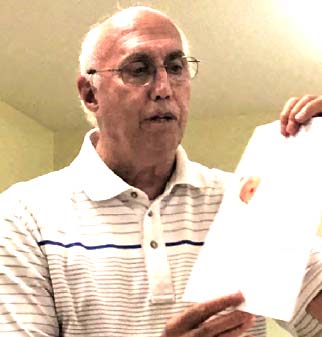 Associates Respond to Asylum Seekers: Redemptorist Associates were quick to respond when Fr. Paul Coury presented the growing care crisis for asylum seekers crossing the border into Arizona last November. Several Associates quickly teamed up with other volunteers. Collectively, they have already helped Catholic Community Services' Alitas program house, feed and transport more than 1,000 asylum seekers— most of them women and children.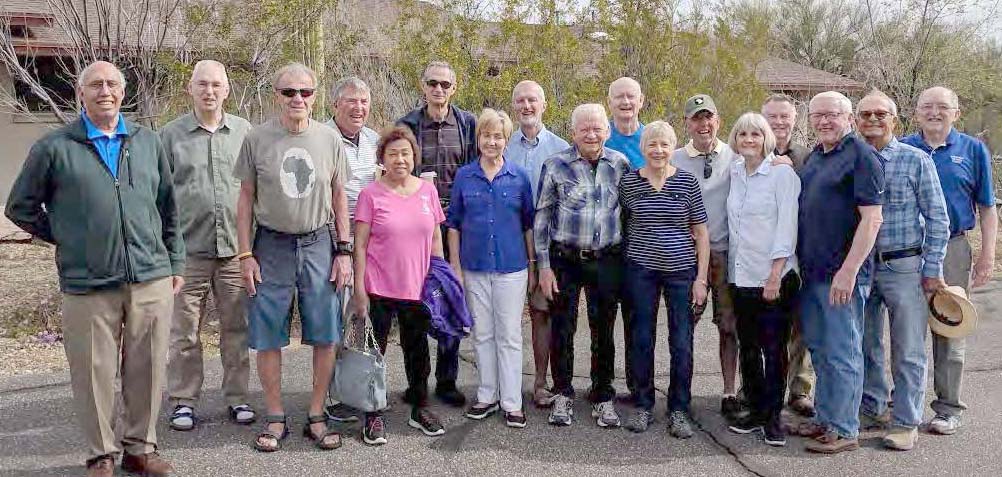 Alumni Gather in the Desert: Redemptorist alumni renewed friendships and enjoyed a retreat led by Fr. Paul Coury at the Redemptorist Renewal Center in Tucson earlier this week. In addition to prayer, contemplation and lively discussions, the group already set the date for the next annual gathering: March 23-25, 2020! Special thanks to Peter Tran for sharing a few snapshots of the gathering!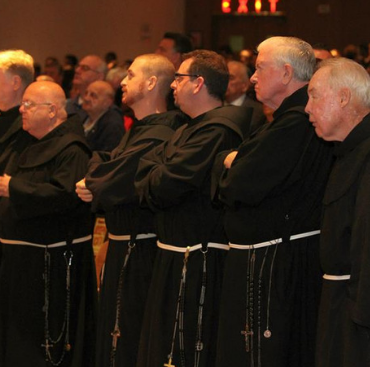 Religious Brothers Day: May 1 marked the third annual Religious Brothers Day. To coincide with this annual celebration of the life and vocation of Catholic religious brothers, CMSM has launched a new website, religiousbrothers.org. This site includes information about brothers, links to community websites, profiles, and upcoming events, such as the 2020 National Brothers Symposium. Religious brothers and their supporters are invited to join in the conversation on social media. Share your prayers, vocation, celebrations, and thanks to Brothers who have made a positive difference in your life. #religiousbrothersday
---
UPCOMING DATES
May 1: St. Joseph the Worker
May 12: Mothers' Day
May 13: Our Lady of Fatima
May 30: Ascension
May 31: Visitation
June 9: Pentecost/ Immaculate Heart of Mary
June 27: Our Mother of Perpetual Help Feast Day
June 28: Ukranian Martyrs Feast
July 16: Our Lady of Mt. Carmel